AI in radiology is having a moment -- one that has staying power
Two radiologists provide examples of how AI is making its mark in their field, such as comparing old and new images and helping prioritize critical cases.
Artificial intelligence in radiology isn't a fleeting trend. According to a Frost & Sullivan analyst, AI could become table stakes for radiology tools in 15 to 20 years, particularly for image analysis.
Siddharth Shah, healthcare industry analyst at Frost & Sullivan, said the innovation phase for AI in radiology is nearing its end, as healthcare organizations have started adopting AI tools for radiologists, and the tools have proved useful.
"If you have a radiologist sitting and doing regular bread and butter imaging, AI can help in accelerating those imaging exams," Shah said.
That's what's happening for University of Utah Health's Richard H. Wiggins III, M.D., who is using a new tool from Philips Healthcare to seamlessly compile a patient's prior scans, and Capital Health Hospitals' Ajay Choudhri, M.D., who is using an AI-based clinical tool to identify brain bleeds in CT scans.
AI in radiology reduces search time
Wiggins, director of imaging informatics and medical administrator for PACS at the University of Utah Health, spends his days looking at hundreds of medical images. He often needs to see not only a patient's current CT scan or other medical image, but prior scans as well to compare how an abnormality is developing.
But to find the older images, Wiggins had to perform a manual search of the archive and then assemble the images together in his workflow to view them. The process was time-consuming and inefficient, so Wiggins went looking for a way to make prior scans easily accessible. He found Philips Healthcare's Illumeo.
Illumeo draws information from data sources across a healthcare organization, such as the EHR, for patient analysis, and then pulls images into the radiologist's workflow, he said.
Wiggins can then interact with the scans and even click on specific features to pull up related examples. Philips calls the interactive capability "adaptive intelligence," and says the feature is underpinned by a deep neural network.
At the recent Radiological Society of North America's annual meeting, Wiggins said that with the right-click of a mouse, he can pull older scans from the archives, arrange them according to relevance and have them right in front of him for reference.
"It's difficult sometimes to search for old studies, so the ability to right mouse click on something and say 'find all the prior post-contrast imaging and put them next to each other so I can quickly compare these,' that's very valuable for my time," Wiggins said.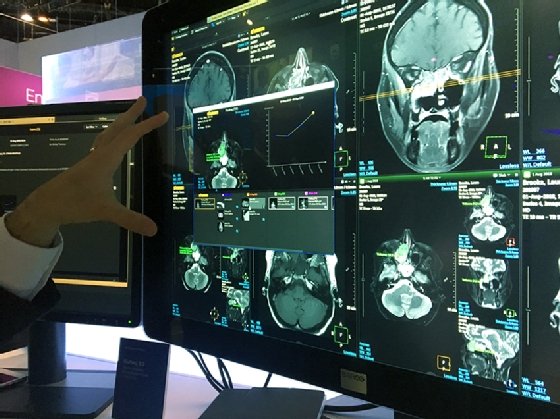 When looking at a CT scan of the brain, for example, Wiggins said he can click on an abnormality such as a tumor, and the Illumeo algorithm will search the archives for prior scans of the abnormality and bring the images directly into his workflow. The software also remembers radiologists' preferred hanging protocols, and helps expedite the tedious process of arranging medical images for optimal viewing.
Looking at all of the images side by side, Wiggins said he can quickly tell if an abnormality has become bigger or smaller. With Illumeo, Wiggins said he feels like he's interacting with the data in a more efficient, more intuitive way, which ultimately helps him provide better patient care.
The product has already paid off, according to Wiggins. "I've been using Illumeo on real clinical data and real clinical studies," he said. "And the comparison tools, as well as assigning studies, are a few of the things we've found are very helpful to us in our everyday workflow and productivity."
AI in radiology detects brain bleeds, prioritizes cases
Choudhri, chairman and medical director of the department of radiology at Capital Health Hospitals in New Jersey, has been using AI to detect brain bleeds in CT scans, which he said has helped his department better prioritize critical cases.
He uses Accipio Ix, software developed by startup MaxQ AI Ltd., to quickly identify intracranial hemorrhages in CT scans, and then prioritize the scans within radiologists' worklists.
Choudhri said a CT brain scan is the No. 1 type of CT examination ordered by the Capital Health emergency room, and the scans can accumulate and create a backlog for radiologists. Accipio Ix is used to prescreen CT scans, flagging scans that need immediate attention and moving them up the radiologists' priority list, he said.
"There are a lot of scans that are negative that can move down the list so we can attend to people who are more sickly, instead of it sitting on the list waiting to be read," Choudhri said.
Accipio Ix is agnostic and can be integrated into PACS and CT systems, conducting analysis in the background of the workflow system, updating the radiologist's worklists and sending notifications when a scan is flagged.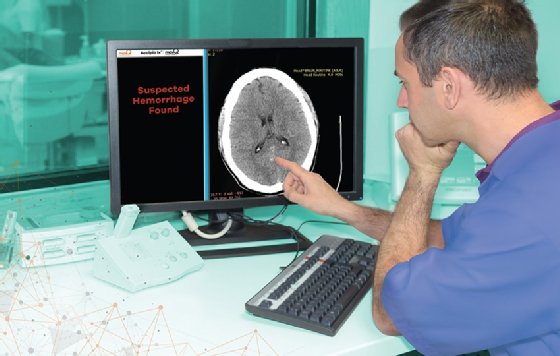 Choudhri, a member of MaxQ AI's scientific and medical advisory board, said he has been testing and piloting Accipio Ix to not only develop a tool to improve outcomes in his department, but to introduce the software into community hospitals that transfer patients to Capital Health. The ability to flag and prioritize a patient with a suspected brain bleed can save time and expedite patient care, particularly for healthcare organizations that might not have a neuroradiologist on hand, he said.
"I feel like we should all have priority right now, it should be built in for everybody," he said of AI in radiology.
While Accipio Ix is currently being used in the clinical setting, Capital Health is also piloting two other products, Accipio Ax, which can mark where a suspected bleed is, and Accipio Dx, which can provide a diagnostic rule-out of a suspected brain bleed, Choudhri said.
Accipio Ix received Breakthrough Device Designation from the U.S. Food and Drug Administration earlier this year and recently received FDA 510(k) clearance.
Dig Deeper on Healthcare IT systems and applications