everythingpossible - Fotolia
Healthcare cloud induces benefits in storage, security
Healthcare sees value in vacating the premises and migrating to the cloud for lower maintenance costs and better storage, disaster recovery, security, AI and analytics.
For a long time, the healthcare industry was skeptical of the cloud because of issues surrounding security, data ownership, connectivity, reliability and cost. But, now that CIOs have seen the healthcare cloud in action, hospitals and clinics are recognizing cloud's benefits in storage, disaster recovery and data security. Moving workloads like emails, applications and data away from an on-premises environment to a public or private cloud is becoming the norm for healthcare.
Healthcare CIOs need to ensure that all critical infrastructure components and systems necessary for patient care and staff are properly functioning and performing at the optimum level. Traditionally, these priorities might have seemed more manageable when the environment was hosted within an organization's own data centers. In an on-premises environment, IT can control network appliances, server speeds, make and model of workstations as well as who uses and supports the equipment.
Yet the on-premises model has forced many CIOs to focus on hardware refreshes, upgrades and the need to retain system administrators with data center experience to ensure system support. So, instead of spending time on innovation and security, IT administrators and their leadership are preoccupied with environment.
Combine all that with the growing need of hospitals for more storage to support the increase in electronic health data as well as computing power to take advantage of advanced applications like data analysis and AI. As a result, on premises is no longer a viable or scalable option for CIOs who need faster, flexible and cost-effective IT infrastructure.
Following a flight plan
For CIOs, shifting some of the basic on-premises services to SaaS is an easy first step. Email, enterprise content management, VoIP and personal file storage can all be moved to online providers, such as Google or Microsoft, while staying in compliance with HIPAA regulations.
Novant Health, with more than 28,000 employees, and Atrium Health, with about 65,000 employees, are two large hospital systems in the Carolinas. In the last three years, they have migrated from their on-premises email servers and into the Microsoft Office 365 cloud. That move helped eliminate several servers and the storage associated with exchange servers, and introduced a new set of capabilities that are part of the online service for their users.
On premises is no longer a viable or scalable option for CIOs who need faster, flexible and cost-effective IT infrastructure.
To overcome the constraints of an on-premises server environment, CIOs can migrate their hospital applications and servers to the cloud. That would mean shifting actual virtual machines used to host electronic medical records (EMRs), analytics platforms, databases, lab systems and other key server applications into virtual machines and services hosted by vendors like Amazon, Microsoft, Google, IBM and Oracle. Here are some of the benefits in following this kind of move to the healthcare cloud:
Pay-as-you-go plan to reduce costs. Unlike on-premises servers that are paid for in advance, cloud servers are turned off when not in use, so hospitals pay only for time of usage, typically billed by the minute.
No complex licensing to manage. In an on-premises environment, the tasks associated with maintaining and auditing Windows and SQL licenses can be time-consuming. Most cloud providers include licensing in their subscription costs.
Advanced backup and disaster recovery. Available through cloud providers like Microsoft or Amazon, advanced backup and disaster recovery provide easy and secure ways to instantly recover critical systems, and include options for cloud-to-cloud recovery, hourly snapshots and replication to external cloud or on-premises destinations. Most of these features are managed straight from the web portal of the cloud providers, so little effort is required to get the new healthcare cloud environment protected against data loss or corruption. On the other hand, on-premises hardware and software requirements for data recovery are complex and costly.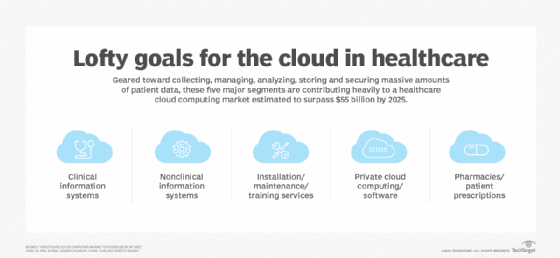 No physical upgrades necessary to scale servers. Memory, storage and CPU increases can all be done through the web portal. During EMR upgrades or testing, IT can add new services within minutes and decommission them once the upgrades are completed.
No hardware maintenance costs. Without the need to maintain and manage hardware on-premises, maintenance costs are eliminated, and support staff is reduced.
Access to ad hoc data mining, analytics and AI services. Population health management and outcome-based care all depend on AI and data analytics. Microsoft Azure Machine Learning Studio, PowerBI business analytics, Azure Data Lake Analytics, Amazon Comprehend Medical natural language processing and other services are available to healthcare providers. Often it's just a matter of getting hospitals connected to their data, as Amazon and Microsoft have advertised.
Access to next-generation security tools. Given the ongoing reports of healthcare data breaches and ransomware attacks holding victimized hospitals hostage, shifting to the cloud for healthcare has proven to be a valuable weapon in the fight against cybercrime. Advanced threat protections, intrusion detection, security monitoring and other security services are available to plug and play into cloud workloads.
Dig Deeper on Healthcare IT systems and applications