Oleksiy Mark - Fotolia
Interest in wearable health devices grows despite challenges
Amazon Halo has advanced wearable devices in healthcare, but challenges of a growing digital divide and questions about their clinical value remain.
In the background of the COVID-19 pandemic, an accelerated evolution of wearable health devices is taking place, especially among nontraditional healthcare vendors such as Apple, Google and, most recently, Amazon.
In August, Amazon released its wearable health device, Amazon Halo, joining the ranks of Apple, the pioneer in health wearables, and Google, which announced plans to acquire Fitbit for $2.1 billion late last year.
"The more you see these tech vendors really trying to build a meaningful healthcare vertical, the more you see that a wearable that is able to capture novel data points from consumers is becoming a core leg of that strategy," Forrester Research analyst Jeffrey Becker said.
This intersection of healthcare and technology is maturing at a rapid rate. The Apple Watch Series 6 can now monitor blood oxygen levels, a key metric for COVID-19 and other health conditions. Amazon Halo is also moving the wearable health devices needle, using a person's voice to detect illness, analyzing body fat percentage and integrating data directly into a user's EHR through its partnership with EHR vendor Cerner Corp. Plus, while the pandemic has raged on, these tools have helped providers shift to virtual visits more seamlessly, generating data often collected only in doctors' offices and yet needed for care delivery.
Amazon enters wearables arena
One of the features that stands out about the Amazon Halo is its partnership with Cerner, one of the biggest EHR vendors. The partnership gives patients the ability to share data captured by the Halo device with their provider, adding it directly to their EHR.
Becker said Amazon's partnership with Cerner is unique, as it's the first of its kind.
Chandni Mathur, senior industry analyst at Frost & Sullivan, agreed, saying the Halo-Cerner integration is valuable to providers because the data could help contribute to more personalized patient care.
"There is this huge trend of patient engagement, and that is where healthcare systems, providers want to move to," she said. "The more information you have, the more personalized the medicine can be for a particular patient. It will eventually contribute to the concept of value-based care [and] better coordinated care."
Another Halo feature that stands out to Becker is the tone feature, which analyzes a user's voice to detect how they're feeling. Amazon has done a significant amount of work using voice technology in healthcare, and the Halo device is the next step forward in that strategy, Becker said.
"It is somewhat of a signal to the world that they are putting their eggs in the basket of voice in healthcare," Becker said. "While many of the public cloud vendors have built all sorts of healthcare-differentiated solutions, we see Amazon building solutions that are largely focused on voice."
The COVID-19 effect
Amazon's market entry has come at a good time. COVID-19 has only cast a brighter light on the usefulness of wearable health devices.
At the beginning of the pandemic, Jagmeet Singh, M.D., a cardiologist at Massachusetts General Hospital, conducted a telehealth visit with an 87-year-old patient, when he was seeing nearly 100% of patients virtually. Because the patient was wearing a blood pressure device, she could tell Singh her heart rate, blood pressure and oxygen saturation level, data he otherwise would not have had access to.
Patients equipped with wearable health devices can provide objective data points about their health during a telehealth visit, which can sometimes be more useful than asking patients how they feel, Singh said.
"The virtual visit is largely like FaceTime where you're interacting with the patient and you're making some assumptions based off their conversation and based on how they're reporting their symptoms," Singh said. "It's not really as quantitative or as objective as you'd like it to be. That's where the reliance on wearables is coming into play more and more."
The pandemic has accelerated providers' acceptance of virtual care and technology like wearable health devices, which can also be useful for monitoring and following patients with COVID-19, Singh said.
"If you have a patient and send them home, you can monitor their temperature, heart rate and oxygen saturations and keep track of them rather than admitting everybody," he said. "I think there will be strategies to deploy and use these wearables for specific patients with specific severities of their illness."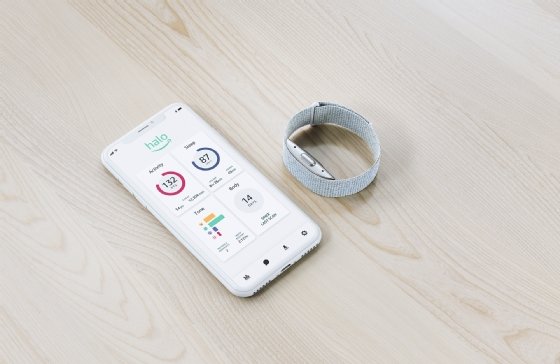 3 challenges ahead
While the pandemic has shed light on the usefulness of wearables, one of the biggest obstacles is patient access.
"Virtual care, at least in the pandemic era, we looked at some of our virtual care statistics and we found it was actually deepening the digital divide between the disenfranchised and those who had access to it," Singh said. "The lower social economic status and oftentimes the minorities were actually getting further distanced by this technology."
Some health plans, such as UnitedHealthcare and Aetna, subsidize wearable devices for their members. But it's not a policy that has been widely adopted, forcing patients to pay out of pocket for a device.
The second challenge will be making sure clinicians aren't inundated with too much fitness-tracking data, which could be so overwhelming that it becomes useless, Singh said. That's why healthcare leaders are looking both at the data-capturing capabilities wearables offer, as well as at the potential of AI strategies to help make sense of it all.
"The thing about the tech giants is they're not just focusing on wearables, they have strong analytics and cloud capabilities," Frost & Sullivan's Mathur said. "They can run strong analytics and make specific recommendations from that data."
The third challenge will be validating whether wearable device data can improve clinical outcomes, Singh said. Mathur agreed and said that's something tech giants will be working on as part of their healthcare strategies.
Mathur also expressed concern about how a nontraditional healthcare company like Amazon, which she sees primarily as a data company, will use the healthcare data it collects. Amazon has stated on its website that, while it analyzes a user's data to help them better understand their health and improve the device, health data will be kept private and the company will be transparent about if and how data is used.
Regardless of the challenges that remain, Singh said the healthcare industry is past the point of no return when it comes to wearable health devices.
"If you were to look at how future care is going to look, I would say it's going to be virtual, it's going to be sensor-aided through wearables, and it's going to be powered by artificial intelligence," Singh said.
Dig Deeper on Healthcare IT systems and applications