ake78 (3D & photo) - Fotolia
5G healthcare use cases will help justify investment but are elusive
To invest in the 5G wireless network, healthcare CIOs will need compelling use cases. But since the network won't be ready for years, finding them may be tough.
CIOs will need 5G healthcare use cases to make the case that investment in the newest wireless network is a worthwhile one.
Carriers like Verizon Wireless and AT&T have started rolling out small deployments of 5G to businesses and consumers and are highlighting its capabilities over the current 4G LTE wireless network, such as faster data transfer speeds and more bandwidth availability. The cost of connecting to the network remains a question mark and widespread commercial availability isn't expected until 2023, but one thing is clear: The entry price for healthcare systems won't be cheap.
To justify the costs it will take to upgrade applications and equipment, not to mention the time and resources such a transition demands, will require compelling, concrete use cases. Those kinds of 5G healthcare use cases may not exist right now. Plus, according to Chris Antlitz, a telecom analyst for consultancy Technology Business Research Inc., the new network will also mean healthcare CIOs are on the hook for risk mitigation.
Healthcare CIOs such as Craig Richardville are keeping 5G in mind, but waiting to see how it plays out before committing to overhauling his technology infrastructure for 5G.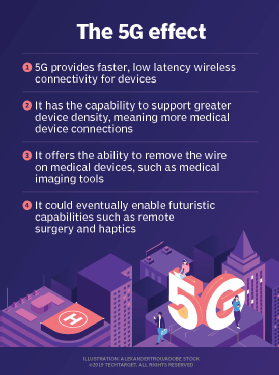 "As it matures and all the aspects of it become ironed out and the promises start to be realized, then we'll start to dismantle some of our older networks," Richardville said.
That, he said, may take years.
What healthcare CIOs think about 5G
One of the problems Richardville, CIO at SCL Health in Broomfield Colo., sees is basic: 5G is "not a light switch," he said. Transitioning to the new network is not as simple as flicking off 4G and flicking on 5G, or the fifth generation cellular network. It needs to be done in a methodical way. That includes upgrading technology and applications to either speak 5G or disabling the technology piece by piece.
Richardville described the move to 5G in healthcare as an evolutionary process, one that will take time and proceed in fits and starts to ensure an organization's processes, people and devices are prepared to connect to the new environment. One more critical element to consider: 5G won't displace what an organization has in place until there are proven 5G healthcare use cases that justify the transition.
"It has to be very thought out to make sure that it is something that is utilized to its extreme in order to get the value proposition from this kind of investment," Richardville said. "Because it will cost you time, resources and capital dollars to be able to grow your network and access to it."
Still, he thinks the technology could be "revolutionary" in terms of bandwidth and other network capabilities, such as real-time wireless data transmission from patients' remote monitoring tools back to providers.
John Bosco, CIO at Northwell Health in New York, also described 5G as "revolutionary." He is paying attention to its development but believes it will take years for carriers to roll it out.
"It's going to be very expensive for them to deploy," Bosco said. "They're very high in the hype cycle right now, in the marketing, but very low in deployment."
It is a game changer, there's no question about it.

John BoscoCIO, Northwell Health
At the 2019 MIT Platform Strategy Summit in July, Nicki Palmer, senior vice president of technology and product development for Verizon, said the company is investing $1 billion in physical infrastructure to support its 5G network. Verizon plans to have limited 5G service available in more than 30 cities by the end of 2019.
Bosco is already thinking in terms of 5G, specifically for new facilities and hospitals with long-term build plans.
Bosco believes 5G will impact certain areas of healthcare down the road, including home healthcare, by enabling devices to easily connect to a healthcare organization over broadband. He also thinks it could impact imaging by making wired medical diagnostic equipment like X-rays and MRIs wireless. Today, medical devices like X-rays are often stationary and have to be physically connected to a network to transmit images. Transmitting images through a wireless connection could speed up the imaging process.
"There are a lot of ways that it can be used, but it's going to take some time for the carriers to really fully deploy it," he said. "It is a game changer, there's no question about it."
How 5G works
5G is a wireless network with a theoretical peak data transmission speed of 20 GBps. The peak speed of the current 4G LTE wireless network is 1 GBps. 5G will operate at a higher radio wave frequency than 4G, providing faster data transfer rates and less latency. The 5G wireless signal will be transmitted by small cell stations outfitted with advanced antenna technology. The 5G network relies on many small cell stations mounted on lampposts, rooftops and tall structures to transmit signals across shorter distances and enable stronger coverage in more densely populated areas.
Potential concerns with 5G in healthcare
There are two big concerns CIOs will need to keep an eye on: One is cost and the other is risk mitigation.
To reap the most benefits from 5G, a healthcare organization would have to do a full upgrade of its technology stack to communicate with the 5G network, a task with an expensive price tag.
Technology Business Research's Antlitz said the cost of the technology will come down over time, and 5G will eventually get to a price point organizations can afford, but it will take time to ready the organization's infrastructure to support it.
Healthcare CIOs will also be responsible for risk mitigation.
"Quite frankly, CIOs are the ones that are going to want to be crystal clear that there are no adverse side effects from utilizing 5G in healthcare environments," Antlitz said. "The burden of figuring out and making sure there's no risk there, or that risk is mitigated, is going to fall on their shoulders."
CIOs will have to work through the potential disruption to diagnostic systems. Analysts are divided on what the uptick in radio wave radiation, something all cellular devices emit, from the 5G network will be.
Antlitz said it will be a "big stumbling point" and called for more research on the effects increased radiation will have on potentially disrupting medical diagnostic systems. Frost & Sullivan analyst Michael Jude, on the other hand, thinks the potential for network interference is small. If a healthcare organization doesn't see significant interference between its on-campus Wi-Fi or cellular network and its diagnostic equipment already, it likely won't see it from the 5G spectrum either, he said.
Where 5G stands now and in the future
What analysts do agree on is this: 5G is in its infancy and the messaging around the network's potential is, as Jude put it, a lot of "marketing hype."
Healthcare CIOs will start to see some 5G use cases in healthcare within the next three years, particularly in telemedicine. By then, patients will have had personal experience with 5G. Like 4G before it, they will demand their healthcare providers keep pace with consumer companies like Amazon, according to Chilmark Research analyst Brian Murphy.
But, Murphy said, for healthcare organizations, "it's all going to boil down to how much it costs."
Plus, 5G won't be the only game in town, Frost & Sullivan's Jude said. Wi-Fi 6, the next generation wireless standard, is under development.
Jude believes Wi-Fi 6 could include benefits that 5G doesn't have, such as backward compatibility, or the ability to work with an older network or system. CIOs will have to plan for both, but spending more time working Wi-Fi 6 versus 5G into the organization's IT roadmap might be a better use of a CIO's time, Jude said.
"Wi-Fi is not going away; it's going to continue to be at least a default technology that's in everybody's cell phone," Jude said. "So if you're a wise service provider of any sort, even healthcare, you realize that you should do something to support it."
Dig Deeper on Healthcare IT systems and applications