Gajus - Fotolia
Athenahealth launches new telehealth service
Blue Ridge Medical Group is using a new telehealth service from EHR vendor Athenahealth to treat patients at home.
When federal regulators relaxed regulations on using telehealth services during the COVID-19 pandemic, Dillon Miller, M.D., began quickly vetting tools for both his practice and the medical group he oversees.
Miller, a family medicine physician and the medical director of 15-physician Blue Ridge Medical Group in Blue Ridge, Ga., considered applications such as FaceTime and Skype, which were allowed by federal regulators during the pandemic. But he believed they were a short-term fix.
For the last several weeks, Miller has been using a new telehealth service from the organization's EHR vendor Athenahealth Inc., which provides a suite of services to customers including EHR systems, revenue cycle management and patient management. Called AthenaTelehealth, the HIPAA-compliant service is embedded into its EHR product, enabling providers to conduct telehealth visits directly from the platform instead of switching to another telehealth service.
"Typically, there were two different programs you had to use, your EHR and the program you were doing the actual interactions with the patients on," Miller said. "It didn't flow well and wasn't efficient when you were trying to check them in and check out and interact with the patients. … Having it embedded makes the process much better, easier and more user-friendly."
The new, virtual patient room
Miller described the AthenaTelehealth service as a "virtual patient room."
Patients receive a link via text or email to join the virtual visit. Once patients enter the virtual room, Miller's front office staff checks them in. A nurse then enters the session and conducts a patient assessment. The nurse leaves before the provider joins. After the session, Miller's staff can bill the patient and schedule a follow-up appointment.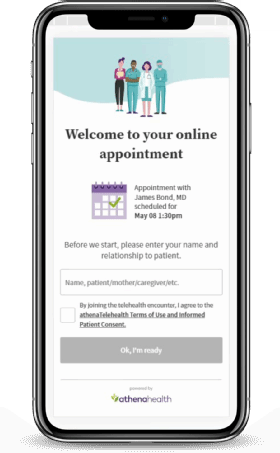 "You can't do that with other types of programs," he said.
The EHR vendor saw a 3,400% increase in daily telehealth visits from mid-February to late April, according to a news release. While other telehealth vendors can connect to the Athenahealth open source platform and provide an add-on service to providers, these products are not integrated into the EHR workflow, said Paul Brient, Athenahealth's chief product officer.
Brient said creating a telehealth service was not on Athenahealth's "near-term roadmap," but the pandemic sparked a dramatic increase in requests from customers, and Athenahealth decided to act. The vendor will offer its AthenaTelehealth service free of charge to its cloud-based AthenaOne customers until Sept. 30.
"It's essentially the same workflow, whether you're doing a video visit or you're doing an in-person visit," Brient said. "It's just that in one case you've got the patient on the screen instead of in front of you."
Miller said using telehealth services during the pandemic has helped both patients and providers see the benefits of virtual care.
Pandemic changes the future of telehealth
One of the unexpected benefits is the added intimacy telehealth visits have provided, according to Miller.
Having it embedded makes the process much better, easier and more user-friendly.

Dillon Miller, M.D. Medical director, Blue Ridge Medical Group
"I've met their dogs, their cats; I've gotten tours of houses," he said. "It's a whole unique experience with the patient that has allowed us to not just treat the patient, but connect with them."
It also has made healthcare more accessible. Patients have scheduled visits with Miller while they're working, when they can step into a private space for a few minutes instead of taking time off to drive to the doctor's office, sit in the waiting room and then be checked in for a visit.
Going forward, Miller believes patients will drive greater demand for telehealth services for routine care appointments, especially as both patients and providers have gotten more comfortable using the technology during the pandemic. Although he expects reimbursement will continue to be a challenge for telehealth visits, Miller believes use among providers and patients will continue to move forward.
"When you're creating a situation that gives you more access to your doctor, it's only going to be a good thing when it comes to your overall health, your overall care," he said.
Dig Deeper on Healthcare IT systems and applications