What is HCM software, and what are the HR software benefits?
Human resources software, or human capital management software, handles everything from benefits administration and applicant tracking to retaining and rewarding star employees.
Human resource management software -- in all its forms and with all its features -- deals with a company's most...
Continue Reading This Article
Enjoy this article as well as all of our content, including E-Guides, news, tips and more.
valuable asset: its people.
Traditionally considered an administrative aid for HR professionals, HRM software is now used by managers and employees throughout the enterprise. Human capital management (HCM) system and HR software benefits extend beyond traditional HR functions, like payroll and record keeping. These systems are increasingly more agile and diversified.
HCM systems facilitate scouting talent; recruiting employment candidates; managing employee payroll and benefits administration; overseeing the performance review process; enabling employees to advance themselves and grow their skills through internal training and job opportunities; and facilitating collaboration among employees through social media tools.
Over the past few years, HCM software vendors have expanded and diversified their offerings in varying ways, which now makes it harder to compare competing sets on an apples-to-apples basis. However, most vendors provide core HR functionality (payroll, benefits administration and employee records), talent management (TM) and mobile and web-based engagement/collaboration tools for HR, employees and managers.
A closer look reveals the differences, which revolve around focus areas. Some HR software benefits focus on core HR functions and on HR department outsourcing, while others venture into employee engagement, like employee wellness and work-life management.
This makes it imperative for companies considering HR software to clearly understand their organizational needs and determine their HR software requirements, well before meeting with vendors.
Categories of HRM software tools
HCM tools fall into three principal categories: core HR tools, TM tools and employee engagement tools.
Core tools
Core tools are the most vital; they are the foundation of HCM software and are the minimum required to run any corporate HR function. Common modules within them include:
Benefits administration: This includes employee 401(k) plans and participation, employee healthcare (medical/dental), life insurance policies, paid time off, etc.
Payroll: This includes employee salaries, bonuses and 401(k) contributions and also factors in to deductions for healthcare and other employee-contributed programs. It calculates withholding for taxes, cuts paychecks and provides integration with banking systems for direct deposit.
Employee records: This is usually a database that contains each employee's personal information (address, Social Security number, marital status, etc.), employment record and related legal forms and other documents.
Time, attendance and scheduling: This provides tools for staff to schedule work and to track time and attendance. It also tracks available and used sick days. Based on company-defined business rules, many products can automatically issue alerts when employees fail to meet scheduled work targets.
TM tools
TM tools augment core HR with software that enables organizations to develop their employees professionally, from applicant tracking to training and performance management.
These include:
Recruiting: This manages applicant tracking through the process, information storage and employment applications. It also provides integration with other HR applications and has the ability to perform background checks.
Training: This creates a centralized employee training repository with an access portal for employees, managers and instructors. It tracks and existing employee training and skills development. It also enables the development, delivery and management of course content, as well as the definition of training curriculum and certification paths. It has the ability to link these paths to skills and certification requirements for internal job postings. Online testing and reporting are often available.
Performance management: This is for recording and tracking employee performance reviews. It also includes tools for performance measurement and goal tracking.
Compensation management: This optimizes compensation systems by rewarding top performers with bonuses or incentives based on performance, while also avoiding rewards for underachievers.
Succession/leadership : This creates succession plans that retain high-potential leaders, build talent pools for business growth and avoid disruptions caused by unplanned turnover. This enables companies to systematically evaluate both internal and external talent for key roles.
Workforce : This provides analytics for evaluating workforce trends and future .
Employee engagement tools
Employee engagement tools capitalize on social media and mobile technology, enabling employees to actively collaborate across the company, as well as access self-service HR portals that help them sign up for classes, check job openings and requirements, manage time and attendance and review company benefits.
Tools in this include:
Mobile access/collaboration: This offers employees the ability to communicate across the company on the fly, exchanging vital information on projects, locating experts and content, and contributing content. Mobile access to HR also enables the issuance and receipt of real-time alerts and contains full company employee contact information. In addition, this self-service access lets employees check their benefits and paycheck records and enroll in and manage their own training. Most software supports popular OSes, like iOS and Android.
What are the major HR software benefits?
Regardless of size, companies expect cost-effective HCM software that effectively integrates with their existing operations and systems. They also expect to see measurable HR software benefits. These tools must address some of the emerging employment needs in today's business environment. For example: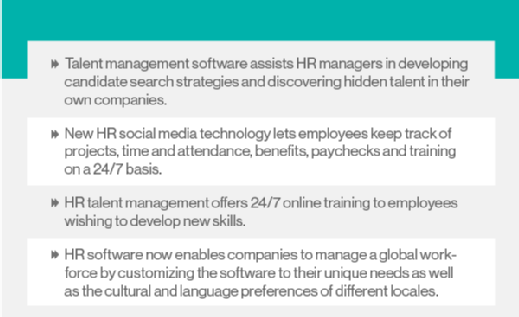 How HR software is sold
More companies, especially in the small-to-midsize range, are opting for cloud-based HR systems instead of on-premises HR software. HR in the cloud is often more affordable and requires less maintenance, although there is still a market for on-premises systems as well.
In the cloud, key players are SAP SuccessFactors, Ultimate Software, Workday, Oracle HCM and ADP Vantage HCM.
Several of these vendors also offer on-premises HCM for companies that prefer to keep their HR systems in-house. Often, companies preferring in-house HRM systems are large enterprises. One reason is simple: They've always hosted their HR software in-house. That means these enterprises have highly qualified HR professionals on staff to operate the software, and they also already have sizable investments in operational and internal systems integration built around these on-premises packages. For security purposes as well, large enterprises prefer to have their workforce information under direct management with an on-premises system in their own data center, and not in the cloud.
Conversely, SMBs are seizing the opportunity to move to cloud-based software so they can avoid purchasing on-site software and hardware and having to maintain it. Buying into the cloud also enables SMBs to compete more effectively with their larger enterprise counterparts, especially when the cloud is a SaaS company that can also offer IT and HR expertise.
In some cases, HR tools also reach beyond the boundaries of corporate employee workforces and into the management of contractors and other outside work resources. This is a critical need for global companies, as well as for companies that rely on outside contractors and temporary employees to augment their core workforce.
Regardless of whether the software is on-premises or cloud-based, HR tools vendors are keeping pace with the market by innovating with new capabilities and HR software benefits. One exciting is utilizing AI and big data analytics for workforce purposes. With HCM and AI, companies and HR can better gauge employee sentiment and predict where workforce talent and recruitment needs are likely to be greatest.
Who manages the software?
Although a corporate HR department generally assumes overall responsibility for HR software management, technologies, including the cloud, social media, mobile and big data, make it equally important for IT to take an active role in both software and vendor management.
Determine your company's needs
Companies expect measurable HR software benefits, including solutions to workforce recruitment, retention, compensation, development and administration challenges. Core HR tools are the foundation, and companies expect them to function capably and reliably. That goes without saying.
Increasingly, companies of all sizes will look to TM as the focal point of their HR investments, followed by a two- to three-year roadmap in which to define and build out their HCM software into tools that employees can use to collaborate and participate in HR self-service through social media. The HR software your company selects should be able to scale to this roadmap.
Next Steps
Learn what puts organizations on the path to HCM success