funkyfrogstock - Fotolia
Rethink your onboarding and training digital adoption strategy
Digital adoption strategies are crucial in today's "new normal," and that includes those related to new onboarding and training tools. Experts weigh in on how to create success.
As companies ramped up their newly remote workforces, one thing became clear very quickly: Digital adoption -- including onboarding and training tools -- is now a must-have.
Prior to the pandemic, more than 80% of HR and IT leaders were concerned about user adoption of new tech tools, according to a PWC survey conducted in September 2019.
That issue has come to the forefront in the wake of the COVID-19 pandemic, and it dominated the Digital Stratosphere 2020 conference held April 20 to 24, particularly a session that focused on workforce management.
An opportunity for digital adoption
Across the globe, business and HR leaders have recognized the need for digital tools and its challenges. That means a digital adoption strategy and training and onboarding tools have never been more important.
Implementing new technology often results in frustrated users and inefficiencies, said Michael Graham, CEO at B2B SaaS provider Epilogue Systems LLC in Ambler, Pa., and one of three speakers that addressed the topic.
As bad as the current crisis is, companies are likely to see a change-readiness that wasn't there before. HR can use this as an opportunity to create a better digital adoption strategy.
"These changes … might accelerate adoption," said Eric Kimberling, CEO and founder of Third Stage Consulting Group, a global consulting firm based in Englewood, Colo., during that same session. "[The greater use of] Zoom, for example, is a real basic one that a lot of people can relate to."
Disruption opens the possibility not just for near-term collaboration tools, but for training and onboarding tools, among others.
"[Employees] are already disrupted," said John Vargo, director of manufacturing execution systems and digital supply chain at RoviSys, based in Aurora, Ohio, during the session. "If you offer an augmented or virtual reality device [they may think], 'Maybe I will try this and see how it works in my day-to-day work.'"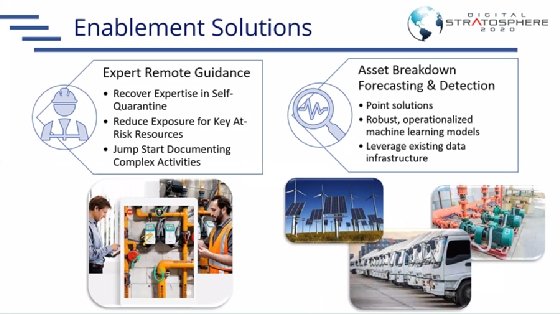 Whatever the tool, it's important to get strategic about digital adoption.
"Businesses may not have been thinking a ton about [new tools] before, but now, maybe, there's an opening to have a better business case or better reason to think about it," Kimberling said.
With the spotlight on innovative ways to manage the workforce, HR in particular has an important role to play.
Training and onboarding strategies
One of the biggest hurdles companies may face when implementing new tools and training strategies is the multiple generations of employees -- from baby boomers to Gen Z -- who have different approaches to learning technology.
Because of this, it is important for HR to understand their audience and offer training options in multiple formats.
HR can make varying modes available -- such as videos or written documents -- that enable employees to pick the training that works best for them, Graham said.
Employee adoption of new digital tools can also transition into future onboarding and training strategies.
"Augmented reality tools can help guide [employees]," Vargo said. "If it's a very complex topic, you can see or understand the steps overlaid on the piece of equipment in your space and facility."
If HR asks employees to record what they do on a daily basis using these new tools, visual instruction will be available during onboarding and training to streamline the process significantly, he said.