Sergey Nivens - Fotolia
Tasting a flavor of cloud-based HR software in the future
Through a quick-paced intro to six new products, our editor takes a glimpse into the future of cloud software for HR. New talent management features seem the most promising.
As I took a whirlwind tour of six new products, I couldn't help but think how much cloud-based HR software is evolving:...
Continue Reading This Article
Enjoy this article as well as all of our content, including E-Guides, news, tips and more.
Talent management now includes yet more ways to relieve human workers of boring paperwork, and the nebulous idea of improving employee engagement has some rock-solid tech ideas behind it.
Organizers of the 2018 HR Technology Conference last week vetted innovative products and featured the six vendors in a quick-moving, 90-minute session designed to introduce attendees to the software. The fast pace of last week's session made it hard to determine how well products might work, but nonetheless, I tasted a flavor of HR's future.
Automated offer letters and onboarding
I heard the word automation all over the halls and expo floor at the conference. But it didn't come from the fear-mongering realm of software replacing humans; instead, vendors and some attendees viewed it as a way to take mundane tasks off end users' hands. For example, both iCIMS and PeopleDoc have released new products aimed at reducing the amount of human action needed to finalize candidate offers and subsequent onboarding.
Al Smith, CTO of iCIMS, said companies average about $4,600 to hire an employee within an average time frame of 47 days. Some of that drag comes near the finish line as a company prepares an offer to a job seeker. The iCIMS product -- called Offer, which was released in August -- enables companies to use offer letter templates and an automated approval process to move things along more quickly. From there, the candidate can accept and sign the letter through the Offer portal.
I heard the word automation all over the halls and expo floor at the conference.
Meanwhile, PeopleDoc rolled out robotic process automation (RPA) and bots in May for its cloud-based HR software. The bots "listen" for data from other HR systems, such as recruiting software confirming a new hire, said Andrea Couto, senior director of solutions consulting. Through RPA, the bot then automatically brings the new hire document over to the applicant tracking system, generates needed documents in Word or Google Docs and lets staff know on Slack about the incoming employee. "Things that typically take hours of HR time we perform in a matter of seconds without HR having to lift a finger," Couto said.
Cloud-based HR software pushes engagement
For a younger labor force with different expectations on work life, Wisely by payroll giant ADP and a culture and rewards app by YouEarnedIt may have appeal. YouEarnedIt is SaaS that measures employee engagement -- for example, what employees feel are the top skills and values they bring to a firm -- combined with real-time data in an attempt to boost company culture, said Autumn Manning, co-founder and CEO of the company. Its real-time performance capabilities came after it acquired performance monitoring platform HighGround in May.
YouEarnedIt's approach stems from the premise that employees care about four core areas: connections with colleagues and managers; purpose in day-to-day work; the employee's influence on co-workers and communities; and appreciation of individual and team contributions.
The software seeks real-time feedback from employees on those four areas, and workers can award points to colleagues for being good leaders or creating positive changes. The accumulated points can be used by awardees to spend time with their team or buy gift cards, among other treats. The twist is that YouEarnedIt tracks data from the choices so that a manager can note if an employee who typically spent time with team colleagues suddenly starts buying gift cards with reward points. A manager can decide if that change indicates an unhappy employee, and "it allows me to act on a flight risk," Manning said.
Wisely by ADP -- available as of September -- tackles compensation from the stance that millennials may want their salary to go to a prepaid card as either instant pay or integrated with mobile digital wallets. ADP research also showed that younger workers want help with financial management, which developers worked into Wisely, too, said Belinda Reany, division vice president and general manager of employee financial services ventures at ADP. Reany's division serves as a tech incubator for the company.
"What we heard from users is they don't know how much they spend on dining out, how much they spend on groceries," she said.
Wisely's app can suggest to employees, after determining a 30-day baseline in spending, how much to set aside for monthly expenses. The app can then send that amount to a checking account set up for online utility payments, while keeping the balance on the card, for example.
Wisely integrates with ADP's cloud-based HR software platform, and for employers, offering the benefit may help younger workers not only feel more engaged, but also aid them in financial planning, Reany said.
Simulated training and personalized HR content
Other cloud-based HR software I learned about during HR Tech 2018 seeks to improve content delivery and training:
ServiceNow's Targeted Delivery and Content Automation product digitizes processes across departments and then offers information about them through personalized, real-time content. For example, an employee relocating to a new office can log in to an employee self-service portal and learn what documents and services are available for the move, including relocation funds -- and the information adjusts on the page once the employee starts in the new location. This type of personalized content could be used in various HR processes, said Deepak Bharadwaj, vice president and general manager of the HR business unit at ServiceNow. The new product became available in September.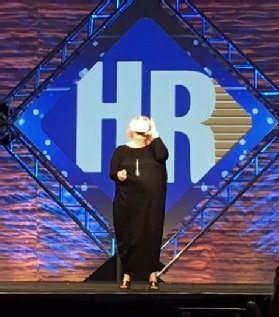 Learning platform provider SumTotal Systems announced that it will integrate virtual reality technology from Strivr into personalized HR training through simulated scenarios. At HR Tech, Tara O'Sullivan, chief marketing officer at Skillsoft, SumTotal's parent company, donned a headset and demonstrated a construction site simulation that measures safety points, while integrating her heart rate and "gaze analysis" -- in other words, what she looked at. "My heart rate increased because I got a couple of [checkpoints] wrong … which is a stressful situation," O'Sullivan said. It is possible to pinpoint through data which employees experienced stress and develop further training for them. SumTotal offers products not only in the cloud, but on premises and in hybrid cloud setups.
The products from SumTotal, ServiceNow, ADP and YouEarnedIt all have potential, particularly as employee engagement tools. However, iCIMS' and PeopleDoc's new cloud-based HR software address more immediate needs in core HR, as most -- if not all -- companies struggle with finalizing new hires and getting them related documents quickly.