Getty Images/iStockphoto
Vodafone upgrades recruiting tech to attract and impress
Vodafone, the U.K.'s telcommunications giant, has upgraded its recruiting tech with automation that will analyze resumes and CVs and then recommend jobs.
To help meet its job needs, Vodafone, a telecommunications company based in the U.K., is making it easier for external and internal job applicants to find opportunities. Job seekers upload their resumes to the recruiting site and provide additional information about their skills if needed; the system analyzes an applicant's data and then recommends jobs.
The recruiting site looks and feels the same for internal and external employees, but there are differences, said Marc Starfield, group head of HR Programmes and Systems at Vodafone. For external candidates, the system's focus is on finding vacancies, but internally, the system provides insights into jobs and specific career paths.
To get these features, Vodafone is using technology from Eightfold AI, an HR recruiting and talent management software vendor, and TalenTeam's Blend learning experience platform for SuccessFactors users, which is Vodafone's core HCM system. The company launched its upgraded recruiting platform in early February.
Vodafone designed the platform to make "personal and purposeful recommendations" to employees in terms of what they should be learning to achieve career objectives, Starfield said. In an effort to upskill its employee base, the recommendations may include notes such as courses employees in similar roles liked. SuccessFactors, Eightfold and TalenTeam share data via APIs to create this platform for users.
Workers can see the link between their own development and the jobs they want, "and what learning intervention or routes could enable and impart the knowledge," Starfield said in an interview following his presentation at the recent HR Technology Conference & Exposition.
Recruiting goals
The push by Vodafone to upskill employees is driven in part by its goal to hire 7,000 software engineers by 2025 to its existing staff of 9,000 software engineers. The firm announced a plan late last year to develop new types of products in areas of IoT, smart networking and cybersecurity as well as to create other digital services and tools. The telecommunications firm, which employs more than 96,000, is planning fill many of those jobs internally, Starfield said.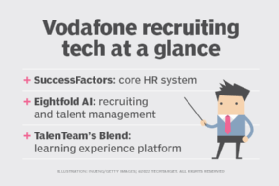 Having a sophisticated and intelligent recruiting site is essential to its hiring efforts. Starfield hopes the recruiting site makes a good impression on job seekers who upload their CVs and see the customized recommendations.
"I want you to say, 'My goodness, this is a really digital organization,'" Starfield said. He said that applicants previously responded to application questions in a slow process.
The emphasis on purposeful work was a frequent topic at the HR conference. The argument is that people who aren't finding a purpose in the work they're doing are more likely to leave, said Stacia Garr, co-founder of RedThread Research, an HR analytics firm. But she warned HR managers at the conference of the need for a broader application of the concept of purpose.
I want you to say, 'My goodness, this is a really digital organization.'

Marc StarfieldGroup head of HR Programmes and Systems, Vodafone
"Purpose is not just about attracting and retaining talent," said Garr, who spoke at the conference. Purpose involves other things for businesses, including recognizing the challenges around diversity, equity and inclusion (DEI), income inequality and climate change, among other issues.
Purpose has to be part of an organizational strategy, she said. Otherwise, "people will see that there is a gap between what you're saying and what you are doing."
Patrick Thibodeau covers HCM and ERP technologies for TechTarget. He's worked for more than two decades as an enterprise IT reporter.