Stipends for remote work emerge as polarizing issue
As remote work becomes a broader norm, there's debate about whether employees should be reimbursed for home office expenses, especially if it's their choice to work from home.
As more companies choose to make remote work a permanent option, an unresolved issue is whether to reimburse workers for home office expenses, such as broadband and electricity. It's a controversial, polarizing issue, but it also has legal implications.
Companies rushed employees to work from home at the start of the COVID-19 pandemic in March 2020. Still, a double standard quickly emerged in remote work reimbursements, said Scott Rivers, managing director at Cerca Talent, an executive search firm specializing in life sciences, diagnostics and biotechnology in Oradell, N.J.
Rivers said that before the pandemic, most remote employees received reimbursement for home internet and cell phone plans, especially for workers who traveled to customer sites.
"But anyone forced to work from home [due to the pandemic] did not get the same," he said. Employers weren't reimbursing employees for things like the internet because "they were already paying for it," he said.
Rivers said the work-from-home employees who want expense reimbursement are trying to get the best of both worlds. But it could backfire on employees, especially for companies that own their offices and couldn't downsize their space after allowing remote work. If employers have to pay employee utilities and other costs without seeing productivity gains, "then I think you'll start to see people very quickly start pulling their employees back to work," Rivers said.
An Amazon lawsuit
Amazon is fighting a lawsuit in California federal court over this remimbursement issue. A software engineer at Amazon wants reimbursement for internet and electric costs incurred from working from home during the COVID-19 pandemic. Amazon lost its bid this month to get this case thrown out.
An employer's legal obligation varies from state to state. Currently, 11 states and Washington, D.C., require expense reimbursement for remote work, according to Motus LLC, a management and reimbursement platform in Boston. Federal law requires reimbursement for workers making minimum wage.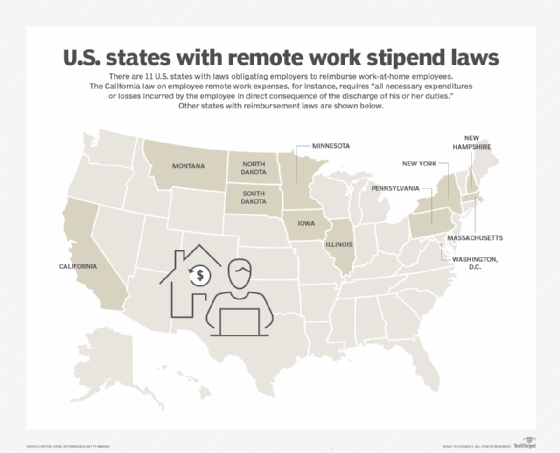 Amazon sought to get the case thrown out, arguing in court papers filed in the U.S. District Court in the Northern District of California that the employee's expenses resulted from a government stay-at-home mandate -- not Amazon. But U.S. District Judge Vince Chhabria rejected that argument and said the employee incurred those expenses "in direct consequence of the discharge of his or her duties."
Danielle Lackey, the chief legal officer at Motus, expects that Amazon will settle the case. The California law is clear: Reimbursement is required for the costs the employer gets benefits from, she said.
Unlimited cell plan controversy
Lackey pointed to a prior California case from 2014, Cochran v. Schwan Home Service Inc., employees using personal cell phones for work sought reimbursement. The employer argued that they had unlimited cell phone plans, but the court said, "This isn't a question of the cost to the employer; it's a question of the benefit to the employer," Lackey said. "Even in that case, the employer was expected to reimburse some reasonable percentage of those plans."
Leaving it up to the employee to decide whether they want to work remotely "doesn't necessarily absolve the employer of its reimbursement obligation," Lackey said.
In the California case Stuart v. RadioShack in 2009, "the court focused on whether the employer knows or has reason to know that the employee has incurred a reimbursable expense. The court concluded that if it does, the employer must exercise due diligence to ensure each employee is reimbursed," Lackey said.
This is a topic where legal obligations sort of marry with morale and employee experience.

Danielle LackeyChief legal officer, Motus
Lackey sees the Amazon case as a warning to other employers to examine their legal obligations. She also believes decision-making on reimbursements will involve business decisions around the employee experience. "This is a topic where legal obligations sort of marry with morale and employee experience," she said.
Seattle-based Avanade Inc., an IT consulting and services firm, has been providing its 4,000 North American full-time workers with a $2,000 annual extended benefit that can be used for home office expense. Entry-level hires initially receive $500, pro-rated, increasing to the total amount at their first promotion. The program is global for the firm's 56,000 employees, but benefits and amounts vary by region.
Avanade began providing this benefit before the pandemic, and employees can cover home office and device expenses, but it's also intended to encourage a work/life balance. Employees can use the benefit broadly for things like a gym membership, house cleaning and personal travel. The extended benefit is a "use it or lose it" program, and employees expense their spending, said Laura Sewell, executive vice president and HR lead for North America at Avanade.
But on the broader question about whether firms should be obligated to reimburse for home office expenses, Sewell said if an employer requires an individual to work from home, there is an obligation to subsidize. But if the employer is offering its workers "flexibility and choice and has open office space available" and some employees "don't want to use that, I think it's up to them [the employee] to accommodate or meet their own needs at home."
Many companies did provide a remote work stipend during COVID-19, and in many cases helped employees upgrade their broadband to improve productivity and communications, said David Lewis, president and CEO of OperationsInc, an HR consulting firm in Norwalk, Conn.
"Most employers look at anything that they've done since COVID as an accommodation, as something that they don't have to do or didn't have to do," Lewis said. But he expects that in several years, once employers settle into remote work, they will provide one-time stipends for employees to upgrade their home office and ongoing stipends for bandwidth.
Lewis can even see employers providing help with electricity to, for example, offset the costs of running the air conditioner at times when it would have sat idle.
But there's a downside to working at home. Employees driving to the office and spending money on gas may see better salaries, something akin to a shift differential for having to be in the office. The remote worker may make less money, Lewis said.
Patrick Thibodeau covers HCM and ERP technologies for TechTarget. He's worked for more than two decades as an enterprise IT reporter.
Dig Deeper on Talent management