jayzynism - stock.adobe.com
Calif. lawmakers might mandate active shooter training
California lawmakers are advancing legislation to require active shooter training for all businesses. The bill aims to better prepare employees for workplace violence.
California might soon require all businesses to provide active shooter training for employees. The state's Senate is advancing one of the most comprehensive training requirements of its type in the nation.
California had previously passed a law requiring workplace violence training for healthcare workers. But last week, the state Senate Labor, Public Employment and Retirement Committee unanimously approved a vote to advance legislation mandating active shooter training for all businesses, helping clear the path to a vote by the full Senate.
The bill, SB 553, "is not going to eliminate all workplace violence," said its author, state Sen. Dave Cortese (D-San Jose), at last week's hearing for the labor committee, which he also chairs. "However, the bill will better equip and prepare workers to respond to workplace violence," he said.
Among those who supported the active shooter training bill at the hearing was Hector Moreno, a grocery store worker and representative of United Food and Commercial Workers (UFCW) Western States Council Local 5. In 2022, he worked at a Safeway grocery store in San Jose where a gunman killed a co-worker.
"There is no active shooter training in the store," Moreno said at the committee's public hearing. "I still feel the impact of the incident today.
"When I walk into a grocery store, I'm constantly checking my surroundings to make sure that there isn't anything out of the ordinary," Moreno said.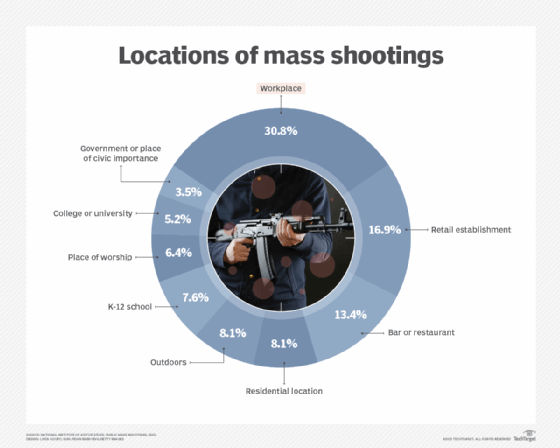 Aside from training, the bill requires employers to conduct risk assessments of a facility where people work. Businesses must consider effective escape routes and any impediments to accessing alarm systems.
A long list of industry groups, including the California Chamber of Commerce, oppose the bill, stating that it goes too far. For instance, the chamber objected to including verbal harassment as part of reported workplace violence incidents, already covered under other labor law provisions.
Effective active shooter training
What constitutes effective active shooter training is up for debate, argued Rob Huberty, COO and co-founder of ZeroEyes, a Philadelphia-based startup that uses AI to identify weapons from existing security video feeds. Once a gun is detected, the system sends alerts to first responders while giving those under threat more time to react.
There's a lot of conflicting opinions [about active shooter training standards].

Rob HubertyCOO and co-founder, ZeroEyes
Huberty, a former Navy SEAL, said there are no standards for active shooter training. "There's a lot of conflicting opinions," he said.
He argued that what constitutes the standard "run, hide, fight" response needs data to support this approach.
Hiding, for instance, does not necessarily offer protection, Huberty said. "It's better probably to evade than it is to hide." People in an active shooter situation need to escape, "but to escape, you need to know where the threat is," he said. "You don't want to run toward the threat."
California needs to develop an active shooter training program with approaches to multiple situations and that is backed by data, Huberty said.
Patrick Thibodeau covers HCM and ERP technologies for TechTarget Editorial. He's worked for more than two decades as an enterprise IT reporter.