pressmaster - Fotolia
Documenting processes is crucial step in deploying enterprise software
An HR technology consultant outlines the steps needed to get a strong grasp on how your organization does things -- and how new software might make them run more efficiently.
As an employee, implementing new software can be an exciting endeavor. You get to work on something important to the company, learn new skills and interact with colleagues in a team environment. However, as with all projects and roles, there are also tasks that are less exciting but nonetheless critical to the success of the project. One such task is evaluating and documenting processes.
Documenting how employees do their jobs, where tasks are handed off from one person to the next and the gaps that exist will ensure that the new process keeps the best of what you do today and addresses the issues that need to be fixed tomorrow.
When should you undertake this exercise? Ideally, you will want to capture your current processes before you start documenting your requirements for the new software. Doing so will help ensure that the new application meets your current needs. It will also help the organization identify features that are needed to solve current challenges and determine any integrations or interfaces that may be needed.
If you are lucky, you'll have most of this documented already. If so, you should still take the time to confirm and update the documentation. If you're starting from scratch, be prepared to spend weeks on this mini project. Getting the right employees to provide input is critical and may take time to schedule. You might also need to acquire a good flowcharting tool and learn how to use it effectively before you begin documenting processes.
Why documentation is so important in enterprise software deployment
There are several advantages to building a step into the project schedule for evaluating and documenting processes. They are:
Keep what's working. While the project was initiated to address a need, you shouldn't ignore the fact that many of the processes used in your company or department are working quite well and should be retained.
Identify gaps. You want to identify steps in a given process that could be done more efficiently, effectively or accurately. Using someone external to the process, with fresh eyes, may help identify some of the workarounds and issues that have become part of the process for employees.
Understand why things are done this way. If you are an outsider looking at a process, you may think you can streamline or eliminate steps to improve the process. However, there may be a valid reason for them -- even if it's not obvious at the outset -- so take the time to ask.
Gather stakeholder input. You want to include stakeholders in documenting processes because they will be most impacted by the change. The easiest and best way to get buy-in is to be inclusive and let employees have a say in what modifications are made.
Know if a process is simple or complicated. At first glance, you may underestimate the number of steps, approvals, rules or people involved in a process. As you break them down, you may be surprised to learn that a process you thought was simple and straightforward was much more complex.
Where to start with documenting processes
Take the steps listed in the figure to document your current processes.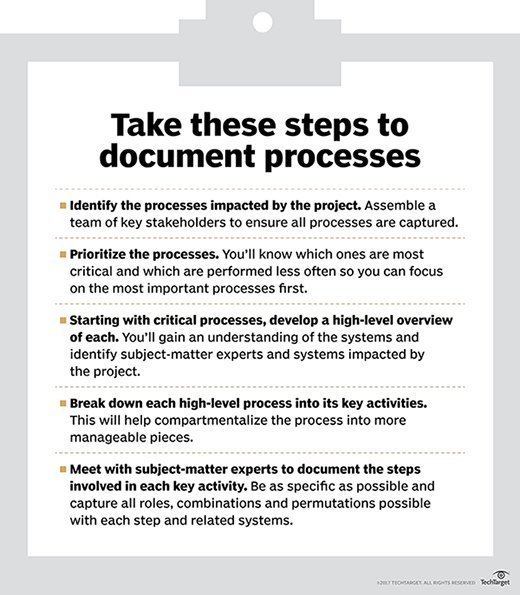 As you go through these steps of documenting processes, make sure to capture areas where there are many manual steps, known issues and where subject-matter experts say the current process is problematic.
Updating the processes to get to a desired state
Now that you know how things are being done today, it's time to document how you would like the processes to work in the future. There are three key things to consider:
Secure agreement on process changes. It's important that stakeholders be given an opportunity to contribute to process changes. This can be a discussion that generates a lot of passion and opinions because many people do not like change or they were the ones who implemented the current processes.
Features of the new system. When modifying processes or developing new ones, you want to leverage the functionality that is available. Be open to adjusting how a process is accomplished. There may be features available in a new system that you had not considered.
Limitations of the new system. Just as there may be unexpected features, there will almost certainly be limitations you had not anticipated. After confirming with the vendor that a limitation exists, develop workarounds to ensure the process can be accomplished in the best way possible given the functionality available.
Documenting processes is not something most employees enjoy doing, but if it is done before or early in a project, you can ensure that process changes are made for a good reason, you have buy-in and you are leveraging the investment made in the new application.
About the author
Eric St-Jean is an Ottawa-based HR technology consultant and president of CleaHRStrat Consulting Inc. Email him at [email protected].
Next Steps
Plan a corporate performance management software deployment
Understand ERP change management
Create an ERP center of excellence
Dig Deeper on Core HR administration technology