kentoh - Fotolia
Accenture turns to ITSM integration tool for data compilation
IT orgs that subscribe to help desk management services must access huge quantities of information for analysis. Read how one company overcame this challenge.
IT service management encompasses a broad range of elements that ultimately combine information and processes for companies to accomplish business goals. Some companies struggle to aggregate, access and use the information generated by help desk management.
Global consulting company Accenture gathers a significant amount of data in its implementation of ServiceNow for help desk services -- about 2 to 3 million updates daily, estimated Jeff Lowenthal, service management portfolio lead and enterprise architect at Accenture. The company wanted to replicate data from the ITSM environment fairly seamlessly, and as real time as possible, to its data warehouse. That required data collection every time there was an update, without a drop in overall performance, Lowenthal said.
So how does a company that subscribes to SaaS for help desk access the data that propels its service management capabilities?
Data replication: Buy it or build it
Lowenthal oversees Accenture's managed services, which offers clients best practices for IT processes. Accenture provides users with the whole ServiceNow ITSM suite, including incident, problem, change, configuration management database (CMDB) and release management. Accenture can derive trending metrics and other useful information about IT from this suite's operations data.
Before Accenture used the data for business intelligence and reporting, the firm had to duplicate the information to a data warehouse. The data replication journey began down the custom route, but along the way, Lowenthal's team discovered Perspectium, a San Diego-based ITSM integration as a service vendor. In the team's search, it also encountered SnowMirror, another vendor that provides a data replication service, but found Perspectium was cheaper and offered updates closer to real time.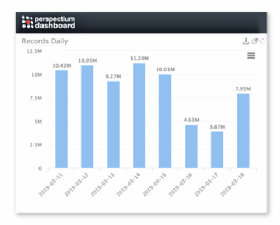 Lowenthal and his team determined that Perspectium's capabilities were better than what they could create on their own, but the decision was a hard sell, particularly to work with a startup.
"We were leery, and it took a lot of convincing of our leadership," Lowenthal said. Ultimately, Accenture was sold on Perspectium's reputation with other household names in IT, such as ServiceNow and Cisco, and the estimated cost to build and maintain its own service. Lowenthal estimated that an in-house data transfer and management option would cost around $500,000 to build and another $200,000 to $300,000 per year in enhancements and upgrades.
ITSM industry enters dynamic era
IT operations relies on the data it collects to guide its future decisions, which ties improvement to an ops team's ability to gather and analyze that data.
Service management doesn't live just within one application.

Craig McDonogh Vice president of strategy and marketing, Perspectium
"The problem with IT data is that it is complex, it has a very high frequency of change and it is subject to data quality issues," said Charles Betz, analyst at Forrester Research. "The investment that you might make into IT management data could go down the drain." He sees the ITSM industry on the cusp of change as discussions shift away from CMDBs to digital product information management, which includes integration.
While the ITSM market is niche, there are a lot different integration approaches a tool can offer, Betz said. Other tools such as Blazent and Tasktop tackle the integration problem, but they navigate differently around the complex concepts of enterprise application integration, service buses, classical data warehousing and integration platforms as a service.
"Service management doesn't live just within one application," said Craig McDonogh, vice president of strategy and marketing at Perspectium. Instead, service management data should come from a broad network of sources across the enterprise. Perspectium connects service management tools to data repositories and warehouses, service providers, and other service management tools and enterprise applications.
In addition to data replication, Perspectium enables Accenture to share updates with its clients based on specific criteria, and vice versa. For example, clients might want to raise an incident with Accenture when they run a security monitoring service and Perspectium's capabilities facilitate data sharing in a large, partner ecosystem. Through Perspectium, Accenture also shares data internally.
Perspectium handles its own updates, maintains the connections that it creates, and transfers and transforms data to match clients' service management tools. Additionally, Perspectium stores and forwards messages to prevent disruption during network outages. Perspectium is available for tools such as ServiceNow, BMC Remedy (now called Helix ITSM) and Salesforce.
Caution: Roadwork ahead
Accenture and Perspectium had to lend the other a helping hand before operations ran smoothly.
To create a custom data replication capability in ServiceNow requires in-house written scripts, and business rules, Lowenthal said, but that work does not include the capability upgrades and enhancements to match Accenture's unpredictable growth. "We can just give those requirements to Perspectium and let them handle it," he said. That costs Accenture less in continuous management than if had it created its own system.
Lowenthal and his team also had to figure out where the data could go. Perspectium offers an encrypted landing point on the cloud, something that Accenture didn't have.
But for all of Perspectium's features, Accenture still hit some bumps in the road with the ITSM integration tool's ramp up, including a software development kit that didn't work.
While Perspectium solved Accenture's data replication conundrum, Accenture's feedback helped Perspectium develop its roadmap to grow into an enterprise-class tool. Accenture's workload of 2 to 3 million daily updates posed a credible obstacle, but Accenture and Perspectium's senior leadership collaborated to address the service provider's needs, and the ITSM integration vendor now offers 24/7 support coverage, Lowenthal said.
As another example, Accenture's security team prohibits it from running outdated software, so Perspectium now releases regular updates, Lowenthal said. The company has also influenced Perspectium to implement a data guarantee service and the capability for its product to run multiple jobs in parallel to read the same table.
Dig Deeper on IT systems management and monitoring