Quantum computing ecosystem grows with Accenture, QCI moves
A quantum computing ecosystem is taking shape. Quantum methods may find initial applications in solving optimization challenges across various industries; other IT channel news.
Alliances have begun to emerge around quantum computing, with companies such as Accenture and Quantum Computing Inc. building partner relationships.
The moves provide evidence of a quantum computing ecosystem coalescing around hardware, software and service provider companies. Quantum computing, still in its early days, aims to employ quantum mechanics to solve problems that classical computing would struggle to address.
Accenture this week unveiled a multi-year relationship with IonQ, which offers its quantum computer systems through the Amazon Braket managed quantum computing service, Microsoft Azure and Google Cloud. The collaboration draws upon Accenture's research in quantum technology and industry expertise with IonQ's technology.
The IonQ partnership aims to prepare clients across industries for the arrival of mainstream quantum computing, said Carl Dukatz, global quantum lead and associate director in Accenture's Technology Incubation group.
"While quantum technology is still in its earlier stages of development, we anticipate the first enterprise applications leveraging quantum approaches to be on the near-term horizon -- largely because working in quantum inspires many types of new solutions," Dukatz said.
The Accenture-IonQ partnership seeks to accelerate quantum computing business experimentation, which takes place internally and in conjunction with customers. This approach involves discovering viable quantum problems in a three-step process, Dukatz noted:
creating new or using a set of preprogrammed quantum algorithms;
identifying whether those algorithms effectively replace classical computing implementations; and
rapidly piloting and deploying a quantum-enabled application to demonstrate the functionality.
Quantum Computing Inc. (QCI), meanwhile, launched a partner program around its flagship Qatalyst software, which lets organizations send computational problems to quantum systems available through Amazon Braket. The software supports purely quantum processing, but it also lets users augment classical computing with quantum technology.
The Leesburg, Va., company's QCI Partner Program lets participants provide access to Qatalyst as a service, which offers classical and quantum computing from IonQ, Rigetti Computing and D-Wave Systems. QCI's partners include Setmovision, an IT solutions provider in the Netherlands.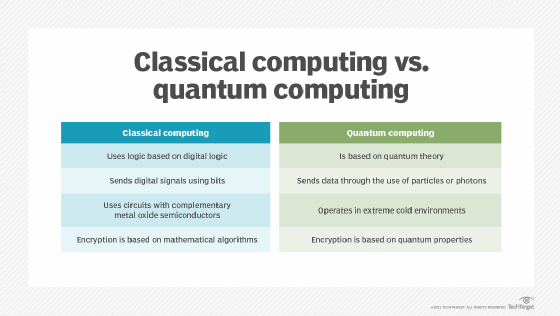 As quantum computing ecosystem partnerships evolve, some of the early activities may form around optimization problems, which occur across a range of industries.
"The advantages of quantum computing over classical computing are perhaps most apparent when solving optimization challenges," Dukatz said. Chemistry simulation in pharmaceutical research ranks among the primary areas in which quantum computing shows promise, he added.
Accenture has also explored applying quantum methods to optimization in other fields. As examples, Dukatz cited the use of quantum computing to identify the most cost-effective route for shipping goods and determine the most efficient way to extract resources from a mine.