AIOps meaning to expand throughout DevOps chain
AIOps means artificial intelligence to aid in IT operations. But it could mean much more than that, bringing in development, business, security and other application stakeholders.
It seems that every year there's a new record for the pace of change in IT, from the move from mainframe to client/server computing, to embracing the web and interorganizational data movements. The current moves that affect organizations are fundamental, and IT operations had better pay attention.
Cloud providers are taking over ownership of the IT platform from organizations. Organizations are moving to a multi-cloud hybrid platform to gain flexibility and the ability to quickly respond to market needs. Applications have started to transition from monolithic entities to composite architectures built on the fly in real time from collections of functional services. DevOps has affected how IT organizations write, test and deliver code, with continuous development and delivery relatively mainstream approaches.
These fundamental changes mean that IT operations managers have to approach the application environment in a new way. Infrastructure health dashboards don't meet their needs. Without deep contextual knowledge of how the platform looks at an instant, and what that means for performance, administrators will struggle to address issues raised.
Enter AIOps platforms
AIOps means IT teams use artificial intelligence to monitor the operational environment and rapidly and automatically remediate any problems that arise -- and, more to the point, prevent any issues in the first place.
True AIOps-based management is not easy to accomplish. It's nearly impossible to model an environment that continuously changes and then also plot all the dependencies between hardware, virtual systems, functional services and composite apps.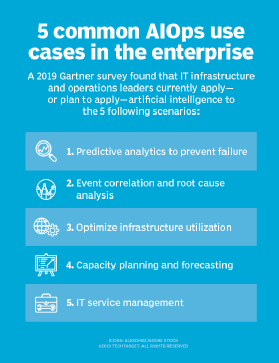 However, AIOps does meet a need. It is, as yet, a nascent approach. Many AIOps systems do not really use that much artificial intelligence; many instead rely on advanced rules and policy engines to automatically remediate commonly known and expected issues. AIOps vendors collect information on operations issues from across their respective customer bases to make the tools more useful.
Today's prospective AIOps buyers must beware of portfolio repackaging -- AIOps on the product branding doesn't mean they use true artificial intelligence. Question the vendor carefully about how its system learns on the go, deals with unexpected changes and manages idempotency. 2020 might be the year of AIOps' rise, but it might also be littered with the corpses of AIOps vendors that get things wrong.
AIOps' path for the future
As we move through 2020 and beyond, AIOps' meaning will evolve. Tools will better adopt learning systems to model the whole environment and will start to use advanced methods to bring idempotency -- the capability to define an end result and then ensure that it is achieved -- to the fore. AIOps tools must be able to either take input from the operations team or from the platform itself and create the scripts, VMs, containers, provisioning templates and other details to meet the applications' requirements. The system must monitor the end result from these hosting decisions and ensure that not only is it as-expected, but that it remains so, no matter how the underlying platform changes. Over time, AIOps tools should extend so that business stakeholders also have insights into the operations environment.
Such capabilities will mean that AIOps platforms move from just operations environment tool kits to part and parcel of the overall BizDevOps workflows. AIOps will mean an overarching orchestration system for the application hosting environment, a platform that manages all updates and patches, and provides feedback loops through the upstream environment.
The new generation of AIOps tools and platforms will focus on how to avoid manual intervention in the operations environment. Indeed, manual interventions are likely to be where AIOps could fail. For example, an administrator who puts wrong information into the flow or works outside of the AIOps system to make any configuration changes could start a firestorm of problems. When the AIOps system tries to fix them, it will find that it does not have the required data available to effectively model the change the administrator has made.
2020 will see AIOps' first baby steps to becoming a major tool for the systems administrator. Those who embrace the idea of AIOps must ensure that they have the right mindset: AIOps has to be the center of everything. Only in extreme circumstances should any action be taken outside of the AIOps environment.
The operations team must reach out to the development teams to see how their feeds can integrate into an AIOps platform. If DevOps tools vendors realize AIOps' benefits, they might provide direct integrations for downstream workflows or include AIOps capabilities into their own platform. This trend could expand the meaning of AIOps to include business capabilities and security as well.
As organizations move to highly complex, highly dynamic platforms, any dependency on a person's manual oversight dooms the deployment to failure. Simple automation will not be a workable way forward -- artificial intelligence is a must.