At KubeCon 2023, observability and FinOps high on the agenda
With data sprawl increasing as IT budgets shrink, observability and FinOps were hot topics at KubeCon Europe 2023. Get an industry analyst's perspective on trends to watch.
This April, KubeCon + CloudNativeCon 2023 was the epicenter of what's next in the cloud-native computing universe, with more than 200 exhibitors and 10,000 attendees at the RAI Amsterdam Convention Centre. Like 58% of attendees, this was my first KubeCon + CloudNativeCon. And, jet lag puns aside, it was an eye-opening experience.
Attendees got a glimpse of what the future holds for cloud-native application development and deployment with WebAssembly (Wasm), observability with OpenTelemetry, and financial operations management with FinOps. Thematically, observability and FinOps -- two IT operations disciplines -- received most of my attention.
Sessions dove deep into offerings from established infrastructure leaders such as Red Hat and Cisco. Cisco's emerging technology and innovation group demonstrated Panoptica's cloud-native security and software bill of materials capabilities, as well as Calisti's traffic management, observability and security capabilities for microservices.
Startups to watch included Cosmonic, a Wasm deployment and management specialist, and FluxNinja. The latter tackles reliability engineering with intelligent load management, interpreting observability data to make real-time decisions to increase application reliability -- that is, to redirect important end users to other systems in the event of a failure.
Observability and observability pipeline management
Anyone who has spent time with observability knows that data sprawl can quickly become problematic. TechTarget's Enterprise Strategy Group identified this phenomenon in our most recent distributed cloud study, "Observability from Code to Cloud."
In that research, we found that organizations are taking multiple approaches -- typically two to three simultaneously -- to balance their need for metrics, logs and traces with the reality of increasing storage volumes and costs. The most popular mitigation approach is increasing storage spending, with adopting tools that optimize log volume and moving data to lower-cost platforms close behind.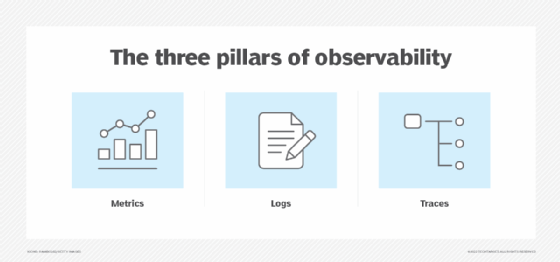 Support for the open standard OpenTelemetry was a major feature of many observability vendors on exhibit. Morgan McLean, director of product management at Splunk and co-founder of the Cloud Native Computing Foundation OpenTelemetry incubation project, served as ambassador to that project while representing Splunk's Observability Cloud, a popular choice in the space.
Along these lines, I had the opportunity to speak with Mike Kelly, CEO of observIQ. The firm announced three versions of BindPlane OP, an observability pipeline focused on reducing data sprawl in OpenTelemetry-based observability practices, with an eye toward reducing telemetry data volume and related costs. Another vendor, Chronosphere, showcased their latest offerings in the area, which were also aimed at reducing raw telemetry data volume without losing the all-important context critical to diagnosing and resolving performance and availability issues.
Cost management and FinOps developments
With the rise of FinOps, it's my belief that we are witnessing the birth of a new class of business application, akin to enterprise resource planning. These applications serve as a centralized way to collect and share cost and consumption data so that all stakeholders have what they need to drive cost efficiency.
Although the native FinOps capabilities of hyperscalers are widely used, it's interesting to see vendor-agnostic approaches that might offer a more complete view. FinOps specialist Finout offered up its MegaBill dashboard, which consolidates costs from all cloud providers, while Kubecost focused on managing costs for Kubernetes clusters -- often some of the costliest parts of cloud-native environments. Even Microsoft announced it was joining the open source cloud-native cost management project OpenCost.
Greater financial awareness leads to better decisions, and there are lots of firms vying to be the FinOps provider of choice. This is going to be an interesting space to watch. I'm looking forward to FinOps X, the FinOps Foundation's annual conference, in San Diego in late June.
Overall, KubeCon + CloudNativeCon 2023 provided a glimpse of the present and near future in observability and FinOps management. We are living through an exciting transformation from legacy to cloud-native architectures -- and this time, application and infrastructure management is at the forefront of creation, not an afterthought.
Dig Deeper on IT systems management and monitoring