Observability, security unity in Cisco's Splunk acquisition
As more organizations merge security and observability, Cisco's acquisition of Splunk adds another intriguing element for IT shops to consider in their toolkits.
Observability has traditionally been the domain of DevOps and IT operations, but interest in leveraging observability tools for security has steadily increased. The proposed $28 billion acquisition and integration of Splunk by Cisco -- creating one of the world's largest software companies in the process -- will likely drive more unification of observability and security functions within their respective customer bases. This is good news for organizations that are increasingly tasked with managing and securing modern, distributed and cloud-native application architectures.
Recent research by TechTarget's Enterprise Strategy Group revealed that the unification across security and application and infrastructure observability is already happening, helping security, IT ops and DevOps teams to collaborate more by using observability to uncover security issues.
The research, presented in a recent white paper written by Enterprise Strategy Group and commissioned by Splunk, showed that when organizations merge security and observability, 87% reported a positive impact on risk management and incident response.
Why are organizations converging security monitoring with observability?
The principal reason organizations cited for converging security monitoring is that the correlation capabilities native to observability solutions can harness and ingest copious telemetry data from applications and infrastructure.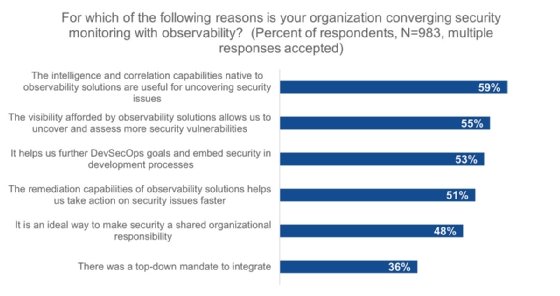 Given Cisco's other products in the security and monitoring space, one can expect that integration with AppDynamics, ThousandEyes and other Cisco monitoring and security software offerings will bolster the capabilities of IT management, DevOps and security teams to deliver secure, uninterrupted application performance.
I think the acquisition is a win for customers of both organizations. Cisco has a long history of successfully integrating acquisitions, and Splunk has demonstrated their commitment to deliver software with proven value.
Enterprise Strategy Group is a division of TechTarget. Its analysts have business relationships with technology vendors.
Dig Deeper on IT systems management and monitoring