Getty Images/iStockphoto
Reduce Kubernetes spend with these 10 Kubecost alternatives
IT teams have several options other than Kubecost to monitor Kubernetes spending, from dedicated Kubernetes-specific tools to full-fledged cloud management platforms.
Kubecost lets IT teams monitor the costs specific to operating any Kubernetes cluster under their management. Organizations can manage costs at the cluster level or consolidate by application, project, team or department.
Kubecost attracted interest in the IT community after AWS began offering the tool to customers in August 2022. Although Kubecost is making smart moves and gaining attention, it's still important to know what else is out there. Here are 10 Kubecost alternatives to consider.
CloudZero
The name CloudZero is becoming synonymous with cloud cost optimization and FinOps, so expanding to Kubernetes cost management was a natural move for the company.
CloudZero's Kubernetes cost optimization tool provides insights into the costs of running microservices, including tracking idle costs to help organizations maximize the value of their Kubernetes deployments. The company promises a tiered pricing model, but only CloudZero's sales team provides actual numbers.
CloudZero pros
Offers visibility into cost metrics without the need for tagging.
Enables more proactive response to issues through anomaly detection and alerts.
Ingests any cloud or software spend, including managed Kubernetes options such as Google Kubernetes Engine and Amazon Elastic Kubernetes Service (EKS).
CloudZero cons
Requires more flexibility when it comes to alerts, according to user feedback.
Might need to align data with an organization's accounting team.
Doesn't update data in real time.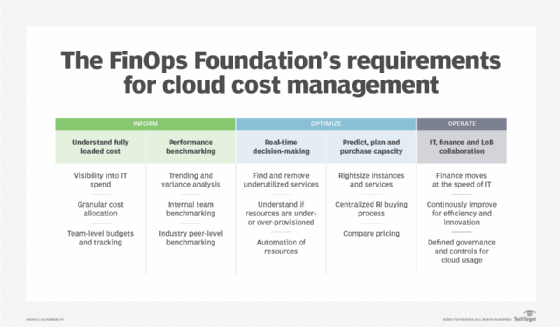 Yotascale
Yotascale, another cloud cost optimization tool standout, has expanded to support Kubernetes cost optimization.
Yotascale ingests data across clouds and offers a single-pane view of cloud costs for containerized and non-containerized workloads. In 2021, the company added multi-cloud container cost allocation and optimization with support for Microsoft Azure -- a useful development for multi-cloud enterprises.
A free trial is available, but contact Yotascale's sales team to learn more about pricing.
Yotascale pros
Can determine costs for individual containers.
Shows fluctuations in cloud costs and ways to optimize resources with easy-to-access visualizations.
Offers ability to drill into cost line items.
Yotascale cons
Requires heavy vendor support to onboard new customers.
Hierarchy views are defined statically.
Tooltips can interfere with the UI experience.
Morpheus
Morpheus is a hybrid cloud management platform that includes Morpheus Kubernetes Service (MKS), which integrates with Azure Kubernetes Service and EKS to support existing Kubernetes deployments.
Although Morpheus Data does offer a Community Edition, the company only sells the Morpheus platform through channel partners, who determine the pricing.
Morpheus pros
Self-service provisioning of Kubernetes clusters.
MKS is certified by the Cloud Native Computing Foundation (CNCF).
Ability to import and manage CNCF-conformant clusters, including SUSE Rancher, Red Hat OpenShift, VMware Tanzu and vanilla Kubernetes.
Morpheus cons
Requires users to purchase a full cloud management platform, not just an alternative to Kubecost.
Partner-selling model puts users at the mercy of the channel partner, not the vendor, when trouble strikes.
Dashboards might not be sufficiently customizable for some IT teams' needs.
Comprehensive framework comes with a heavy learning curve.
Replex
In 2021, Cisco announced it would acquire Replex and make it part of Cisco AppDynamics. With Replex, IT teams can drill into the resource footprints of microservices, containers, pods and Kubernetes clusters without compromising reliability, availability or performance.
Replex's features include the ability to rightsize clusters, pods and containers; forecast use; identify trends; manage chargebacks; and plan capacity. Replex also lets users allocate costs to different teams, applications and business units.
A free version called AppDynamics Lite is available for trial purposes, but it's not clear whether Replex's features are part of AppDynamics Lite.
Replex pros
Full-stack Kubernetes observability, including dependencies.
Good fit for cloud-native platforms, which factored heavily into the original Replex product strategy.
Ability to create teams with individual clusters, namespaces or labels for a granular view of costs and efficiencies.
Replex cons
No longer a standalone cost optimization tool since Replex became part of the Cisco AppDynamics platform.
Kubernetes cost optimization doesn't appear to factor into AppDynamics' messaging.
Acquisitions of technology platforms in the current economic climate aren't always a good thing due to developer flight and unforeseen changes to features, pricing, support and product go-to-market.
Cloudability
Apptio Cloudability automatically discovers all the cloud resources backing each Kubernetes clusters and maps this information back to create detailed billing data.
The company touts a specialized interactive tool that helps users understand the full cost of each cluster and underlying resource consumption within a self-selected time window. Cloudability offers a free trial and custom pricing to customers.
Cloudability pros
Flexible analysis tools.
Kubernetes cost tools are part of the overall cost management tool.
Easy to create dashboards for business stakeholders.
Cloudability cons
Steep learning curve.
Disconnected with account teams after Apptio acquired Cloudability.
Documentation might be too sparse for users new to cloud and Kubernetes cost management.
UI is a bit overwhelming.
CloudCtrl
Australia's CloudCtrl is a multi-cloud management platform that primarily targets APAC customers.
CloudCtrl's platform provides many common features, such as a brokering service, dashboard, management portal and billing management engine. The company offers a free trial, with tiered pricing listed on the website.
CloudCtrl pros
Documentation is public on CloudCtrl's website.
Free to nonprofits with under $150,000 in cloud spend.
Support for Alibaba Cloud.
CloudCtrl cons
Limited data history based on pricing tier.
Kubernetes cost management isn't a core focus.
Full multi-cloud management platform, rather than a dedicated Kubernetes cost management application like Kubecost.
Limited product reviews and case studies.
Cast AI
Cast AI is a Kubernetes cost management tool that scans clusters to find areas for optimization without compromising performance.
Like other Kubernetes-focused tools, Cast AI scans clusters for vulnerabilities and determines fixes instantly. But unlike the other alternatives in this lineup, Cast AI promotes itself as a cloud-agnostic option.
Cast AI is free for all clusters, with no limits on number or size. Organizations can analyze months of past data with Cast AI free of charge -- a helpful learning exercise for enterprises attempting to get their Kubernetes spending under control. In addition to the free option, Cast AI also provides Growth, Growth Pro and Enterprise tools at a cost per month and per CPU for customers in need of more features and clusters.
Cast AI pros
Comprehensive product for Kubernetes cost management, making it a strong Kubecost competitor.
Doesn't charge a percentage of cost savings.
Professional and responsive support team.
Cast AI cons
Upgrade process isn't clearly documented or explained.
Could benefit from a more mature UI.
Onboarding support from Cast AI is necessary.
Ceeview
Ceeview markets itself as an all-in-one digital monitoring tool for cloud spending to avoid unexpected cost overruns. The company's platform also monitors resource use and idle instances.
Ceeview has no free trial or entry-level version, and customers must contact the company directly for a quote.
Ceeview pros
Multi-cloud support for AWS, Azure and GCP.
Ease of use and flexibility for providing system status.
Extensive set of APIs.
Ceeview cons
Kubernetes cost management isn't a core focus.
Lack of a free trial could be a disservice to prospective customers.
Dashboard UI needs finetuning.
Pepperdata
Pepperdata targets big data cloud cost control -- a FinOps specialty unto itself. It scales system resources while offering cloud teams details into each application they're running using application and infrastructure metrics.
The company recently announced Autonomous FinOps for Kubernetes, offering cost allocation and visibility, an instance rightsizer, scale optimization and automatic remediation. Pricing for Pepperdata products is public on the company's website, including data center pricing per node and cloud pricing per vCPU hour.
Pepperdata pros
Publicly listed pricing on corporate website.
Mature features for generating metrics and statistics.
Pepperdata Instance Optimizer provides recommendations to choose the right AWS instance.
Pepperdata cons
Targets the big data market, so Kubernetes isn't a direct focus.
Limited options for IT teams that want to integrate Pepperdata into their pipelines.
Challenging to customize.
Harness.io
Perhaps best known as a unicorn DevOps platform startup, Harness.io is expanding its reach by adding cloud and Kubernetes cost management support. This puts the company in a position to put Kubernetes cost management in the DevOps pipeline where it belongs.
Harness.io pros
Helped legitimize the concept of DevOps platforms in the market.
Good product support.
Offers "what-if" scenarios for Kubernetes sizing to help with optimization recommendations.
Harness.io cons
Immature UI and UX, as with many startup technology vendors.
Aggressive sales team with an out-of-touch pricing model, which could prove annoying to some prospective customers.
Kubernetes cost management is a platform feature, not the company's core expertise.
Some see Harness.io as an over-valuated unicorn, meaning that this startup could face additional headwinds in 2023 as investor pressure mounts for results, which could affect product delivery in turn.
Kubecost against the market
In 2023, growing IT budget concerns across enterprises will put Kubecost and its alternatives in the spotlight more than ever. These alternatives show that end-to-end platforms, such as AppDynamics, are adding cost optimization tools, including Kubernetes cost management. For many organizations, this trend could fuel internal discussions about moving to SaaS-based DevOps and observability platforms from current tools.