CenturionStudio.it - Fotolia
How to compare Cisco vs. HPE Aruba switches
Organizations have much to consider when evaluating Cisco vs. HPE Aruba switches, such as device architecture, Opex, Capex and analytics capabilities.
Many companies prefer to buy network infrastructure from big companies, which drives the common request for a comparison...
Continue Reading This Article
Enjoy this article as well as all of our content, including E-Guides, news, tips and more.
between LAN switches from Cisco Systems and Hewlett Packard Enterprise, or HPE.
First, some background. HP's ProCurve networking line has been a prominent offering for over two decades and has expanded significantly in recent years. When HP split, the networking division became part of the enterprise-focused HPE. Several years ago, networking pioneer 3Com merged with HPE, bringing along its full switch portfolio. More recently, Aruba Networks merged with HPE and added both switching and wireless capabilities to the HPE switch product portfolio. This was so significant that HPE decided to put all its networking products under the Aruba brand.
Cisco's main acquisition in the switching space was Meraki Networks in 2012. Meraki was a significant player in the SMB wireless and switching space and was one of the first vendors to provide cloud management for on-premises devices.
In October 2019, HPE's Aruba switching business announced new hardware, software, analytics and management capabilities. These changes require a whole new approach to comparing the Cisco vs. HPE Aruba offerings. Below are some key areas of comparison for enterprise class switches.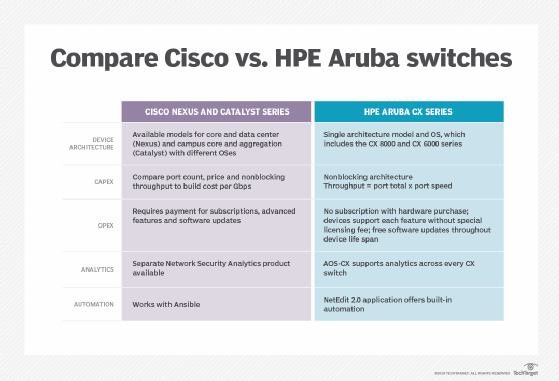 Device architecture: Single model vs. multiple models
Cisco's Nexus switch family represents its high end of switches. You would generally use these switches for core and data center deployments. The Catalyst line is for campus core and aggregation switching. Thus, you have two different architectures with two different OSes.
Aruba's answer to Cisco's Nexus has been its CX 8000 series -- 8400 and 83xx -- running its AOS-CX OS. Aruba has now expanded that series with the modular CX 6400 and the fixed-port CX 6300 that allows an organization to use a single device architecture and OS across the entire enterprise.
When evaluating Cisco vs. HPE Aruba, consider how important it is for you to be able to choose the size system you need rather than wrangle with two different device architectures and OSes in your enterprise.
Build a Capex comparison
Historically, Cisco's box pricing has been higher than just about everyone else's. Look closely at port counts at total throughput as you compare the various Aruba CX offerings to Catalyst and Nexus.
HPE Aruba notes its architecture is non-blocking, so your theoretical throughput is equal to the port total times the port speed. Not all Cisco switches are built this way. Compare the port count, the price and non-blocking throughput -- assuming the wire speed -- and you can build a cost-per-Gbps model to help compare how much throughput you are getting for the money.
Opex pros and cons
Ongoing operational cost is an important consideration that is sometimes overlooked at the time of purchase. When comparing Cisco vs. HPE Aruba switches, Opex considerations involve required subscriptions, paying for advanced features and paying for software updates.
Cisco requires all of the above. According to Aruba, no subscriptions are required when buying its hardware. Additionally, every feature the Aruba device offers is supported and available without any special licensing fee. Finally, minor and major software updates are available free of charge for the life of the device.
Analytics and automation
For larger customers, analytics and automation are likely big issues. For analytics, Cisco offers its separate Network Security Analytics product. As far as I know, Cisco does not have an automation product, but notes that customers can use Ansible to help in this area.
HPE Aruba is making a big push in both areas. With its 10.4 release of AOS-CX, Aruba supports a distributed analytics infrastructure across every CX switch in the network. The new switches have additional flash storage for storing analytics data to provide health reports and advanced functions.
Aruba now has built-in automation with its NETEDIT 2.0 application. It is GUI-driven and can implement common configurations easily. Aruba also now provides a CX Mobile App that can provide one-touch provisioning for enterprise switches using Bluetooth.
These new offerings from Aruba have the potential to reset the switching playing field in the enterprise. So, take a look at Cisco vs. HPE Aruba switches and let the facts speak for themselves.
Dig Deeper on Network Infrastructure
More organizations now use collaboration tools to work with external partners. Learn how to manage external collaboration to support distributed ... Continue Reading
Ensuring a secure SIP environment is critical for enabling employees to communicate over the internet. What are some key strategies to protect your ... Continue Reading
QoS is an essential component of VoIP over LAN; modern network devices make it easy to implement. Continue Reading