Getty Images/Science Photo Libra
Gartner Hype Cycle deems software-defined networking obsolete
A Gartner report on enterprise networking has declared the definition of SDN and its architectural approach as deceased. Cause of death? Well, the hype didn't help.
Here lies software-defined networking. As the saying goes: SDN is dead; long live SDN.
Well, folks, it's official. SDN is obsolete, according to Gartner's latest Hype Cycle for Enterprise Networking 2019 report. Although SDN may have vaporized, its spirit lives on in the form of network automation, centralized management and other software-centric concepts.
To its credit, SDN changed the way people think and talk about networking, said Gartner analyst Andrew Lerner. SDN spawned an influx of software, network automation and programmability via APIs. So, while it's technically dead, SDN did alter the conversation in a positive way for the networking industry.
The problem was the original vision and definition behind SDN was pretty specific and technical. You'd separate a control plane from a data plane and open up the control plane for third-party applications. That vision, however, never materialized, Lerner said.
How software-defined networking got hyped
As the concept of SDN emerged, networking vendors rolled out products and architecture that resembled SDN. Maybe the products used APIs, automation or simply more software than a previous generation of products. But that's a far cry from the original SDN definition. And yet, vendor marketing teams co-opted the SDN term, and everybody started using it.
"There's no technology police to call you out when you don't use the right terminology," Lerner said. "Vendors started using [SDN] in a very cavalier way. So, essentially, it means everything and nothing at the same time, because the marketing of SDN massively overweighed the actual products."
Most products marketed today as SDN are not actually SDN, Lerner added. Meanwhile, true SDN services have not had any significant market adoption, according to the Gartner report.
"The hope that SDN would result in the abstraction of hardware and software and foster independent software innovation never came to fruition," the report read.
On Gartner's Hype Cycle, SDN emerged from the Trough of Disillusionment, only to perish on the Slope of Enlightenment -- two places that could be in Game of Thrones.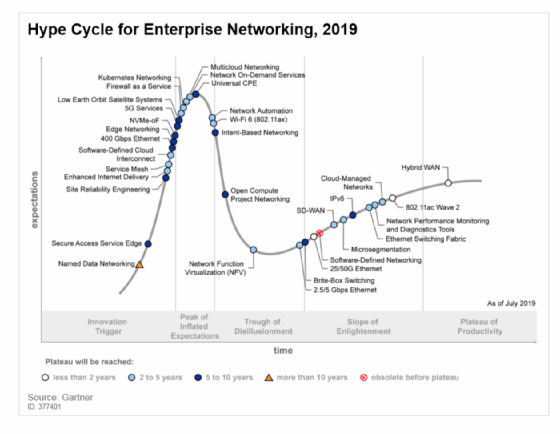 The upside of software-defined networking
The marketing of SDN massively overweighed the actual products.

Andrew LernerAnalyst, Gartner
The Gartner report is blunt and refreshing. For instance, check out this part: "Don't get caught up in SDN hype and claims that commercial products are 'SDN' or be persuaded that SDN is the answer to all networking problems since clearly this has not transpired." The same could be said for other hyped networking technologies.
Instead, Gartner advised, enterprises should focus on solving specific problems within their networks and evaluate networking services based on their ability to deliver operational value.
On a positive note, SDN shook up the networking industry by challenging established vendors and affecting subsequent market developments. SDN, for instance, spurred the rising use of white box switches, open source hardware and the development of independent network switch software providers.
Fortuitously, for enterprises, traditional networking vendors also shifted their focus to innovate around network operations and management.
SDN vs. SD-WAN
While SDN petered out, SD-WAN has seen real growth. The two technologies are quite different. SDN is an architectural approach that almost no vendor uses, Lerner said. SD-WAN, meanwhile, is essentially a better branch router. It's a specific product that has real adoption, he said. And, for the most part, products that are marketed as SD-WAN actually do SD-WAN.
The Gartner Hype Cycle was bullish on SD-WAN, saying, "Rampant client interest in SD-WAN products continues." The analyst firm estimated more than 10,000 customers have deployed SD-WAN products in production networks. Gartner expects continued growth of SD-WAN deployments, forecasting vendor revenue to grow at a more than 35% compound annual growth rate for the next three years.
As the report noted, SD-WAN offers many benefits over traditional, router-based WAN architectures, including the following:
simpler and more cost-effective branch office WANs that map to modern application and cloud architectures;
improved network traffic path selection and manageability;
improved provisioning times; and
the potential for enhanced branch availability and uptime.
As for SDN, well, finality is never easy. In lieu of flowers, you can heed the hype of future technologies.