alphaspirit - Fotolia
Legacy tools encumber modern network infrastructure monitoring
Many IT teams still use older monitoring tools that provide limited visibility across multiple network environments. AI and machine learning can help, but they'll take some time.
Enterprises have long aspired to attain the coveted goal of end-to-end visibility across the network. Likewise, IT teams have long struggled to implement network infrastructure monitoring that adequately provides that network visibility.
Perhaps the biggest development now for network monitoring comes with the advent of automation, AI and machine learning. Vendors have started integrating these capabilities into their monitoring tools with hopes of revolutionizing management and visibility. Realistically, though, enterprises take longer to implement these tools and glean the benefits.
Enterprises have a need for improved end-to-end visibility, as many have deployed virtual and cloud-based networks to streamline processes and ease management. But managing these disparate environments can be convoluted, largely thanks to cumbersome legacy monitoring tools, according to a new report released by Forrester Consulting on behalf of ScienceLogic, a management and monitoring vendor based in Reston, Va.
Forrester queried 207 North American IT decision-makers and found that an overarching problem was the multitude of legacy tools they used. One-third of respondents said they used at least 20 different infrastructure and application monitoring tools, and 37% said they only used legacy monitoring tools that lacked newer capabilities.
Respondents also said these legacy tools couldn't provide end-to-end visibility across various environments. Further, they often can't sufficiently support virtual or cloud environments, making a transition to a new environment more difficult.
In addition to the complications that arise from legacy tools, enterprises also risk falling behind in network agility and investments, Forrester said.
"Those with legacy tools are focused more on survival than transformation," the report said.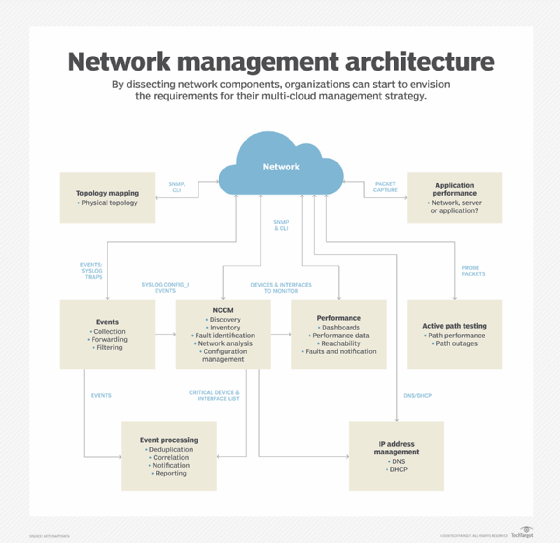 What's new with network infrastructure monitoring?
Ideally, enterprises need network infrastructure monitoring tools that provide visibility across on-premises, hybrid, multi-cloud and SaaS architectures with as few tools as possible, Forrester said. A goal for organizations is to find a single platform that can monitor 80% to 90% of their data.
Companies are investing in monitoring tools that use integrated AI and machine learning to "make correlations and provide prescriptive and predictive answers in real time," the report said. Other benefits of using newer monitoring tools included minimized downtimes, increased operational efficiency, better business agility and fewer security risks.
Monitoring and management advancements include network automation, AI for IT operations (AIOps), NetOps and intent-based networking (IBN). Network automation can help improve configuration processes and device provisioning. AIOps capitalizes on AI and machine learning to minimize human interaction in management. NetOps focuses on network programmability to build and support agile networks. And IBN uses a combination of automation, advanced analytics, AI and machine learning to operate, provision and validate various aspects of the network.
Most of these concepts aren't completely revolutionary as they have evolved from the pursuit for simplified network infrastructure monitoring. But they have sparked conversation around how network teams can monitor their network better and -- perhaps more importantly -- maintain the desired state of the network with minimal manual intervention.
But there's a caveat for enterprises thinking modern tools will be the panacea for end-to-end visibility. According to Forrester's report, the 12% of respondents who used only modern infrastructure monitoring tools -- like tools with AIOps capabilities -- said they still struggled to obtain end-to-end visibility and scale to support the entire enterprise.
Organizations hoping to implement modern monitoring tools should look for capabilities that include the following capabilities:
network and application monitoring
network problem analysis
application data and flow capture analysis
virtualization and OS problem detection
root cause analysis
Dig Deeper on Network management and monitoring