Sergey Nivens - Fotolia
Automation potential outweighs SDN deployment risks
SDN deployment varies among service providers and enterprises due to risks, costs and use cases. But, when it comes to SD-WAN, both groups appear to agree about the potential.
Although software-defined networking has its challenges, service providers still intend to pursue SDN deployment, as they're intrigued by automation's potential to improve service delivery, according to a recent IHS Markit survey.
IHS Markit queried 23 service providers around the world -- that make up 44% of worldwide telecom revenue and 44% of Capex -- about their strategies involving SDN. All of the service providers said they will deploy SDN at some point, and 87% said they will deploy or evaluate SDN architecture by the end of 2019.
Automation is the primary force driving SDN adoption, according to Michael Howard, executive research director for carrier networks at IHS Markit, based in London. Seventy-four percent of survey respondents said they plan to use SDN to automate the delivery of new services, which would entail automating customer interactions, network operations, and network management and monitoring, he said.
Barriers to SDN deployment
While the majority of service providers have deployed SDN, they limit the size of their deployments to mitigate risk, Howard said. Instead of using SDN to control their entire network, for example, they'll start with a "small set of services to a small set of customers," he added.
"There is so much new software and so much riding on getting it right -- without disturbing existing revenues -- it's natural and prudent to start with small projects in order to learn what works and what doesn't, what needs to be improved and how to make operations more efficient," he said.
Real deployments at a small scale can supply the needed knowledge, while keeping risk at the minimum, he added.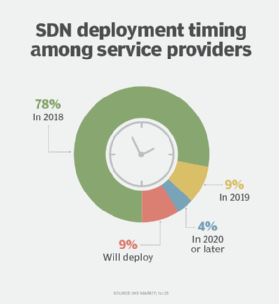 But service providers face other challenges with SDN adoption, including integration difficulties and a lack of carrier-grade software. Ideally, Howard said carrier-grade SDN software would have the following characteristics:
robust software, with features and functions operators want;
support for resiliency;
compatibility with future versions;
easy installation; and
efficient operations.
But SDN architecture has yet to reach this point, which requires service providers to adapt and customize the software in order to fit their environment, Howard said. This immaturity makes it impossible for service providers to "buy [SDN] off the shelf, install, operate, even automate or be able to update easily," he added.
A further complication with SDN is its inability to fully support the automation of services and operations. While SDN can currently support levels of automation, it hasn't yet reached its full automation capabilities, Howard said. But the possible outcomes of SDN deployment and automation appear to outweigh the risk for service providers.
"The benefits of moving toward automation, of adding more service agility and increasing customer experience with online, on-demand services is so critical that operators are willing to do what it takes today," he said.
SD-WAN less risky
SD-WAN provides the benefits of SDN without the risks that are associated with the data center.

Zeus Kerravalafounder and principal analyst at ZK Research
While service providers have a compelling SDN use case in automating service delivery, enterprises are more deterred by the risk associated with SDN and data center disruption, according to Zeus Kerravala, founder and principal analyst at ZK Research in Westminster, Mass. Instead, enterprises turn to software-defined WAN.
"SD-WAN provides the benefits of SDN without the risks associated with the data center," Kerravala said. Enterprises can more easily calculate ROI and measure cost savings when it comes to the WAN, he added.
SD-WAN adoption appears to be the favorite among both service providers and enterprises. The SD-WAN market has grown steadily, and enterprises have increasingly deployed SD-WAN -- favoring managed SD-WAN over DIY deployment. Meantime, service providers listed SD-WAN as the main SDN-based service they expect to generate new revenue, according to IHS Markit's survey.