Fotolia
What is the future of networking for enterprises?
What will be the future of networking at enterprises and organizations operating in 2025?
For the past few years, we've been conducting an informal survey with a representative sampling of our client base -- including both manufacturers and end-user organizations -- with one simple, open-ended question: In 2025, what will the future of networking look like?
Networks have taken a significant number of major twists and turns since they began to gain popularity in the early 1980s, with an amazing range of basic technologies, protocols and configurations developed and deployed. With today's mobile-centric wireless LANs now dominating the edge of the network, it seems a safe bet that Wi-Fi will remain the preferred access for essentially all users, but underpinned by wired Ethernet for backhaul and interconnect.
Wave 2 of IEEE 802.11ac, which has gained significant traction, will be a bit long in the tooth in 2025, but it will still be in use -- not completely replaced by 802.11ax and its 10 Gbps of throughput. Wi-Fi will continue to dominate access. No surprises there.
I hate to say this, being a networking guy from way back, but networks get a bit boring by 2025.
But we did notice a few other interesting trends as we mull the future of networking, including: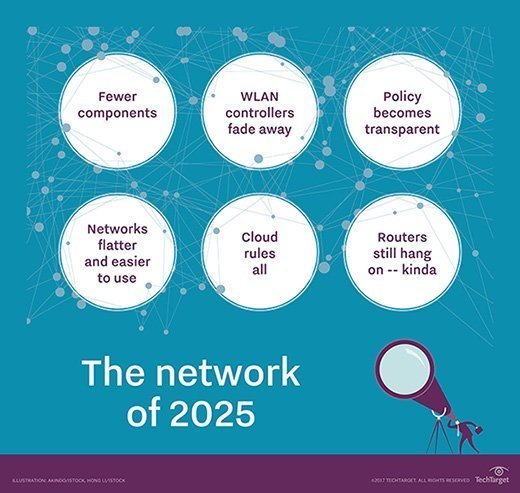 What does all of this mean? Well, I hate to say this, being a networking guy from way back, but networks get a bit boring by 2025. They are flatter, simpler, less expensive to buy and use, and even start to fade into the woodwork, looking more like plumbing or electric wiring than an exotic technology. Networks will be more self-configuring -- and re-configuring as required -- self-repairing and transparent than has historically been the case. CapEx will continue to decline, thanks to ongoing advances in basic technologies, chips and manufacturing processes. At the same time, labor expenses will also drop, as management systems become smarter, as well.
Above all, the future of networking benefits from the cloudification that IT is seeing overall, with processors, storage and applications resident on cloud-based servers, and not on dedicated hardware in an expensive machine room. Yes, network closets will still be around -- there just won't be all that much in them.
Next Steps
What four telecom infrastructure trends are driving the network of the future? Tom Nolle explains.
Future networks give up on traditional thinking
Software-defined will define future networks
Emphasis placed on network edge in the future
This was last published in
May 2017