nito - Fotolia
A recap of notable 2018 networking trends and news
Before the final days of 2018 fade into history like so last-generation 4G, spend some time reviewing the news and trends that graced the networking industry this year.
It's almost 2019, which means it's time for the annual review of major networking trends and news from 2018.
The year started out with a bang, as the Meltdown and Spectre attacks caused security and network teams to address crucial security concerns, like data protection and network patching. These attacks foreshadowed a recurring story throughout the year and helped solidify cybersecurity and network security as top issues.
In addition to the ever-present security stories, another prominent networking trend throughout 2018 was the industry's insatiable appetite for software. In February, for instance, Cisco released earnings that showed revenue growth for the first time in two years, largely propelled by software sales -- a vast shift from its traditional, hardware-centric focus.
A couple of months later, VMware integrated its NSX software with its recently acquired VeloCloud software-defined WAN (SD-WAN) in a move that extended the vendor's network virtualization software to the branch. VMware's move highlighted the growing trend to eliminate network hardware in branch offices by consolidating multiple functions into a single platform.
Software-defined everything and multi-cloud
Cisco and VMware are only two of many networking vendors capitalizing on the move to software-based networking, which encompasses technologies like software-defined networking, SD-WAN, network automation and intent-based networking. While intent-based networking was mostly in the development stages throughout the year, organizations bought into its potential to ease network management with automation.
During 2018, SD-WAN vendors experienced a boost in customer deployments, bringing market leaders into focus. VMware, Cisco, Silver Peak and Aryaka rounded out the top four vendors, according to IHS Markit reports released in July and December.
NSS Labs unexpectedly excluded Cisco's SD-WAN in its report on the technology due to Cisco's refusal to activate its SD-WAN license. Cisco said it refused to activate the software because of a disagreement over the evaluation tests, and it provided NSS Labs with a refund for the purchased product.
Another networking trend in 2018 was multi-cloud, as enterprises increased their migrations to cloud-based applications, data centers and infrastructure. In response, SD-WAN vendors added connectivity support for multi-cloud environments, while companies like Juniper Networks made plans to release multi-cloud management software.
Major networking acquisitions in 2018
This year, Cisco spent $2.35 billion to acquire Duo Security. With Duo's two-step authentication services, Cisco can reinforce its own cloud-based security portfolio. In addition to the security integration, Cisco said it will continue to sell Duo as a stand-alone product.
In an SD-WAN market ripe for consolidation, there was a surprising lack of acquisition news in 2018. Oracle announced in November its intent to acquire Talari Networks, making plans to integrate the SD-WAN software into its communications global business unit.
As for SDN acquisitions, Hewlett Packard Enterprise (HPE) revealed in May its plans to acquire Plexxi, a major SDN player. The acquisition was finalized in June, allowing HPE to integrate its hyper-converged offering with Plexxi's software-defined networking fabric.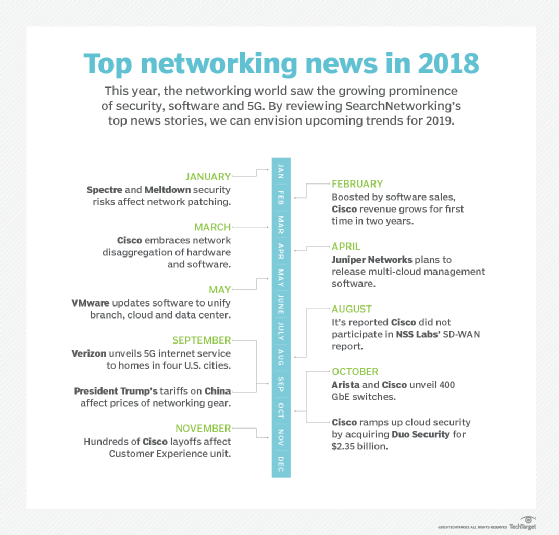 The necessary 5G section
Although fifth-generation wireless still has some growing up to do, 5G garnered significant industry hype -- and some progress -- to become a notable networking trend in 2018.
Verizon and AT&T rekindled their familiar scrum, as they battled over 5G developments. Verizon rolled out its 5G Home service in September, opting to launch its proprietary 5G broadband internet before the industry settled on standards. AT&T followed suit, unveiling its mobile 5G plans in October. The carrier also included news about its 5G router hardware, which it contributed to the Open Compute Project.
As Verizon and AT&T made advancements in 5G, Comcast focused on rolling out its 1 Gb cable to 39 states, making it the largest provider of gigabit broadband in the U.S.
The need for network infrastructure that can support 5G also became more evident throughout the year -- and, increasingly, SDN and network functions virtualization (NFV) showed their potential in this area. Combining 5G with SDN and NFV could result in networks with lower latency, faster service delivery for network operators and network slicing that lets operators better allocate resources.