profit_image - stock.adobe.com
5G deployment will accelerate SD-WAN growth
As 5G deployment ramps up in the coming years, the technology will transform enterprise WAN connectivity, help drive SD-WAN rollouts and stir up market competition.
As carriers begin their initial pilots of 5G technology, the news primarily covers the effect on consumers and smartphones. But the most overlooked aspect of 5G deployment might come from branch offices and retail locations that need connectivity back to headquarters via wide area networks. 5G technology is about to transform these WANs, while software-defined WAN deployments are beginning to accelerate.
For years, WANs have been difficult and costly, primarily because of the scripting and command-line configuration that was so time-consuming for both deployment and ongoing management. Software-defined WAN (SD-WAN) brings a GUI and rules-based overlay to the WAN circuit, enabling a WAN that is much easier to deploy and run. Many of these SD-WAN products are zero-touch, self-configuring and can be brought online minutes after being plugged in.
5G benefits extend to SD-WAN
5G will not only bring massive bandwidth increases relative to current 3G and 4G offerings, but many providers will offer fixed 5G -- a point-to-point wireless connection designed to mimic current cable modem and xDSL infrastructure, but without all the associated cabling. This fixed 5G offering will deliver significant advantages for businesses, enabling the use of SD-WAN to modernize their branch office deployments. In this way, 5G could help accelerate SD-WAN rollouts.
As an alternative to the current transports -- MPLS, DSL, Integrated Services Digital Network, broadband cable, etc. -- 5G brings a cableless option that can be easier to purchase, deploy and manage. One key benefit of SD-WAN is the simple management of multiple links for redundancy, load balancing or traffic segmentation. The desire for a secondary data routing path, coupled with the ease of 5G adoption, will put more pressure on companies to move to SD-WAN.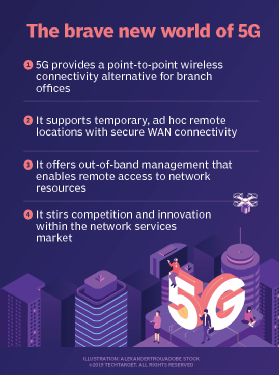 The ease of 5G deployment makes it more likely that a business can set up ad hoc remote locations -- for a day, week, month or longer -- while providing a secure WAN connection back to the headquarters. Many businesses find their branches often have limited connectivity, especially in retail environments where mall management may dictate data service offerings. 5G technology leapfrogs shared tenancy decisions and enables a location to have more control over its data services.
While many will see 5G as a WAN transport, let's not overlook the fact that it can also provide an out-of-band management capability -- which enables access to network resources via external means -- that isn't subject to utility workers with backhoes cutting a connection.
Perhaps the biggest 5G benefit for businesses and SD-WAN is the price pressure it puts on all data services. Many businesses today are locked into providers, but 5G technology will bring needed competition that puts pressure on some of these services. Deploying and managing a second WAN link may no longer be cost-prohibitive for many locations.
Broadband cable took the first shot at the premium-priced MPLS, and 5G may be the follow-up that drives us even closer to SD-WAN reality. With 5G and SD-WAN, businesses will see clear advantages that will drive much-needed market changes.
This was last published in
July 2019
Dig Deeper on Mobile and wireless network technology