Get started
Bring yourself up to speed with our introductory content.
Open source network tools
Some of the most commonly used, enterprise-ready open source tools are used for networking applications; likewise, many networking tasks can be accomplished quickly and cheaply using open source tools. In this guide, we present advice and resources for more information on the most popular open source tools for network administration, monitoring and security.
Some of the most commonly used, enterprise-ready open source tools are used for networking applications; likewise, many networking tasks can be accomplished quickly and cheaply using open source tools. In this guide, we present advice and resources for more information on the most popular open source tools for network administration, monitoring and security. You'll also find out how open source has made major inroads to the VoIP arena.
Introduction to open source networking
In general, open source refers to any program whose source code is made available for use or modification as users or other developers see fit. (Historically, the makers of proprietary software have generally not made source code available.) Open source software is usually developed as a public collaboration and made freely available.
Open Source is a certification mark owned by the Open Source Initiative (OSI). Developers of software that is intended to be freely shared and possibly improved and redistributed by others can use the Open Source trademark if their distribution terms conform to the OSI's Open Source Definition.
Webcast: Open source network management tools
Although a myriad of freely available open source products are available to help manage your enterprise's network, there is still a perception in some circles that you need to spend a tremendous amount of money on traditional networking models. This webcast takes a look at open source network management tools that may meet the needs of the most mission-critical of networks.
Beyond the LAMP stack: A guide to open source Nagios, Xen & Asterisk
Open source expert Bernard Golden gives a tour of enterprise-ready open source products Nagios, Xen and Asterisk.
Administration tools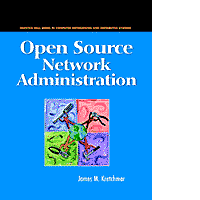 Open Source Network Administration by James Kretchmar
This book from Prentice Hall PTR focuses on open source tools such as SNMP, MRTG, NetFlow and TCPdump in network troubleshooting. It also introduces Neo -- a tool written by the author for use in the Network Operations group at M.I.T.
Multi Router Traffic Grapher: Chapter 3 of Open Source Network Administration
The Multi Router Traffic Grapher (MRTG) is an open source tool used to monitor the traffic load on network links. In this chapter, James Kretchmar tells us how MRTG produces Web pages containing PNG images, which provide a live visual representation of this traffic.
TCPdump is an open source command-line tool for monitoring (sniffing) network traffic. TCPdump works by capturing and displaying packet headers and matching them against a set of criteria. It understands Boolean search operators and can use host names, IP addresses, network names, and protocols as arguments. A TCPdump public repository exists that collects various patches which exist have been written for TCPdump.
TCPdump: An Open Source Tool for Analyzing Packets The most widely used open source tool for directly analyzing packets is a program called TCPdump. This chapter from "Open Source Network Administration" shows you how to install, debug and maintain the tool.
TCPdump: Qualify traffic and create a traffic collection statement
In this excerpt from "The router is the firewall: Configuring CBAC," router expert Michael J. Martin explains how to use TCPdump to audit network traffic.
NetDirector, an introduction: Free, simple server management
NetDirector provides a free, customizable, easy way for network and systems administrators to manage groups of Linux, Solaris, or BSD servers. The open source tool is also part of a movement towards greater interoperability among enterprise systems management products.
Monitoring tools
Open source network monitoring and analyzing tools
Suggested network monitoring and analyzing tools can be found, along with short descriptions, in this answer to one reader's question for network administration expert Michael Gregg.
Open source network monitoring tools
This is a list of tools used for network (both LAN and WAN) monitoring tools and where to find out more about them.
Nagios: Monitoring tool, host, service and network monitoring program
Nagios is an open source application that monitors for computer network problems so that they can be fixed more quickly. Nagios was designed for use with the Linux operating system, but it will also work under Unix and most Unix-based systems.
Resources that can be monitored include memory usage, disk usage, microprocessor load, the number of currently running processes, and log files. Services that can be monitored include Simple Mail Transfer Protocol (SMTP), Post Office Protocol 3 (POP3), Hypertext Transfer Protocol (HTTP), and other common network protocols. The program can monitor environmental variables such as temperature, humidity, or barometric pressure in conjunction with the appropriate measuring hardware.
Testing Local Resources: Chapter 7 of 'Nagios: System and Network Monitoring'
Chapter 7 of Nagios: System and Network Monitoring by Wolfgang Barth details the various plug-ins needed to work with Nagios and how to test them over a local network since some lack their own network protocol.
Basic Object Configuration: Chapter 2 of 'Pro Nagios 2.0'
James Turnbull gets users started on the basics of configuring Nagios servers to monitor hosts and services. Learn the differences between Nagios object types and their capabilities.
Network monitoring with Nagios, part one
Bernard Golden discusses the usefulness and architecture of open source network monitoring tool Nagios.
Network monitoring with Nagios, part two
Bernard Golden looks at example Nagios configuration in this tip.
Splunk + Nagios = quick data center troubleshooting
Find out why Splunk is adding Nagios to its data center troubleshooter.
Switching from commercial network management products to Nagios
Bernard Golden explains the commercial products and features that are similar to Nagios, and discusses the challenges of migration.
Using Nagios with custom plugins
Bernard Golden discusses considerations for using Nagios with custom plugins.
OpenNMS: World's first open source enterprise-grade network management platform
OpenNMS defined (Open Network Management System) is the first enterprise-grade network management platform developed under the open source model. It was designed to manage tens of thousands of devices from a single server as well as manage unlimited devices using a cluster of servers. OpenNMS includes a discovery engine to automatically configure and manage network devices without operator intervention. It is written in Java and is published under the GNU General Public License.
OpenNMS, an introduction: Affordable network management
If you are looking for an affordable enterprise-grade network-management system comparable to HP's OpenView, IBM's Tivoli, and CA's Unicenter, you might want to consider the free, open source OpenNMS
Broadband networking firm gets hooked up with OpenNMS
New Edge Networks Inc. is getting a lot of mileage out of OpenNMS, which is is helping the company differentiate itself from the competition in the networking market.
Security tools
Using Snort, Nessus and Tripwire for network security
Why pay a proprietary vendor a ton of money for a security application you can get for little or no money? In this tip, learn pros and cons of SNORT, Nessus and Tripwire.
IPSec VPN clients
Lisa Phifer discusses the features and benefits IPsec clients have to offer and what they are often missing. Her discussion includes information on open source VPN clients.
Designing a DMZ and using iptables
Our editors posted a question on ITKnowledge Exchange to help "Ruhi" plan for a demilitarized zone using iptables, and fellow techies jumped in to help out, providing excellent advice for DMZ design.
Nmap: A valuable open source tool for network security
Security practitioners who don't use open source tools are missing a valuable opportunity to get a new perspective on their network security without loosening the purse strings.
Snort: Open source intrusion detection
Snort is an open source network intrusion detection system (NIDS) created by Martin Roesch. Snort is a packet sniffer that monitors network traffic in real time, scrutinizing each packet closely to detect a dangerous payload or suspicious anomalies.
Snort is based on libpcap (for library packet capture), a tool that is widely used in TCP/IP traffic sniffers and analyzers. Through protocol analysis and content searching and matching, Snort detects attack methods, including denial of service, buffer overflow, CGI attacks, stealth port scans, and SMB probes. When suspicious behavior is detected, Snort sends a real-time alert to syslog, a separate 'alerts' file, or to a pop-up window.
Snort -- The poor man's intrusion detection system
Is intrusion detection the missing piece in your information security puzzle? Many organizations evaluate products like ISS RealSecure and the Cisco Intrusion-Detection System but choose not to implement them for financial reasons. Fortunately, there's an open-source alternative -- Snort.
Snort makes IDS worth the time and effort
Open source Snort is a free and powerful alternative to commercial intrusion-detection systems.
Nessus: Open source vulnerability scanner
Getting started with Nessus: How to install and configure the open source vulnerability scanner
Nessus, an open source vulnerability scanner, can scan a network for potential security risks and provide detailed reporting that enables you to remediate gaps in your corporation's security posture. This tip introduces the tool and explains how to install and configure your own Nessus deployment.
Nessus: Vulnerability scanning in the enterprise
General advice for building an enterprise scanning program with the open source vulnerability scanner Nessus.
Managing Nessus reports
Vulnerability scanning with Nessus can produce mountains of data. Learn three tips for getting the most out of the open source vulnerability scanner and managing the data produced by this valuable tool.
Voice tools
VoIP Telephony with Asterisk: Chapter 1: Introduction
Chapter 1 of VoIP Telephony with Asterisk by Paul Mahler presents an introduction to the leading open source PBX software.
What can you tell me about implementing VoIP using Asterisk?
Expert Carrie Higbie's response: Asterisk is an open source IP solution which offers a good number of features. Most implementations of Asterisk …
Asterisk: A playground for 'neat ideas'
SearchEnterpriseVoice.com caught up with Spencer to talk about the marriage of open source and VoIP, the benefits of such a pairing, and how an open source PBX can change telecommunications. Here are some highlights from that discussion.
Digium founder opens up about Asterisk
Open source voice applications are beginning to gain traction in the corporate world. The founder of Asterisk, an open source PBX that runs on Linux, says the trend isn't limited to companies interested in VoIP.
This was last published in
July 2006
Dig Deeper on Network management and monitoring