Eclipse Digital - Fotolia
Oracle sees Autonomous Database changing DBA roles for the good
The job duties of database administrators will likely change in organizations that use Oracle Autonomous Database Cloud, but in ways that are beneficial, according to Oracle.
As Oracle launches its Autonomous Database Cloud service, database administrators may be left to wonder if the new offering will affect their jobs. The specter of an automated system eliminating the need for people is a common fear, but it needn't be in this case -- in Oracle's view, at least.
In a recent webinar on Oracle Autonomous Database Cloud, Maria Colgan, a master product manager for databases at the company, assured database administrators (DBAs) that their jobs won't disappear as a result of the increased automation offered by the cloud service. In fact, "there's actually a shortage of really skilled database experts in our industry today," she said.
Colgan told listeners that the autonomous database administration functionality will indeed affect the role of DBAs, but in ways that she characterized as good for both them and their organizations.
According to Colgan, a typical DBA's duties can be broken down into two categories: tactical operations and business tasks. The former involves the more mundane aspects of a DBA's workday, such as performance tuning, database backups, database optimization, and configuration and provisioning of new systems.
More time for higher level work
If the tactical tasks are reduced -- or even eliminated -- DBAs will have more time to spend on higher level tasks, like data security, data lifecycle management, data architecture and data modeling, Colgan said. She added that they could also make more room in their schedules to work on new projects and to help both the development teams and business users.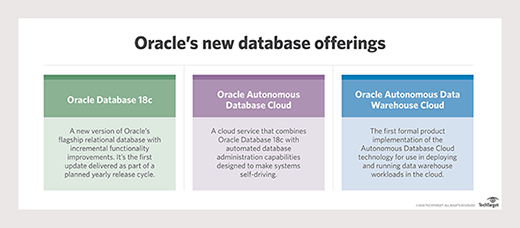 For example, with the newfound free time created by an Oracle Autonomous Database Cloud deployment, DBAs could play a bigger role in application development by showing developers the features and functions in the database and how to best exploit them, and then help to optimize data access and enhance the user experience, Colgan said.
As the job requirements evolve, Colgan thinks the DBA will become more of a data engineer who must have a strong understanding of the data available in databases and how it is organized and stored in order to help developers and business users get the most out of the information. Ultimately, a good DBA will need to be a jack-of-all-trades, adept at an increasing variety of tasks, she said.
Learning about machine learning
Working with Oracle Autonomous Database Cloud will also give DBAs an opportunity to learn new skills, such as machine learning, according to Colgan. Oracle touts the cloud service's use of machine learning algorithms to automate performance tuning and other database administration tasks. DBAs can also take advantage of built-in algorithms to, for example, track and analyze user behavior in database systems, Colgan said in the webinar, which was hosted by two Oracle user groups: the Independent Oracle Users Group and the Quest International Users Group.
Oracle obviously has a vested interest in painting the autonomous database technology's potential impact on DBAs in a positive light. But some IT analysts had a similar take on how the duties of DBAs are evolving in interviews at Oracle OpenWorld 2017 in San Francisco, which is where the company announced Oracle Autonomous Database Cloud.
For example, at the conference, Forrester Research analyst Noel Yuhanna said that he sees DBA jobs shifting "toward more data-driven initiatives with more emphasis on security and governance" and an increased focus "on business value as opposed to technology."