Tomasz Zajda - Fotolia
Clariba partners with SAP clients for intelligent enterprise
In this Q&A, Marc Haberland, founder of Clariba, explains why SAP needs partners to co-innovate with customers on applications that enable the intelligent enterprise.
At its recent user conference, SAP made a case for its vision of the intelligent enterprise, but the concept still lacks clarity for many customers.
SAP defines the intelligent enterprise as a digital transformation, or the digitizing of existing processes and business models to enable the new processes and systems. The overhaul emphasizes analytics, data-driven decision-making and cloud-based technologies, and it enables companies to develop business models that monetize data in new ways.
For companies to undertake such a transformation, SAP will need help from its partners, said Marc Haberland, founder and managing director at Clariba, an SAP partner. Clariba has engaged in its own digital transformation and now develops applications and methods for SAP customers to do the same.
Clariba, based in Barcelona and Dubai, is a 20-year-old firm that started out as a consultancy for BusinessObjects, business intelligence platform technology that SAP acquired in 2007. In addition, Clariba is focused on SAP's vision of an intelligent enterprise and is developing data-driven intelligent enterprise applications, including one currently being used by the Italian National Football Federation.
In this Q&A, Haberland discusses how and why SAP customers need to move to the intelligent enterprise.
Why did Clariba begin to undergo its digital transformation?
Marc Haberland: We found about four years ago, when we were developing our solutions with customers, that the customers wanted more. They wanted not only the bread-and-butter analytics and executive dashboards with self-service capabilities, but they also wanted to interact with these dashboards. They wanted the ability to write back into the database and potentially trigger a process in a transactional system, such as creating a ticket in Microsoft Dynamics or an SAP back-end ERP system based on the data they have inside the dashboard.
What was a use case for this approach?
Haberland: The most pronounced project was one we had for the Aspire Academy in Qatar [a youth football and sports academy] after Qatar won the 2022 FIFA World Cup. We won the project to build a repository for data from different data sources on the football pitch -- technical, tactical, testing performance -- all the data that you would generate in the course of training for football games that then provides data back into one system.
How did this transform into an intelligent enterprise project?
Haberland: At first, this was a traditional project. It was an on-premises SAP HANA enterprise data integrator with SAP BusinessObjects. We built a data repository in SAP HANA, which is what it was meant to do, but we began to push the limits of BusinessObjects. So, we had to get SAP engineers involved to look at the technology that SAP uses to see if the engineers could improve the routines to make the dashboard faster. On the back of that, we won a project for the Italian National Football Federation. The idea was the same for them, but it was a bigger end-to-end solution. We decided we can't go the traditional route and we have to go cloud with SAP Cloud Platform, leveraging HANA, and we'd build our own mobile application and not use BusinessObjects technology.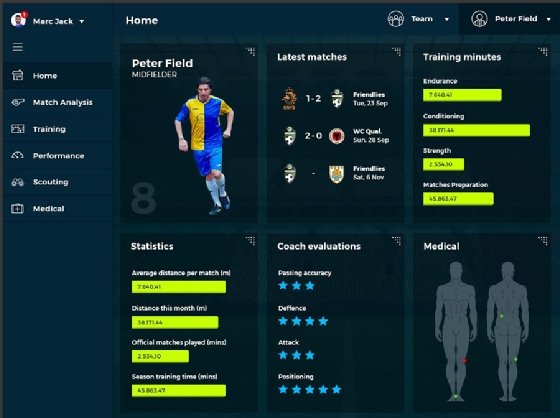 How does the application work?
Haberland: We really jumped into SAP Cloud Platform when we started this project. It's a massive project, with 12 integrated data sources from the GPS sensors that players wear during the training to the master data to the external data sources that feed data from the matches. The data sources are fed into one centralized sports performance repository, upon which sits an application that provides coaches, players, medical staff and nutritional staff -- a 360-degree view of their players. The performance and match analysis data are combined with subjective information about how the players are feeling, so it's really about combining sensor data with master data with subjective experience data.
Does this typify the new landscape for SAP technology?
Haberland: It's really a shift to building applications that not only visualize data for better decision-making, but actually create solutions where data is entered and decisions are recorded back into the system, which is what data-driven digital transformation is all about. To help companies become intelligent enterprises, you have to co-innovate with them to digitize their processes. Data is always front and center for that.
Are there tools that you use to help the intelligent enterprise development?
Haberland: The reality now -- especially with COVID -- is that customers need to build new business processes, they need to be agile, we need to be able to innovate together with customers and come up with solutions relatively fast. We've created building blocks that we call Act-In frameworks of what customers require to build mobile applications and digitize processes. For example, one of these frameworks is active connectors that provide the ability to connect to back-end systems, like S/4HANA, SAP SuccessFactors or the GPS systems. There are also mobile frameworks because consumers are used to using mobile devices and that expectation is now there in the business world. Every application today needs to have a single sign-on, it needs to have a menu structure, it might need to be multilingual, it will have some kind of forms, it will have potentially charts and graphs. So, there will be different components, and we basically are packaging that in what we call the Act-In mobile framework.
Why is this flexibility important for SAP and its partners and customers?
Haberland: In this journey, the football application is a good story, but underlying this is a very important shift, especially for SAP. As everything moves to the cloud, as SAP is selling more in the cloud, they need to innovate with partners, and those partners need to have the ability to rapidly engage with customers, to innovate with customers, and then to build those solutions on SAP Cloud Platform. Ultimately, it's very clear the money is in the intellectual property and in having recurring revenue streams from cloud-based or cloud-enabled applications. The reality is that if you go to any customer, and they want to digitize a process, build a new capability, or build a new business model, they don't have the answers yet. It hasn't been done before, so you need to co-create together with these customers. Also, the innovation on top of the SAP Cloud Platform -- that's what SAP is looking to do, which enables its partners to create IP and rapidly bring out data-driven applications.
Dig Deeper on SAP infrastructure and cloud