James Thew - Fotolia
'SAP Nation 3.0' examines the state of the SAP economy
In this Q&A, analyst Vinnie Mirchandani discusses his book, 'SAP Nation 3.0,' the third in a series that examines the expansion of the SAP software empire and how companies manage it.
Analyst Vinnie Mirchandani continues to keep a close eye on the SAP economy in his new book, SAP Nation 3.0: Manifest Destiny. It comes after SAP Nation and SAP Nation 2.0 and continues to follow the evolution of SAP from startup to colossus.
Mirchandani began writing the SAP Nation books after he calculated that the SAP economy, or the economic value of SAP from customers to systems integrators, equaled the gross domestic product of Ireland. He saw a runaway SAP economy spiraling past the capacity of companies to manage it, with customers spending billions on technology that was providing questionable benefits.
In this Q&A, Mirchandani, founder and president of Deal Architect, based in Tampa, Fla., discusses SAP Nation 3.0: Manifest Destiny, the latest look at the state of the SAP economy.
This is the third 'SAP Nation' book. Why did you want to revisit 'SAP Nation?'
Vinnie Mirchandani: The last book, 'SAP Nation 2.0,' came out five years ago, and people said that I should update the book. Based on that book, some customers told me that they have become a lot more cautious in how they are doing their S/4HANA projects, compared to what they did with their SAP ECC [ERP Central Component] projects, which is good, because I wanted people to become more cautious, given this runaway economy.
When I started the book, I was actually dreading it, because I thought SAP's brand had gone downhill. There were many failures, SAP was focused on HANA, [and] S/4HANA was still new. Workday and Salesforce appeared to be doing well, and Oracle should have been a far more formidable competitor, given that Fusion has been in development 15 years.
Two things come through in the book, to my surprise. The first is how little the competition has really evolved. They could have delivered a knockout punch to SAP, with all the challenges SAP had, and they haven't.
In the book, you categorize SAP customers as risk-takers, modernizers, diversifiers and bystanders. Can you explain what all those categories mean?
Mirchandani: When I looked at all the products that SAP has launched, I looked at who's adopting Leonardo, who's adopting S/4HANA, how they're adopting S/4HANA, who's adopting C/4HANA, and it wasn't very consistent landscape. So, I came up with four types of customers.
The risk-takers are doing SAP Leonardo, Leonardo machine learning [or] Leonardo IoT. They're doing S/4HANA, but they're doing it in the cloud. The modernizers are moving to S/4HANA, but they're doing it on premises or in the private cloud mode, not in the cloud. The diversifiers are doing other people's clouds, like Workday or Plex. They may be doing SAP, but they're also diversifying their exposure to SAP. The bystanders don't really have a coherent approach to what they're doing with SAP. They're sending checks to SAP, but they're waiting for what's going to happen with ECC in 2025. They're not laggards or risk avoiders; they just seem to be waiting for clues.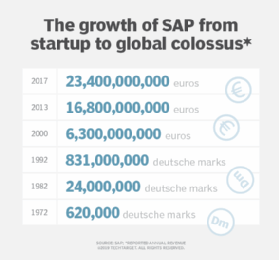 What percentage of customers fall into each category?
Mirchandani: About 5% are risk-takers, 20% are modernizers, 15% are diversifiers and 60% are bystanders. [Some of the distinctions are a little blurred.] For example, quite a few people are looking at S/4HANA, but very few of them are doing it in the cloud. Most of them are doing it cautiously. They're not using big integrators to do $500 million projects, [and] they're not moving to Fiori. They're using SAP GUI.
Did major disasters, like the ones we've heard about lately, come up as you researched the book?
Mirchandani: One surprise from doing the book was how cautious people have become and, therefore, how few major disasters I heard about. My sample size may be a bit biased, but I did not hear a major disaster in doing this book. This caution is good, but you can miss out on some innovation opportunities if you're too cautious.
Where does SAP need to get better?
Mirchandani: They've launched many new products, but they're not very good at messaging. The products are a jumble right now, and customers don't necessarily understand what's where. They need better roadmaps -- especially by industry -- and SAP hasn't delivered those yet.
SAP also lets its partners still do some of the messaging, so I'm afraid we'll end up with 5,000 S/4HANA customers on premises five years from now. That's not bad, but you won't have any of the benefits of cloud. You won't get any of the multi-tenancy advantages, where you can do multiple upgrades with one release. For example, with Workday, a thousand customers are upgraded overnight. SAP should be in that same world, but the integrators are pushing the on-premises or private cloud a little too much.