reborn55 - Fotolia
SAP customers plan to stay on ECC6 beyond 2025 deadline
A new survey suggests SAP customers will stay on SAP ECC6, despite SAP's plan to pull support by 2025. One analyst said reports like this should be taken with a grain of salt.
An SAP S/4HANA migration is not in the plans for many SAP customers, despite the impending 2025 deadline when SAP will end support for ECC6. That's according to a new report from Rimini Street Inc., which provides third-party support services for SAP and Oracle systems.
The report concluded that a majority of SAP customers, 79%, plan to stay on their current SAP ECC6 deployment at least until 2025. More specifically, 53% of survey respondents said they plan to run their "current SAP applications at least until 2025, while exploring alternatives." Another 26% of respondents said they plan to run their "current SAP applications beyond 2025."
The report, "How SAP Customers Are Responding to the Planned 2025 End of ECC6 Mainstream Maintenance Deadline," was based on responses from 148 SAP licensees in North American organizations that use a variety of SAP products, including SAP R/3 4.x, ECC5, ECC6, S/4HANA, C/4HANA and HANA databases. Survey takers represented a variety of roles, including IT, finance and procurement.
SAP customers want control
The survey indicates that SAP customers want to take control of their own fates, according to Hari Candadai, Rimini Street global vice president of product marketing.
"The biggest theme is that SAP customers are now taking control of their roadmaps and are disconnecting, or want to disconnect, from SAP's planned 2025 end of support to their flagship ECC product line," Candadai said. "They just want to do what their business wants them to do."
Further, the report shows that only about a quarter of the respondents are planning an S/4HANA migration. More than a third, 35%, have "no plans to migrate," and another 32% are "undecided." Just 11% of respondents have "already migrated or are in the process of migrating," and 22% are "planning," according to the report.
SAP customers are struggling to make the business case for an S/4HANA migration, Candadai said. They also lack the resources to do so and want to maximize existing investments in ECC6, where they often have millions of dollars in customizations.
"There's no appetite at all to move to or be forced to move to S/4HANA, even with the looming 2025 date. That was clear," Candadai said.
Organizations also aren't running the latest Enhancement Package releases, which include new features for the existing ECC platform, according to the report. Only 15% of respondents reported that they are on Enhancement Package 8. The remaining 85% are running earlier Enhancement Packages.
Candadai said the lack of interest is likely because customers don't perceive SAP putting any more core innovations in the product.
"It makes sense from SAP's perspective, because they are directing all their resources and innovation into S/4HANA. But it means SAP customers are not getting anything meaningful back in the core current ECC product," he said.
The report also shows that the top three IT priorities for organizations are cost optimization, improving business productivity, and investing in digital transformation initiatives. IT budgets are flat, so it may be difficult to build the business case for expensive innovations like an S/4HANA migration, Candadai said.
Because of this, SAP customers may be more inclined to maximize existing IT assets and look to ways to make existing processes more efficient, he said.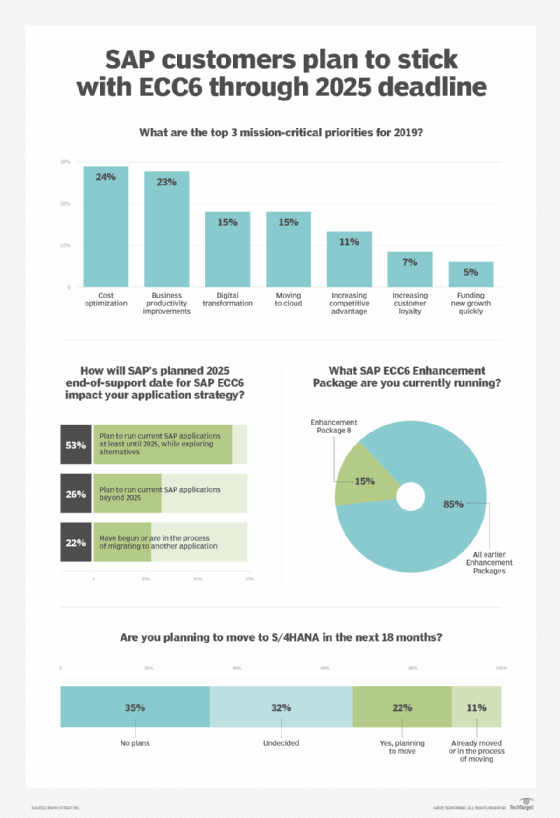 Approach S/4 migration reports with caution
The Rimini Street report comes on the heels of several other reports that question SAP customers' willingness or capacity to undergo an S/4HANA migration in the next few years. But the reports should all be regarded with a bit of caution, according to analyst Vinnie Mirchandani, founder of Deal Architect, an ERP consulting firm.
"None of us really know honestly, because these are complex decisions and you're talking about thousands of customers," he said. "So it's hard to generalize, but the next year or two are going to tell us more clearly where the customer base is going to lean."
Mirchandani said that he has been surprised by the number of customers who have implemented S/4HANA or are planning to. Although the numbers are relatively small in total, they are more than he expected.
Sticking with ECC6 also has downsides for organizations, as the enterprise environment evolves and encompasses more new technologies. Indeed, organizations with legacy systems are finding it difficult to recruit young IT talent because they have to compete with a Salesforce or Google environment that don't operate in an SAP ABAP environment, the default programming language for SAP applications, Mirchandani explained.
"I've heard some CIOs say, 'I could stay with ECC, but I'm going to miss out on all the machine learning and all the new innovations that are coming on, whether I stick with SAP or not,'" he said. "ECC6 may not support that three or four years from now, so you should look at your strategies even if you stay with ECC, it's not as simple thing as saying you're going to stick with ECC and ignore everything else."
Dig Deeper on SAP selection and implementation