kentoh - Fotolia
A breakdown of 10 commonly used SAP ECC components
Whether you've already implemented SAP ECC or your company is considering expanding its use of the on-premises ERP system, it's time to brush up on the main functional components.
SAP ERP Central Component (SAP ECC) is the main on-premises ERP system from SAP. It was devised to provide a clear, unified view of core business processes and allow every department to interact more easily.
The ERP software consists of components that are able to gather data in real time from one area, or function, of the business, such as finance, and use it in related areas like sales or production.
The integration of these SAP ECC components, which were formerly referred to as modules in the system's predecessor, SAP R/3, is what provides an organization with more flexibility and can ultimately optimize data-driven business decisions.
Here's a list of the 10 functional components that are most frequently implemented. Use this as a guide or a cheat sheet to ensure your organization is getting the most out of the ERP software.
Financial Accounting (FI) handles an enterprise's financial transactions, including customer and vendor transactions, and is often used to report and consolidate data from its subcomponents, such as accounts receivable, accounts payable, bank ledger, funds management and travel management. FI is one of the two modules that make up SAP FICO, the term used to describe FI and controlling (CO) as a single core functional component of SAP ECC, a reflection of how closely integrated they are.
Controlling is made up of subcomponents that include cost centers, profit centers, product costing, profitability analysis and internal orders. While FI deals more with financial statements, CO centers on monitoring costs from business operations to increase a company's profitability. For example, by using the product-costing feature of CO, your company can compare simulated costs to actual costs.
Sales and Distribution (SD) enables a company to store master data -- including customer data, pricing and materials -- and use it to manage sale orders, shipping, billing and invoicing services. SD works in conjunction with other SAP ECC components in an order-to-cash cycle that starts when the customer places a sales order. Once the product reaches its final destination, an invoice is sent to accounts receivable to finalize the payment with the customer. Ultimately, transactions in the sales and distribution part of the process produce further transactions in other SAP ECC components -- for example, a credit check or tax calculation in FICO.
Materials Management (MM), a critical component in SAP ECC's logistics function, manages materials, inventory and warehouse capabilities in a manufacturer's supply chain. It mostly revolves around such master data as materials master, work center, routing and bill of materials, which is then used to create transactional data in SAP ECC. Without MM, manufacturers are most likely not tracking materials properly and thus are at risk of shortages or gaps in the supply chain. MM also facilitates the purchase of goods in an efficient and cost-effective way and assists in dealing with changes and other issues that may arise in the process.
Production Planning (PP) is another SAP ECC component that is vital to a manufacturer's supply chain. It helps to manage planning of the manufacture, sale and distribution of goods. Activities include material requirements planning, bill of material, routings and capacity planning. PP supports discrete, process or repetitive manufacturing, as well as a combination of the three. The PP component also relies on master data from centralized master data tables and is integrated with other components like MM and SD. For example, when a production order is made, PP uses the data from MM to determine the raw materials needed to create the product and then SD uses that data in the sales order.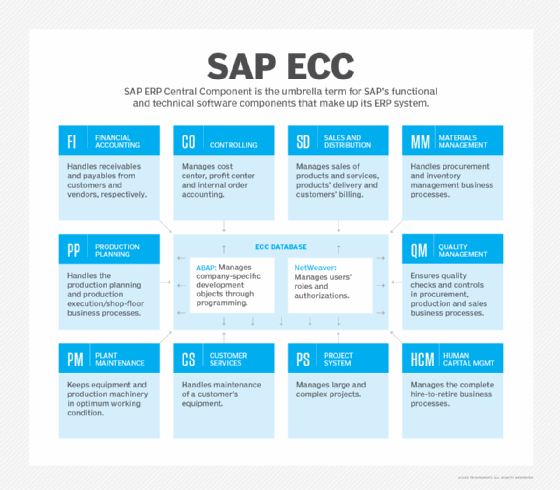 Quality Management (QM) is meant to prevent defects, ensure ongoing process improvement and maintain quality control programs. Tasks in QM are incorporated into other processes in procurement, production, equipment maintenance and sales through the integration with other SAP ECC components like MM, PP, SD, FI and CO. It is commonly used in business processes to inspect goods as they flow through the product lifecycle. QM also consists of tools for a number of interconnected activities. These tools include Quality Planning (QM-PT), which helps to manage quality inspection plans, and Quality Control (QM-QC-AQC), which enables management of quality control tasks like updating quality levels with inspection results and updating vendor validations.
Plant Maintenance (PM) covers inspection, repair and preventive maintenance. It is intended to help ensure machines and functional locations are working properly. If an issue were to arise, PM provides alerts to help prevent machine failures and production disruptions. It can also manage maintenance requests and make repairs automatically. PM is mainly of value to maintenance and operations managers, production line workers and equipment users, maintenance personnel and technicians, and purchasing departments.
Customer Service (CS) assists with managing and processing services rendered to customers. With the CS component, an organization can create service requests, monitor call processing, bill customers for maintenance services, as well as manage related data, such as equipment location and customer number. CS integrates with SAP ECC components like PM for plant maintenance provided at customer locations and SD for billing.
Project System (PS) helps manage large, multipart projects by organizing them into distinct components and managing tasks in a work breakdown structure. It consists of five main planning functions: scheduling, plus resource, material, cost and revenue planning. Project managers can regulate each stage in the project, including controlling costs and directing funds where needed while staying within budget. PS is also tightly integrated with other SAP ECC components to enable access to project-related departmental data.
Human Capital Management (HCM) supports a number of core HR processes, including compliance, payroll, time and attendance, personnel files, benefits administration and career development. Another important role of HCM is it manages employee data, from hiring through termination.
Dig Deeper on SAP ERP software and modules