SAP S/4HANA migration still just a plan for most customers
According to a new survey by ASUG, most SAP users plan to move to S/4HANA eventually, but they're currently focused on other IT priorities, lack of confidence in S/4HANA or still need to build a business case.
Most SAP customers are planning an SAP S/4HANA migration, but they are taking their time getting there.
A recent survey by the Americas' SAP Users' Group (ASUG) revealed 56% of respondents are planning a move from SAP ERP Central Component (ECC) to S/4HANA, but haven't taken any concrete steps to get there. Another 32% of respondents have either started to make the move or are already live on S/4HANA. Still, 12% said they have no plans to move to S/4HANA at all.
ASUG wanted to see where SAP S/4HANA migration trends are headed, rather than provide its annual report card on SAP's performance, according to Geoff Scott, ASUG's CEO.
"We're not interested in figuring out what people like or don't like. But we're looking at the broader SAP ecosystem, where customers and IT organizations are spending more or less, or where they are looking at more direct labor or contract labor," Scott said. "It's about the broader indicators around how the whole ecosystem is moving and what the trends are and what's shaping them."
ASUG conducted the annual State of the Community study in December 2018, collecting responses from 443 of its members. A majority of participants identified themselves as nonmanagers in their organization (41%), followed by managers (38%), vice presidents or senior vice presidents (5%), C-level executives (3%) and other levels (13%).
Waiting for an SAP S/4HANA migration
Reasons for waiting to move to S/4HANA ran the gamut. Survey takers gave the following reasons:
A migration has been placed behind other IT priorities.
They lack IT resources to do the job.
They lack confidence in the maturity of S/4HANA.
They have yet to build a justifiable business case.
"Overall, there's a general sense that they want to do it, they're planning for it, they're gathering data and information, and they're looking for use cases that drive a business case," Scott said.
He identified a few characteristics for organizations that have made or have started to make the move:
They tend to be early tech adopters who can make IT-led business cases.
They've had to make a business case around external IT factors, such as a merger or acquisition.
Or, they've needed to do a system refresh and see the move as an opportunity.
Yet, the main reason organizations are taking a wait-and-see approach is due to the complexity of an S/4HANA migration.
"These are complicated moves that require human capital if you're going to make it happen, and it can't be done overnight," Scott said. "You have to allocate resources and time, and they're trying to fit that into an already packed schedule of enhancements and changes and other things they're trying to do."
SAP plans to sunset support for SAP ECC in 2025, which Scott said should motivate customers to migrate to S/4HANA. Further motivation should come from the need to have back-office core applications like SAP ECC catch up with the pace of innovation for front-office applications, he said.
"At some point in time, the core system has to catch up with the pace of innovation in other areas," Scott said. "Organizations are spending a lot on marketing innovation, such as front-office technology, where there's a lot of buzz, but the front office and the back office have to be in sync."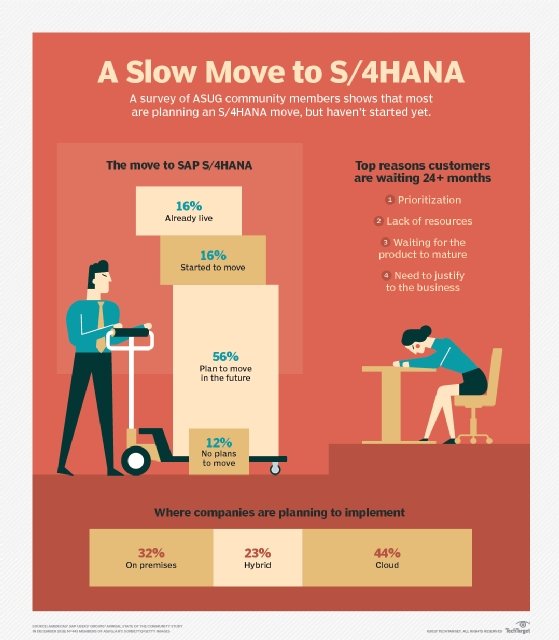 Emerging technologies will be significant
The need to innovate appears to be taking hold in organizations, however. Survey results suggested that 81% of respondents expect emerging technologies such as AI will have a significant impact on their business in the next two years. That's a 15% increase compared to the 2018 Sate of the Community report.
However, Scott cautioned that interest in emerging technologies does not always result in implementation.
"AI and machine learning do appear to be very real and very present on the minds of the customer base," he said. "On the flip side, while everyone's talking about it, they may not know what to do about it."