carloscastilla - Fotolia
Container data storage's emerging role now and in the future
See how application workload and cloud portability requirements are driving container storage preferences in the latest research from the Taneja Group.
Don't look now, but containers are taking the cloud by storm. As a growing number of companies adopt a cloud-native, microservices approach to new app development, containers are taking center stage in the cloud as a preferred platform for developing and delivering cloud-born apps. And all this change will, ultimately, affect the container data storage that organizations use.
Companies are embracing the cloud, looking for advantages, such as greater agility, flexibility and workload portability. More specifically, as revealed in the Taneja Group's recent research, a majority of companies are moving or planning to move away from traditional data centers to hybrid and hybrid multi-cloud architectures. Figure 1 below shows a precipitous reduction, from 50% down to 11%, in the share of companies that will be using conventional data centers in the next three years, while growth in hybrid multi-cloud architectures will increase from 15% to 40%.
As companies move to cloud-centric architectures, the cloud is increasingly becoming a preferred platform for app deployment. But traditional apps designed for deployment on premises can't easily be migrated to operate in a hybrid and multi-cloud world. To overcome these barriers, companies are seeking a new approach that enables them to move critical existing business apps to the cloud but also affords a platform for new, in-cloud development.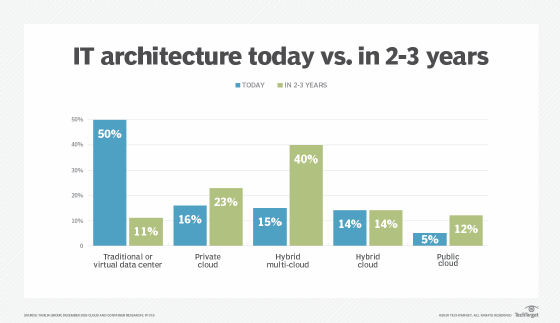 Why containers?
Container technology is the basis of a modern agile DevOps (or continuous integration/continuous delivery) approach to app deployment and the best method to enable multi-cloud portability. In fact, these are two leading reasons that our research respondents are adopting containers.
Containers are still the best approach to multi-cloud portability despite the advances of technology like VMware Cloud on AWS, AWS Outpost and Azure Stack. Figure 2 shows how this is the case: Out of 315 respondents, 78% are using or plan to use containers, with just 20% not planning to in the near term and only 2% having no long-term plans.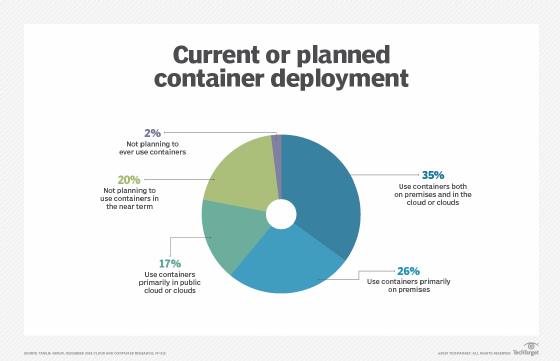 Our research shows that web-tier, general business and collaboration are the apps most likely to migrate to containers. We expect companies to increase their use of containers for this "first wave" of migrated apps while also expanding their use to more business-critical apps.
Workloads dictate container data storage used
But as often happens, the more things change, the more they stay the same.
Sixty-two percent of respondents are initially deploying containers in VM environments on premises and just 20% using bare metal. We see people selecting the best container data storage technology based on workload needs; there's no preferred storage type just for containers.
With more than 60% of our respondents running or planning to run containers on premises in VM environments, we expect that on-premises infrastructure, including storage, is going to be business as usual in the near term. However, that doesn't keep IT from planning for the future.
In our in-depth interviews, we found respondents selected storage for containers in the same way IT has traditionally selected storage for VM environments. Container data storage preferences are based on the application's workload requirements. If the container app workload needed transaction speed, respondents tended to select all-flash block devices. If the container was running a general-purpose app, then a software-defined storage (SDS) or hyper-converged infrastructure approach was adequate. We saw that a file-based approach was preferred when apps needed more shared storage. Figures 3 and 4, respectively, show the research results for preferred storage architectures and preferred access methods for those deploying containers.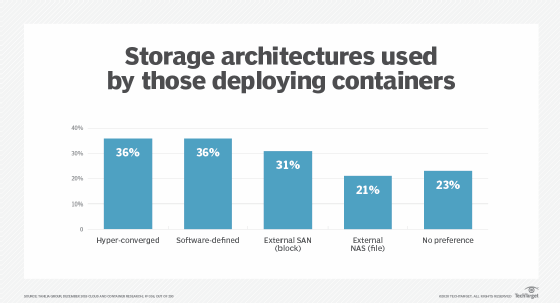 What about containers deployed exclusively in the cloud? Most public cloud-based container deployments are web-tier apps. Interestingly, when we asked about access to data, we heard that most data access was either API-driven (including S3) or database-driven (both SQL and NoSQL). Many web-tier apps also had direct API links to other SaaS-based platforms such as Microsoft, Oracle and Salesforce. One company that built a mobile financial app saw the different API streams grow from three to 20 in a few years as it provided more financial services to consumers. All these APIs were brokered in the public cloud via a container microservices architecture.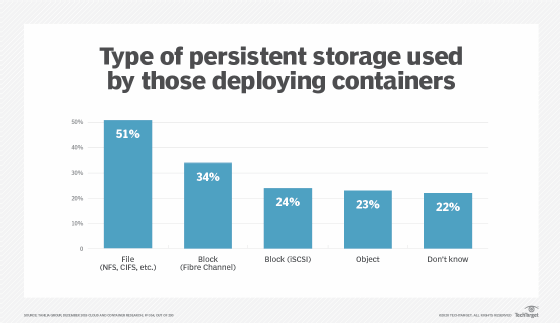 While multi-cloud portability is one of the key value propositions for containers, most customers aren't using them for that reason. Companies select an on-premises architecture and usually prefer one public cloud to augment that. Customers want choice, though, and as container and cloud technologies mature, they will want a storage approach that can help with data migration between clouds. Most respondents believe SDS technology is the best choice to achieve that.
Takeaways for your organization
Though most container deployments on premises today are running within VM environments, these workloads will need an on-ramp to the public cloud or an off-ramp to a bare-metal container on an on-premises platform. To fulfill the ultimate promise of multi-cloud and hybrid cloud portability, it is vital to choose a storage approach that can assist in moving your data between clouds.
Dig Deeper on Storage system and application software