Fotolia
Digital whiteboards' remote collaboration underused by organizations
When using interactive whiteboards, businesses need to get remote workers involved in the collaboration process through video calls, screen sharing and digital annotation.
Many digital whiteboards are chock-full of unified communications and collaboration features, including video conferencing, screen sharing, digital annotation and wireless presentations. According to one industry analyst, however, organizations are not taking advantage of one key feature: remote collaboration.
The real benefit of digital whiteboards is allowing remote users to do video calls, see content and digitally annotate it for two-way, real-time collaboration. These devices build on the venerable unified communications (UC) features of video conferencing and screen sharing. Oddly, though, not enough organizations are using digital whiteboards to empower remote collaboration, said Robin Gareiss, president and founder of Nemertes Research, a tech advisory firm based in Mokena, Ill.
"Unfortunately, I don't see enough attention placed on the remote workers," Gareiss said. "I think that's something that slips through the cracks. You have to look at everywhere people are."
Many organizations still perceive meetings as a physical place where people meet to collaborate. Users, it seems, need to be in the room to contribute their ideas. However, digital interactive whiteboards can help to get remote workers more involved in the collaboration process.
Digital whiteboard adoption and planning see uptick
Despite this newfangled way of collaborating, speakerphones and dry-erase boards are still the norm in many conference rooms. But as organizations consider conference rooms of the future, digital whiteboards are one of the key enabling technologies.
With a digital whiteboard, users can mark up content that remote workers can also see and annotate on their laptops or mobile devices. Work can be saved to the cloud and revisited later. Digital whiteboards simply offer a more interactive and engaging meeting experience, Gareiss said.
Digital whiteboard adoption has increased slightly over the last year, according to a global Nemertes study of approximately 650 IT leaders. In 2017, 17.6% of organizations were using digital whiteboards. In 2018, that number crept up to 19.2%. More companies are planning to use digital whiteboards, with 14.5% of organizations planning to use them in 2018 and 15.5% planning to use them in 2019, according to Nemertes.
In general, Nemertes found businesses are adopting more endpoints. But digital whiteboards are expected to see the largest increase in the number of units purchased from 2018 to 2019. Other endpoints include handset phones, headsets and UC mobile clients.
Midsize companies are adopting digital whiteboards the most, according to Nemertes data, and 55% of organizations with 250 to 2,500 employees are already using digital whiteboards. Industries using the boards the most include publishing and media, healthcare, education, professional services, aerospace and defense. As for whiteboard prices, most organizations are willing to pay between $501 and $1,000 to put a digital whiteboard in their offices.
"The interest in office-based whiteboards does exist," Gareiss said. "Organizations are willing to pay for [digital] whiteboards if the prices go down to a point where it makes sense."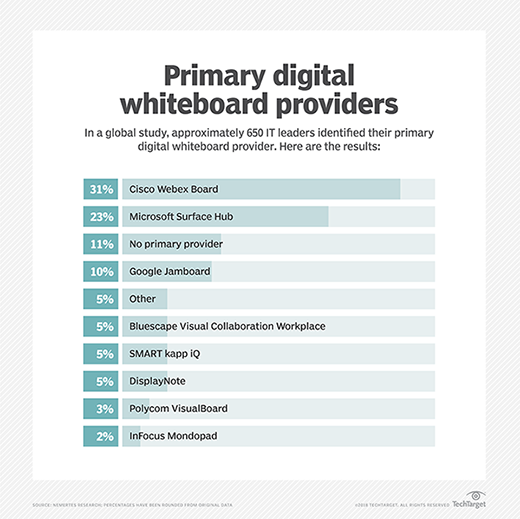 Pick one digital whiteboard vendor
Many products and vendors have flooded the digital whiteboard market in recent years. Examples include Google Jamboard, Microsoft Surface Hub and Cisco Webex Board -- formerly called Spark Board. Microsoft is also working on a second version of its Surface Hub.
A common problem among organizations, however, is they don't have one consistent owner and manager of meeting room technology. As a result, organizations may have different digital whiteboards in different rooms, as separate business units purchase the boards piecemeal.
Consequently, inconsistencies start to emerge among meeting rooms. Employees might know how to use one vendor's digital whiteboard in one room, but they may not know how to use a different board in another room.
"I recommend organizations pick a digital whiteboard vendor and stick with that vendor throughout all the meeting rooms so you can have that consistency," Gareiss said. As a result, it won't matter what room people are in, because they'll know how to use the devices.
Why organizations are not using digital interactive whiteboards
Despite their advantages, not everyone has adopted digital whiteboards. Organizations not using the boards said they haven't seen the demand from their business units, according to Nemertes. IT might have to market these products to business units and educate end users on the benefits of digital whiteboards, Gareiss said in a recent webinar.
Another reason organizations aren't using digital whiteboards is because they are often deemed too expensive. The 84-inch, first-generation Surface Hub, for instance, was priced at nearly $22,000. But as more companies use digital whiteboards, prices could drop.
Other organizations said they haven't adopted digital whiteboards because they haven't had time to evaluate them, while other companies are concerned about how new the products still are.