olly - Fotolia
Cisco Webex to support wireless screen sharing outside meetings
Cisco Webex will support wireless screen sharing outside of online meetings beginning next month, a feature sought after by customers.
Cisco will let customers share files and screens through Webex Teams and Webex Meetings without being connected to an online meeting. The new feature, which launches next month, is among several recent enhancements to Webex's tools for wireless collaboration.
Cisco developed a wireless screen-sharing feature for use outside of meetings in response to customer demand, said Sri Srinivasan, general manager of Webex Teams and Webex Meetings. Microsoft Skype for Business and Microsoft Teams already support similar features.
When the update goes live, Webex users will be able to, for example, share and flip through a PowerPoint presentation with other Webex users, without the extra step of creating and joining a meeting. The wireless screen-sharing feature will also support connecting to a display in a conference room.
Cisco's planned release of the wireless screen-sharing feature in April furthers a trend of vendors supporting ad hoc collaboration among small teams. It should reduce friction for in-office teams that decide to find an open meeting room and work together on a project.
Over the past several months, Cisco has worked to streamline wireless collaboration experiences for customers, regardless of whether they have cloud or on-premises displays and video systems from Cisco.
Previously, Webex Teams users were only able to connect wirelessly to cloud-registered Cisco smartboards and video room kits. Now, Cisco has extended that same pairing experience to on-premises Cisco devices.
"That experience is now common across cloud and on-prem endpoints, across any one of our apps," Srinivasan said.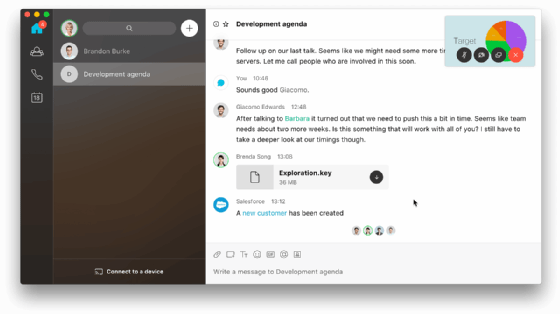 Additional features launched over several months include automatic Wi-Fi discovery of new devices and a PIN validation system for ensuring users are connecting to the intended Webex device.
Cisco should be able to use wireless capabilities to differentiate its collaboration suite from Microsoft's. Unlike Cisco, Microsoft does not make a video room system, but instead relies on partners, such as Logitech and Crestron.
Last year, Cisco also released Webex Share, a palm-sized device that plugs into any monitor's USB port to let Webex users wirelessly connect to that screen. The product effectively turns any display into a Cisco device that IT departments can monitor and manage.
"Microsoft doesn't have a similar story to tell around wireless sharing devices," said Irwin Lazar, analyst at Nemertes Research, based in Mokena, Ill.