oporkka - Fotolia
Microsoft Teams walkie-talkie launches for frontline workers
Microsoft Teams can now turn your smartphone into a walkie-walkie. The feature recently launched in public preview on Android mobile devices.
Microsoft has added a walkie-talkie feature to Teams, the latest milestone in its attempt to sell the collaboration app to frontline workers.
Frontline workers are people like retail sales associates, plumbers and nurses. Microsoft could dramatically expand its business collaboration software by convincing companies to license the product for those kinds of users.
The walkie-talkie feature is a core component of Microsoft's frontline worker campaign. It recently launched in public preview on Android mobile devices. Unlike traditional hand-held radios, Teams relays voice messages over Wi-Fi and cellular networks. Microsoft also announced that several hardware vendors had integrated products with the service.
In addition to the walkie-talkie tool, Microsoft unveiled several other features for frontline workers this week. The company made the announcements during Microsoft Inspire, its annual partner conference (held virtually).
Microsoft added a time clock feature that will let users report when they begin and end work. The vendor also released a set of preconfigured policies and settings that businesses can apply to frontline workers' accounts. In the future, Microsoft said it planned to launch a scheduling assistant feature to make it easier for managers to assign shifts in Teams.
However, Microsoft is still at the early stages of selling Teams to businesses with frontline workers. The company is going up against established vendors like Motorola Solutions and Spectralink, which have sold hardware and software to frontline workers for years. New entrants like Facebook are also targeting the same market.
"I don't think the new additions will make it much easier for Microsoft to break into this market in a big way," said Michael Finneran, principal at dBrn Associates Inc.
The customers Microsoft is trying to sell to are likely already using another software product to meet similar frontline workers' needs, Finneran said. "Microsoft has to unseat an incumbent."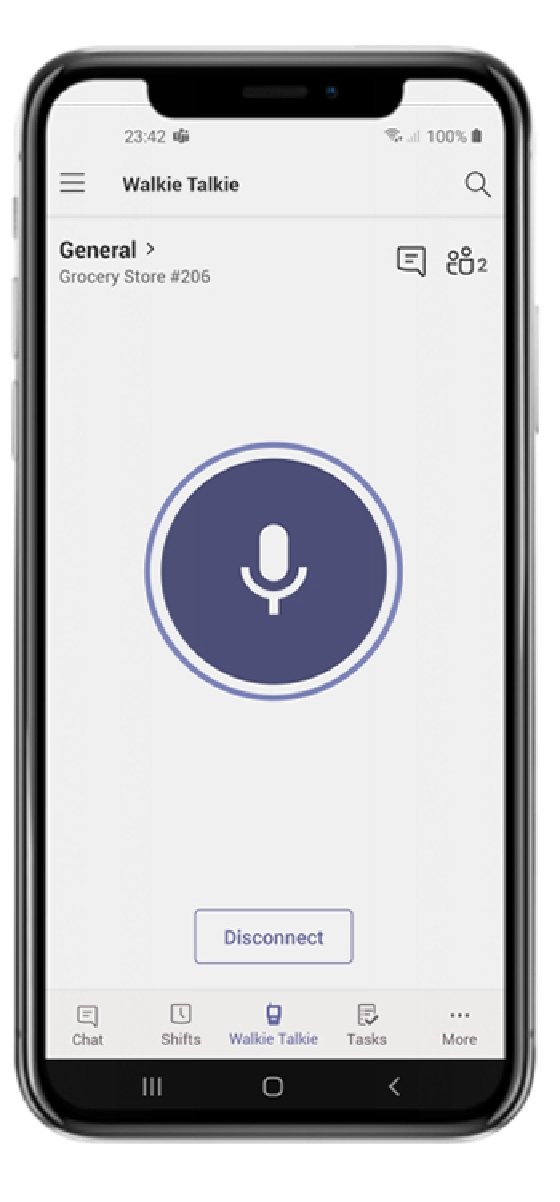 Workers in healthcare, field services and manufacturing have very different technology needs. But Microsoft has so far targeted the frontline worker market broadly. The company has also added features in dribs and drabs, which will make it harder for the vendor to compete against more mature software products.
The hardware partnerships unveiled this week were an essential step for Microsoft. BlueParrott has made two wireless headsets compatible with the Teams walkie-talkie. Klein Electronics has done the same for two wired headsets. Meanwhile, Samsung has launched the Galaxy XCover Pro, which includes a button for activating the Teams walkie-talkie.
Another vendor, RealWear, has updated its earpieces to let users make calls and receive chat messages in Teams. The company sells headsets designed so workers can wear them under hard hats.
Only around 10% to 15% of employees worldwide are knowledge workers -- office-bound workers that have typically used Microsoft's Office software, according to calculations by PKE Consulting LLC.
Microsoft could significantly increase its revenues by selling to the other 85% to 90% of the workforce -- people like delivery drivers, hotel maids and home healthcare aides. Historically, those kinds of workers have not used as much technology as knowledge workers.
"It's a big untapped market," said Tom Arbuthnot, principal solutions architect at Modality Systems, a Microsoft-focused systems integrator. "I don't think we'll see Microsoft giving up on that."