5G UC evens the mobile communications playing field
5G could improve the quality of UC services over mobile networks. Learn the advantages 5G UC offers remote workers compared to current-generation networks.
5G is the latest cellular technology that's expected to take the world by storm. The new wireless standard is an improvement over previous iterations, such as 4G LTE, in several key areas, which translate to more reliability, increased speed and decreased network latency from an end-user perspective.
Carriers such as AT&T, T-Mobile/Sprint and Verizon are beginning to roll out their 5G networks across the U.S. Once complete, organizations can take advantage of the performance gains of extra bandwidth and low latency in multiple business technologies, including mobile unified communications (UC).
Let's look at how 5G can eliminate many of the technical hurdles inherent in legacy wireless networks to the point where using 5G UC services is indistinguishable from the corporate LAN.
Mobile UC challenges on current-generation networks
When employees work outside of the corporate LAN, concessions are often made from a UC perspective. UC services, such as video, that require higher rates of bandwidth, low latency and low jitter often suffer from quality issues as current-generation wireless carrier networks can't consistently meet minimum performance requirements.
Many users find they are forced to change how they use UC tools to meet what the underlying network can support, which limits the ability for remote employees to perform their job duties. This is an especially concerning problem since the number of remote workers is expected to continue to rise due to the coronavirus pandemic.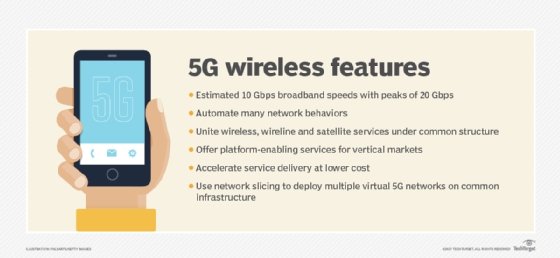 The advantages of 5G UC over 4G LTE
Most mobile carriers are currently using LTE as the last-mile wireless technology to connect customer devices to their network. As we wait for 5G to officially roll out, now is the time to understand its end-user benefits. Without getting too deep into specifics, the performance benefits of 5G compared to LTE largely revolve around three key improvements: speed, latency and capacity.
Speed. 5G is estimated to be be up to 100 times faster than 4G LTE technologies. That said, the real-world performance increase will likely be in the five times to 10 times range. While this speed bump doesn't sound significant, it's more than enough to enable mobile UC users to use bandwidth-hungry services, such as streaming high-quality, real-time video.
Latency. Perhaps even more important than bandwidth is latency. 5G latency is expected to be nearly 10 times lower than 4G LTE technologies. The decreased latency should enable any modern UC app to function on a 5G carrier network as it would on a corporate LAN.

Low latency will be especially useful for the transport of real-time communications, such as high-definition voice and video. While users may be accustomed to audio or video stutters and significant frame rate drops when connecting to 4G LTE networks, those issues should largely disappear once 5G is in place.
Capacity. 5G wireless enables far more devices to simultaneously connect compared to previous generations. These include modern 5G-capable IoT devices. From a UC perspective, users will not only communicate with other UC users on 5G networks, but also with autonomous devices in a machine-to-human capacity. Thus, expect integrations with various IoT sensors, monitoring equipment and surveillance cameras to be a new capability within the world of mobile UC.
Dig Deeper on UCaaS and cloud-based UC