Build a collaboration hub to transform team workflows
Team collaboration applications are coming together like never before. Learn how hubs are working now and why your team should get on board with this trend.
Team collaboration apps have rapidly reshaped the user interface for unified communications. By combining messaging, calling and meetings with contextual channels, team collaboration apps provide an integrated way to engage with colleagues inside and outside of your organization. To date, almost all UC vendors now offer a team collaboration app that converges formerly separate softphone, IM and meeting apps. Stand-alone team collaboration apps, like Slack and Mattermost, support integrations with third-party partners. Or, in the case of Symphony, have their own built-in meeting capabilities. Research from my company, Nemertes, shows that team collaboration adoption is rapidly growing, with more than 63% of those surveyed using a team collaboration app, or planning to deploy one, nearly double the 37% who were doing so in 2017. For this research, published in our "Workplace Collaboration: 2019-20 Research Study," we spoke to 645 organizations in 2019.
Team collaboration applications are much more than next-generation UC clients. Thanks to open APIs, off-the-shelf integrations and increasingly available built-in no-code or low-code workflow builders, team collaboration applications are rapidly becoming a collaboration hub, transforming formerly siloed workflows into contextual engagements.
Before and after the collaboration work hub
Consider the following example without team collaboration: A customer completes an inquiry form on a website asking for more information on a product. Submitting the form creates a workflow that sends an email to a sales mailing list and creates a task for a salesperson in the company customer relationship management (CRM) system. A salesperson receives the inquiry, opens up an instant message with a product expert to obtain answers to the customer questions and responds to the customer via email or phone, logging their efforts in the CRM. In this particular workflow, the salesperson used a separate email address, instant messaging system, CRM and phone system to respond to the customer, creating additional work complexity and delay.
Let's replay that same workflow with team collaboration: The customer's form submission creates a message in the prospects channel in the company team collaboration workspace. A salesperson marks that they are working on the response. They post a couple of questions into the product-support channel and obtain answers from subject matter experts. They then click on the call customer button in the inquiry message, which then triggers a call to the customer and the opening of a CRM form to enter the results of the call and assign follow-up action items. In this example, all the interaction the salesperson had with back-office, customer and CRM happened within the team collaboration app with no need to move among different applications.
Collaboration hub's true potential
The power of team collaboration to become a work hub is almost limitless. Additional examples include approval processes for expenses, vacation or purchases; responses to trigger events such as alarms or sensor readings; or workflows related to order processing and customer service. Virtually any workflow that involves collaboration and communications in context of a project, product or role can happen within a team collaboration app to improve efficiency.
Among our research participants at Nemertes, 29% currently view team collaboration as a work hub and are taking steps to actively integrate communications and business applications to enable contextual collaboration around processes. Among those who have achieved measurable benefit from their collaboration investments -- in terms of recognized cost savings, revenue gains or productivity improvements -- more than half view team collaboration as a work hub. This indicates a clear correlation between implementing a team collaboration hub and quantifiable benefits of deployment.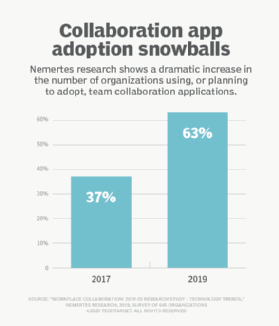 But establishing a collaboration hub is in the early stage for most companies. Initial integrations are largely focused around communications as companies transition from separate messaging, calling and meeting platforms to an integrated contextual experience. Beyond communications, we see early adopters integrating CRM, help desk, software development, project management and customer interaction applications to enable workflows to happen within the context of a team space. Over time, we expect to see rapid deployment of custom integrations as well as more off-the-shelf plug-ins into team spaces.
To reap the full potential of a work hub, IT leaders should continue to broaden deployments of team collaboration applications throughout their organization. (Organizations with companywide team collaboration deployments are twice as likely to achieve measurable success as those who only deploy in silos.) They should also begin to consider the opportunity that low- or no-code workflow builders will have with enabling individuals to create their own workflows within team apps. In addition, organizations should work with application developers to understand and implement potential workflows in custom enterprise applications. Those that employ the collaboration hub, and who enable integrations beyond simple plugins, are better positioned to achieve measurable benefits from their team collaboration investments.
Dig Deeper on Communications platforms and integrations