Definition
VMware vRealize Operations for Horizon
VMware vRealize Operations for Horizon is a virtual desktop infrastructure (VDI) monitoring tool that allows administrators to track the health and performance of Horizon, Citrix XenDesktop, Citrix XenApp and Remote Desktop Session Host (RDSH) deployments. The monitoring tool gathers data about virtual desktop and application deployments, including data on CPU usage, desktop latency, disk utilization, login durations and remote display protocol performance.
Standard dashboard options for vRealize Operations for Horizon include View Overview, which provides a big-picture look at the deployment; View Users, which lets IT see performance metrics around any active user sessions; and View Desktop Usage, which shows the resources each desktop consumes. Dashboards can be personalized to display information about particular environments.
VMware vRealize Operations for Horizon alerts will warn the administrator when a deployment is not performing up to certain standards or meeting certain service level agreements (SLAs). Alerts can be customized to help administrators proactively identify weaknesses such as overprovisioned resources, bottlenecks and resource constraints. When an alert is issued about slow performance on a specific desktop, for example, the administrator can view information about the server and virtual machine that the desktop runs on to pinpoint the cause of the problem. vRealize Operations for Horizon also provides heat maps that break down individual sessions by graphics processing unit (GPU) utilization and memory usage to show the administrator when and where graphics quality is degrading.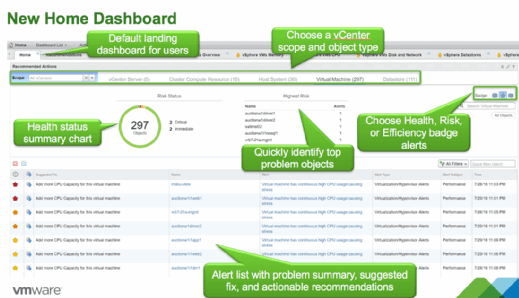 As of this writing, VMware vRealize Operations for Horizon is in version 6.5 and supports Horizon 6.0 and up, XenDesktop and XenApp 7.6 to 7.14, and Windows 10 desktops. vRealize Operations for Horizon is bundled in Horizon Enterprise Edition and is available as a standalone product. VMware licenses vRealize Operations for Horizon in increments of 10 or 100 simultaneous users and competes in the open market with Citrix Director, ControlUp, eG Innovations eG Enterprise and Liquidware Stratusphere UX.
This was last updated in
March 2018
Continue Reading About VMware vRealize Operations for Horizon
Dig Deeper on Virtual desktop delivery tools