What is Parallels (software company)?
Parallels is a software company best-known for its software that allows users to run Microsoft Windows systems on Apple Macintosh computers. The software is known as Parallels Desktop for Mac. It includes numerous one-touch tools that simplify everyday tasks in both Mac and Windows environments without the user having to reboot their system.
Parallels develops cross-platform software solutions that enable its customers (businesses and individuals) to use applications and files on any device or operating system. That philosophy underpins its best-known product, Parallels Desktop. This product enables users to utilize a variety of operating system technologies, such as Windows, Linux, macOS, iOS, Android and cloud computing on their preferred device.
The company was founded in 1999, and in December 2018 became part of the Corel Corporation, a software company best-known for its CorelDraw and WinZip applications.
Parallels products
Parallels offers many software products and solutions, such as the following:
Parallels Desktop for Mac.
Parallels Desktop for ChromeOS.
Parallels Remote Application Server (RAS).
Parallels Toolbox for Mac & Windows.
Parallels Access.
All the products are designed to help businesses, public sector organizations, educational organizations and individuals use the applications and files they need, wherever they may be. Parallels' products also help to improve environments for working and learning, and enhance user experiences when using technology.
What is Parallels Desktop for Mac?
Parallels Desktop 18 for Mac is software that can run Windows and Linux on Macintosh computers without rebooting and without slowdowns. It is desktop virtualization software that enables users to use Windows side by side with macOS on a Macintosh device, such as iMac, iMac Pro, MacBook, MacBook Pro, Mac mini or Mac Pro computers.
With Parallels Desktop, users can run more than 200,000 Windows apps on Mac systems, such as the following:
Microsoft Office.
Microsoft Edge.
Microsoft Access.
Quicken.
QuickBooks.
Visual Studio.
The software also supports graphic-intensive games, classic Windows-only games, resource-hungry Windows applications and complex CAD programs without affecting system performance, according to the company.
Mac users can also move files between Mac and Windows with Parallels Desktop, either by copying/pasting or by dragging and dropping. In addition, they can develop and test applications across multiple operating systems in a virtual machine for Mac.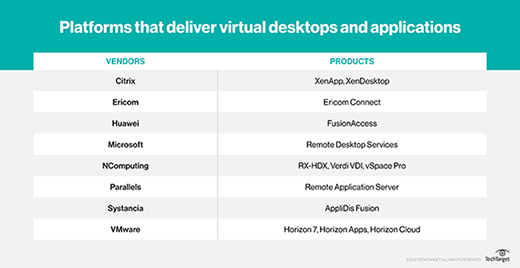 Parallels Desktop for Mac versions
Parallels Desktop for Mac is available in three editions: Standard (currently $99.99/year); Pro ($119.99/year); and Business ($149.99/year).
The Pro and Business editions include all the features of the Standard edition along with some additional features, including the following:
Visual Studio plugin for remote debugging and profiling.
Advanced virtual networking tools.
Command-line interface (CLI) and CLI tools for macOS VM on Apple M-series Mac.
Templates, colors and sorting to manage more virtual machines (VMs).
In addition, the Pro and Business editions provide 128 GB vRAM and 32 vCPUs for each VM. In contrast, the Standard edition only provides 8 GB vRAM and 4 vCPUs for each VM. The Pro edition can be used by individual and business users, while the Business edition is meant specifically for business users.
The Business edition also includes some features that are not available in the Standard or Pro editions. For instance, Business users can download a preconfigured Windows environment to their Mac. They can also set up centralized administration and management, and use a unified volume license key for mass deployment.
Benefits of Parallels Desktop for Mac
Parallels Desktop is easy to install and configure. It automatically detects what the user needs and starts running in just a few minutes. The software is also intuitive and user-friendly. It features a unique Coherence mode that makes it possible to use Windows applications while making Windows invisible. At the same time, it provides new users with the flexibility to set Windows to occupy the entire screen so it looks like the familiar interface of a Windows PC.
Parallels Desktop for Mac works with Windows 11, 10, 8.1 and 7. It also works with Linux and with existing Mac Boot Camp installations. Another benefit is that it offers one-click tuning and optimizes all VM settings and performance, so users can easily select and use the features they need.
Other key features of Parallels Desktop for Mac include the following:
More than 40 one-touch tools including those to secure private files, take screenshots and download videos.
All tools can be dragged to the dock or taskbar for easier access and use.
Automatic disk space optimization.
Smart resizing and retina display support for separate displays.
Instant access to any Windows applications from the Mac Dock.
Remote access to Mac systems from any iOS or Android device.
Built-in travel mode extends battery life.
Other products from Parallels
Parallels Desktop for ChromeOS is similar to Parallels Desktop for Mac. The Chrome version allows business users to run full-featured Windows applications directly on Google Chrome Enterprise devices.
Parallels Toolbox for Mac & Windows is an all-in-one app that provides more than 40 productivity tools for macOS and Windows. It replaces the need for multiple applications, and enables users to save hard drive space, create high-quality content and optimize their computers for presentations.
Parallels RAS provides a digital/virtual workspace and a centralized management console that are most useful for companies with hybrid and remote workforces. RAS seamlessly connects on-premises and multi-cloud environments, which users can easily access on any device or OS. Its virtual workspaces can be deployed either on main hypervisors or on the Microsoft Azure, Azure Virtual Desktop (AVD) or AWS clouds.
Parallels Access enables fast, reliable and remote access to a computer from anywhere. It allows individual users to access their applications, files and computers using any mobile device or computer browser with a Parallels Access account.
Learn four ways to handle Windows Virtual Desktop management and the Windows Virtual Desktop setup process.
This was last updated in
May 2023
Continue Reading About Parallels
Dig Deeper on Application delivery