cutimage - Fotolia
VMware Horizon 7.6 includes vGPU vMotion, QoS for Blast Extreme
Horizon 7.6 feature enhancements include support for virtual desktop migrations, improvements to the Blast Extreme protocol, geolocation redirection and clipboard auditing.
VMware is aiming to improve Horizon features, functionality and the overall user experience with the release of...
Continue Reading This Article
Enjoy this article as well as all of our content, including E-Guides, news, tips and more.
Horizon 7.6 by enabling vGPU vMotion, quality of service for Blast Extreme and new Group Policy Object capabilities.
Shortly after VMworld 2018 in Las Vegas, VMware released Horizon 7.6 and made the new features available to customers. At the same time, VMware released User Environment Manager 9.5.
Nvidia vGPU vMotion support
With the release of vSphere 6.7, IT administrators can suspend and resume VMs that use Nvidia GPU hardware or vGPUs to migrate them between hosts. However, this can cause an interruption to end-user desktops during the migration, so it might not be the right approach for every case.
But Horizon 7.6 supports the live migration of virtual machines. This feature will also be available for any vSphere VM using Nvidia GPU hardware with the release of vSphere 6.7 update 1, due in fall 2018.
For virtual desktops, live migration is available with Virtual Shared Graphics Acceleration and software-based video encoding and decoding, but those don't give users the same performance boost that they get with a dedicated GPU or vGPU. Using a GPU or vGPU makes life much easier for administrators when they perform maintenance on hosts and migrate VMs or balance workload usage on cluster hosts.
QoS for Blast Extreme
Among the technical enhancements to Horizon 7.6, quality of service (QoS) support with differentiated services code point for the Blast Extreme protocol stands out. This protocol operates at Layer 3 and enables admins to prioritize traffic on their network if the physical network is configured to support and facilitate it.
Admins can prioritize the traffic that originates from the Horizon 7.6 agent, the Blast Secure Gateway (BSG) and the client, but not from Windows clients, according to the documentation. Most Blast Extreme traffic flows from the virtual desktop -- the agent or BSG -- to the client, so that's where QoS plays the most important role. This can give admins more granular control over desktops that require more predictable bandwidth availability.
For an overview of all the VMware Blast Extreme policy settings, read through the documentation or look at the Group Policy Object (GPO) .admx settings after importing it into your environment.
Geolocation redirection and clipboard auditing
Admins can also use GPOs to redirect users' geographic location from a Windows client to an agent on a virtual desktop or Remote Desktop Session Host. Until now, applications on a virtual desktop used the data center's location instead of the user's location.
One other feature admins can configure using GPOs is auditing what was transferred via the clipboard from the agent to a Windows client.
With User Environment Manager 9.5, VMware has provided a new feature to download configuration templates directly to the management console from a VMware repository. Once you access this option, you'll see a list of available configuration templates that VMware has created for many popular applications.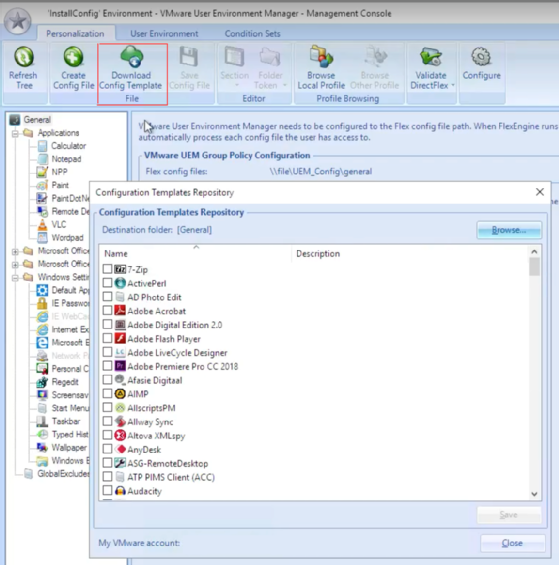 Of course, the computer on which the console runs must have access to the built-in URL that points to vmware.com to access this new repository. And you must authenticate it with your My VMware account.
Outside of VMware, several individuals have shared configuration files to download in the communities for various applications. This enables admins to simply import these templates instead of building them themselves.
Dig Deeper on VMware desktop software and virtualization