Ivelin Radkov - Fotolia
VMware-OpenStack partnership shifts in evolving market
VMware is aiming to make OpenStack, an open source, unwieldy cloud service, more usable with an integration that increasingly targets data centers and telcos.
VMware shifted its recent support for the OpenStack set of standards to a two-pronged approach that focuses the...
Continue Reading This Article
Enjoy this article as well as all of our content, including E-Guides, news, tips and more.
VMware-OpenStack integration on the data center and telcos.
The vendor unveiled VMware Integrated OpenStack (VIO) 5 in May 2018 -- a distribution that includes OpenStack's latest upgrades.
VMware's support of OpenStack has evolved since the open source service formed in 2010. The software platform was designed to help corporations with services from multiple vendors build private and hybrid clouds. With its dominant position in the virtualized data center, VMware was a natural fit for the initiative and an early supporter.
As the public cloud gained traction, however, interest in the VMware and OpenStack partnership seemed to wane.
The OpenStack Foundation, a nonprofit entity that supports the platform, uses a community governance process that has been both a boon and a bane for OpenStack. The initiative garnered support from more than 150 vendors, including many of the industry's leading suppliers. Many of these businesses have employees who work on the program, so it has also gained input from the world's top developers, pushing the service to become stronger over time.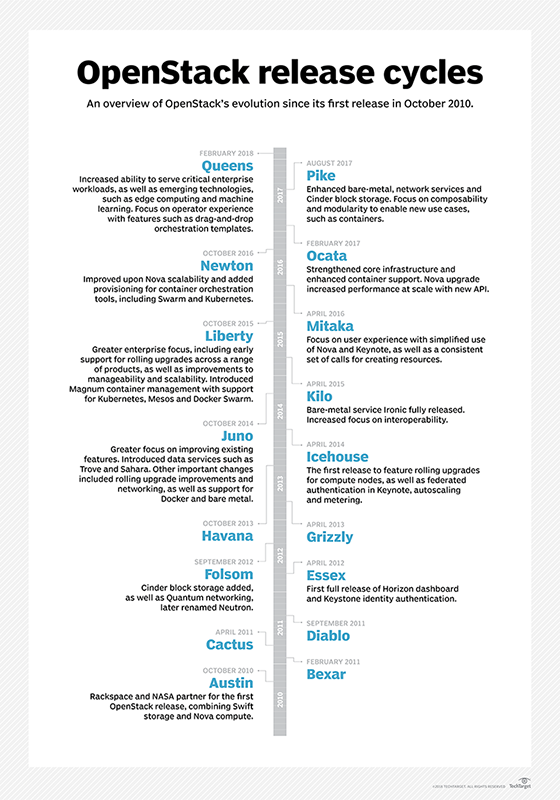 Despite this development, the process of establishing standards can be slow and tedious. The community, which consists of individuals representing companies with different objectives, has to approve each enhancement. Consequently, the work splinters into a large number of initiatives and releases arriving every six months or so.
"Public cloud solutions from companies like AWS and Microsoft continuously iterate," said Al Sadowski, research vice president at 451 Research.
VMware-OpenStack integration lightens management load
Due to the complexity of linking different cloud systems, deploying and maintaining OpenStack typically requires the full-time dedication of the support staff. Few organizations have been willing or able to allocate such resources to managing the software, according to Sadowski.
OpenStack gained traction mainly among large enterprises and telcos -- organizations with complex system requirements and large internal development and support teams.
As cloud interest rose, OpenStack achieved a significant market niche. 451 Research expects worldwide OpenStack revenue to increase by a compound annual growth rate of 23.5% from 2017 to 2022.
VMware has tried to provide the services its customers need to take advantage of OpenStack through its VMware-OpenStack integration. Since September 2017, the company has offered a Datacenter edition and a Carrier edition of VIO. The latest features are based on the OpenStack Queens release that became generally available in February 2018. Vendors like VMware take the OpenStack standards and package them into turnkey platforms that ease deployment and maintenance.
The goal of this VMware and OpenStack integration is to ease IT maintenance and training requirements.
VMware pitches the Datacenter edition to companies that want to integrate OpenStack with VMware's software-defined data center products, such as vRealize. The goal of this VMware and OpenStack integration is to ease IT maintenance and training requirements.
The latest release includes high availability features that enable companies to create snapshots, clones and backups of attached volumes. This improves VM and application uptime via enhancements to the OpenStack Cinder volume driver.
This release also added security improvements. These features consolidate and simplify user and role management using consistent application credentials, as well as support for system role assignments.
OpenStack appeals to telcos
OpenStack is also popular among Telcos. The standards group has been developing features, such as Network Functions Virtualization, for the telco market. VIO 5 bundled features to simplify the deployment of 5G and edge computing applications.
The software platform also increased scalability. The service now supports up to 500 hosts and 15,000 VMs in a single region. The management of workloads spread across different regions is now much simpler.
While the partnership between VMware and OpenStack has focused on easing maintenance, customers want more.
"Companies are pushing vendors to use AI and machine learning to ease system deployment and maintenance, as well as to improve security," said Gary Chen, research manager of software-defined computing at IDC.
Simpler management of containers is also on the wish list. And such improvements might be in the works. The OpenStack Foundation has been examining those items, along with others, which might be included in future releases of the cloud platform.
Dig Deeper on VMware updates, certifications and training