What the history of VMware reveals about its future projects
VMware dominated server virtualization, but was hesitant to embrace the cloud. Examine VMware's history and its approach to new technology to see where it's headed next.
The history VMware presents a company that disrupted the IT industry with server virtualization, but that was hesitant...
Continue Reading This Article
Enjoy this article as well as all of our content, including E-Guides, news, tips and more.
to embrace new technologies, such as the public cloud. VMware's future success will depend on how it finds a role in the current cloud market and how it approaches containers.
This year marks VMware's 20z year , a significant accomplishment in the volatile high-tech marketplace. The firm's virtualization software revolutionized the data center and elevated VMware to a lofty position in the market. In a March 2018 press release, VMware publicized that it had attained more than 500,000 customers and 75,000 partners and generated $7.9 billion in revenue so far in 2018.
In the spring of 1998, Diane Greene, Mendel Rosenblum, Scott Devine, Ellen Wang and Edouard Bugnion formed VMware. The impending Y2K crisis loomed and the dot-com boom was building hype, so few paid attention to the fledgling business.
The company's product -- VMware Workstation, which offered VM software for Intel x86 computers, is still relevant today, and its release marks a prescient point in the history of VMware.
"VMware was an innovator," said Gary Chen, research manager of software-defined compute at International Data Corp.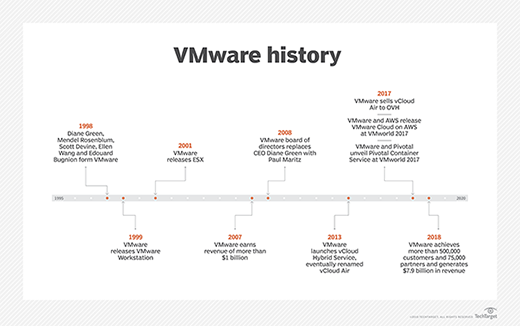 VMware was one of the to market with server virtualization and offered ESX, a well-designed product with numerous advantages over traditional systems.
"The product saved IT lots of money and made data center technicians' lives easier, so it is still the foundation for many enterprise data centers today," Chen said.
The concept of virtualization has moved from the server to other areas in the data center infrastructure. The history of VMware shows a company trying to keep up with its original innovation.
VMware parlayed the resulting initiatives into becoming a global IT leader, earning revenues of more than a billion dollars in 2007. This success ensured that the management team largely stayed in place until the summer of 2008.
After a disappointing financial performance due to mismanagement of the company's growing scale, the board of directors replaced VMware president and CEO Diane Greene with Paul Maritz, a former Microsoft veteran who headed EMC's cloud computing business unit. This leadership reorganization marked a point in the history of VMware that foreshadowed a shift in the company's direction.
VMware history fails to prepare it for cloud
VMware's foundation is in the on-premises data center, so it was slow to embrace public cloud. Established vendors often feared that offering cloud services posed risks to their existing businesses.
"VMware was part of that thinking, along with many other vendors," Chen said.
In May 2013, VMware launched an infrastructure-as-a-service product. VMware initially dubbed it vCloud Hybrid Service, but it eventually became known as vCloud Air. Interest was tepid, and in the second quarter of 2017, VMware sold the service to OVH, a French cloud supplier.
The firm eventually bet on an alliance with Amazon Web Services (AWS). The two vendors developed VMware Cloud on AWS as a service to help businesses migrate applications from on-premises VMware clusters to AWS. Compatibility is a big draw with the service.
VMware maintains its position with data center technicians, but it's not growing with business unit developers who increasingly control significant portions of IT spending.
"If a firm has VMware now in its data center, they see an easy way to move that workload to the public cloud," Chen said.
VMware Cloud on AWS isn't as attractive for organizations developing new applications. VMware maintains its position with data center technicians, but it's not growing with business unit developers who increasingly control significant portions of IT spending.
VMware develops container strategy
Containers are changing the way companies design and support enterprise applications. In March 2013, VMware spun off Pivotal Software, which had been at the forefront of the container movement.
Recently the two corporations came back together. At VMworld 2017, VMware and Pivotal unveiled Pivotal Container Service (PKS). PKS enables organizations to use Kubernetes on VMware vSphere and Google Cloud Platform to manage container applications.
Like the AWS agreement, the service has advantages and disadvantages.
"The purist may want a direct connection from a host operating system and its libraries direct to containers. With VMware/Pivotal, a hypervisor sits in between the two," said Marco Alcala, CEO at Alcala Consulting.
VMware's virtualization software reshaped the computer industry. Cloud and containers are now having a similar effect. VMware's response to these trends will determine its impact in the coming years.
Dig Deeper on VMware updates, certifications and training