A huddle room is a small and private meeting area, typically seating 3-6 people and equipped with teleconferencing and collaboration technologies. Depending on its size and needs, an organization may have several huddle rooms in addition to a large, conventional conference room.
Some benefits of huddle rooms:
Huddle rooms save money. They are much less expensive to outfit than large conference rooms and they also can take advantage of spaces that are too small to serve any other useful purpose.
The rooms can be multi-purpose, for example providing office space for mobile workers and telecommuters who are only occasionally on the premises, while remaining available for everyone at other times. They can also serve as office space for client meetings, which otherwise might have to be held in a big and mostly empty room or offsite.
Multiple huddle rooms provide private spaces which are much more conducive to small-group collaboration than a large conference room which might have to be shared by multiple groups meeting simultaneously. The more intimate space also tends to ensure that attendees are engaged.
More attendees can be added through teleconferencing technologies, expanding the effective group size and potentially linking multiple meeting spaces, either onsite or at different locations.
The size of huddle rooms limits the number of attendees so that meetings are limited to individuals who need to be there and other people can get work done instead of wasting time.
A number of vendors offer products designed specifically for the huddle room market. Video conferencing provider Lifesize Inc. offers the Icon 450, a high-definition camera and phone system geared for small meeting rooms. In conjunction with Lifesize's cloud-based video communication platform, the system uses a smart-framing sensor that automatically adjusts the camera to capture everyone in the picture. Polycom Inc. offers the RealPresenceTrio, which combines video, audio and content-sharing capabilities, accessible from a smartphone or laptop. Other vendors of huddle room equipment include Highfive, Blue Jeans Network and Tely.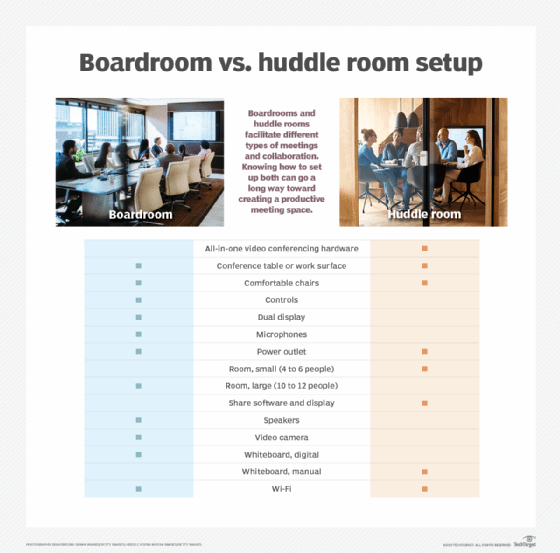 This was last updated in
October 2016
Continue Reading About huddle room