10 steps to IoT deployment success
Business outcomes should take center stage when planning to deploy IoT. Address these 10 areas to smooth your project plan and guarantee quality and revenue.
Many organizations see the value of incorporating an IoT deployment to optimize their business processes, but it can be hard to know where to begin.
Approximately 30% of IoT deployment initiatives fail in the proof-of-concept phase, while 38% of IoT adopters said that the technical challenges and complexity of IoT hinder their ability to move forward, according to Microsoft's "IoT Signals" report released in 2019.
The report found that business interest in IoT remains strong despite the high number of failures and hindrances. Some 85% of the 3,000-plus responding enterprise IoT decision-makers said they were moving forward with IoT adoption, with 75% of those reporting projects already in the works. Among adopters, 88% said they see IoT as critical to business success, citing an expected 30% ROI within two years.
Reaping those returns is no guarantee, according to several consultants and veteran IoT enterprise leaders. IoT initiatives involve a wide range of elements, from multiple technology components to process change requirements, which make them more complex than many other tech-driven projects.
As such, experts said enterprise leaders should address the following 10 areas as they plan their future IoT deployments.
1. Be strategic
Organizations can easily jump into IoT piece by piece by just adding a few sensors and building from there. But experts said organizations that take that approach often fail to understand how IoT fits into their strategic plans and how IoT can be transformational. Because of this, their IoT deployments aren't likely to deliver strong returns.
Nemertes Research Group Inc. studied the use of IoT, governance and organizational practices at 403 organizations, across a range of verticals and sizes in 12 countries. The study defined successful IoT initiatives based on their stated goals: to save money, drive new revenue or increase operational efficiency.
Nemertes broke down the use cases for initiatives into nine basic categories to determine what organizations were using IoT for and what makes an IoT deployment effective, as shown in the image below. Asset tracking and management was the most cited successful IoT initiative. System health monitoring was next, followed by facility or environmental monitoring. Asset tracking should therefore be the first step. What truly matters isn't collecting or analyzing the information, but what companies can do with it.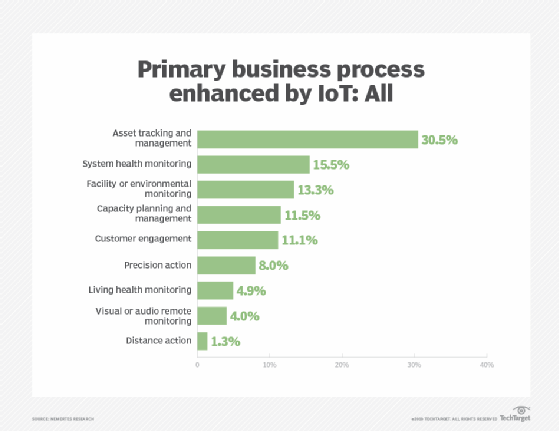 "We run into customers who are told they should get into IoT, and they might have some ideas, but the business plan is lacking. They'd do better mapping out the entire journey," said Steve Jester, who as senior director for the Wireless Design Services group at Digi International provides design consulting and advisory services.
2. Be clear about the business objectives
On a related note, enterprise executives and their IoT managers need to be clear about the business outcomes they want from their IoT deployment, said Rob Mesirow, a partner at PwC and leader of its IoT advisory practice.
"Companies need to have clearly defined outcomes," he said. "IoT as a technology is there to help you solve problems. If you don't have clear business outcomes, then you need to take a step back and really define what you want to do."
Consider how Scott Branum, senior digital solutions manager for Evoqua Water Technologies, approaches this task. He works with business unit leaders to think about the company's products and services and what customers value. He then identifies where IoT can help the company deliver better products and services more efficiently and effectively.
"Most people want to start with data, as if some value will pop out of the data. We identified the value we want and then what action is needed to derive that value and then what data would be needed to drive that action," Branum said. The company uses IoT technologies to gain the required data to drive the value they're targeting.
IoT typically generates the biggest bang for its buck in scenarios where tracking and measuring are followed by optimization. Organizations must find out the quantitative data of what the issue is -- such as how many cameras secure a building -- and then use it to resolve the issue. Organizations might seek to track and then optimize the use of those assets, or they can install IoT sensors in facilities to track environmental indicators and then conduct analytics to improve them.
3. Calculate the cost
The cost of IoT components, from sensors to storage, has dropped dramatically in recent years. As a result, many organizations underestimate how much their IoT deployment will cost. Jester said he advises organizations to be more expansive in how they calculate costs. They need to recognize from the beginning that while they might not pay much for a few sensors for a pilot project, they'll see those costs grow exponentially as they scale up.
Adding hundreds of sensors could necessitate networking upgrades, additional storage capacity, security layers and other costly elements that could easily be overlooked or underappreciated at the onset of the project.
The biggest ROI kicks in not from tracking assets or measuring the environment, but from optimizing these processes in light of the data they create.
4. Set priorities
Branum said his company uses a score card to evaluate proposed IoT investments that consider each initiative's cost, expected payback period, trade margin improvement, market penetration and other items to create a priority list. It's a classic process that he said ensures his company pursues the most promising IoT deployments rather than just chasing the hype of the technology.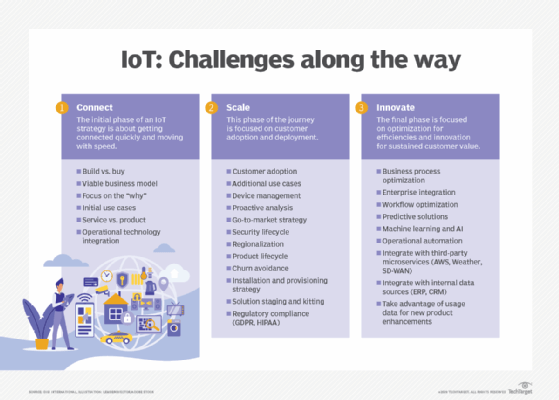 5. Think broadly
IoT initiatives aren't technology projects or stand-alone deployments, experts said. As such, executives should consider how IoT fits into the overall organization so they can identify how it will affect workers, processes, culture and potentially their supply chain operations, business partners and customers, said Erich Bergen, who as director of consulting at Baker Tilly Virchow Krause LLP provides advisory services for IoT projects.
"There's often not enough upfront planning as to which aspects of the business will interact with the sensors and devices and how those aspects of the business are going to use that data," Bergen said. "As you're planning these IoT initiatives, in addition to understanding the technology capabilities, you need to understand how sensors and IoT fit into the [organization's workflow] as a whole."
6. Address process change management
As CIOs and other enterprise executives take that holistic view and identify where and how IoT will change their organization, they need a change management plan, Bergen said. For example, a company implementing an IoT platform on equipment so that it can move toward predictive maintenance will likely have to adjust its work schedules, the type of work it performs and perhaps its parts inventory.
"IoT is not a bolt-on," Evoqua's Branum said. "If you're going to do true IoT investment, then everything has to change. As much time as you put into software and hardware development, you have to put into cultural change."
7. Upskill your workforce
An IoT deployment will shift more than process and culture; it will shift the skills that workers need to do their jobs. The technical workers assigned to the IoT platform will need to have the appropriate mix of hardware, software, networking and security skills to implement, integrate, manage, maintain, scale and eventually upgrade all the components that make up the IoT ecosystem within the organization, Digi International's Jester said.
Additionally, Bergen pointed out that workers throughout an organization can be affected by an IoT deployment and as such may need to be retrained. For example, someone working in quality control who had manually inspected products may instead spend more time monitoring information from sensors that help detect possible quality issues. "Companies need to ask: 'How does a traditional workforce need to change what they do to embrace and interact with these advancements in technology?'" he said.
8. Consider your supply chain
IoT enables organizations to connect with suppliers and customers on a whole new level, so enterprise leaders need to consider how IoT will affect their supply chain, Bergen said. He pointed to automobile makers as an example: As they implement IoT platforms related to their engines, they've had to consider how the companies who supply the different components of each engine need to be part of the IoT ecosystem.
"You have to evolve the whole supply chain that will be impacted by this technology," Bergen added.
9. Draw on others' expertise
Because IoT is not a single component but rather a multitude of technologies that work together, experienced enterprise IoT leaders said it's challenging for any organization to have all the required skills for an IoT deployment in-house. They advise others to identify early on where they'll need partners, for what work and for how long.
10. Plan to need extra time
Organizations consistently underestimate how much time they'll need for an IoT deployment. "We run into this time and again: the engineering teams need more time because they don't understand the complexity of [the project,]" Jester said.
Although there's no calculator to determine how long any given IoT project will take, consultants advise enterprise executives to recognize that they'll likely need more time than they initially estimate.
Dig Deeper on Enterprise internet of things