Getty Images/iStockphoto
Google boosts AI customer experience
Two bits of CX news from Google: Cloud Platform expands customer success operations globally, and users find the search behemoth's AI a fit for customer experience deployments.
Google Cloud Platform plans to invest in customer experience, globally. It will open a number of offices, expand its customer success operations and a training lab, as well as launch a professional services group to get users on their way with Google AI and Vertex AI machine learning platforms.
The company's latest efforts include an AI focus, said John Jester, Google Cloud vice president of customer experience, because it's at the core of many new products, businesses and experiences users have built in the cloud.
"We [aspire] to train 40 million people on Google Cloud," Jester said. "Every customer conversation I have, every partner conversation I have comes back to there just aren't enough cloud experts on the planet to support this massive wave of migration and adoption."
The investments include new or expanded offices in Argentina, Poland, India, Mexico and Portugal. Accenture veterans Lee Moore and Sunil Rao will, respectively, join Google's customer experience and customer success teams. Their goals are to enable users to get more out of their AI and analytics subscriptions and other Google Cloud services.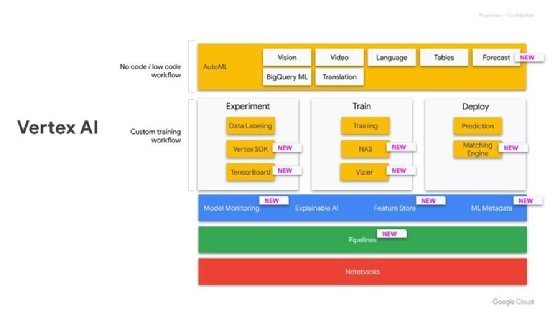 CX-specific use cases grow for Google AI
In other Google news, more users are tapping Google AI for digital customer experience deployments. One example is insurer USAA, which uses the services to create efficiencies with mobile claims and enable analytics on pictures of vehicle damage auto policyholders submit to more quickly return estimates and reimbursement.
Google introduced the Vertex AI platform last year to simplify machine learning (ML) customization. But getting Vertex AI projects off the ground and justifying them with business use cases isn't always so obvious, Jester said. Google launched its Custom AI Solutions practice to help users hone automation use cases into profitable operations.
Retailers, insurers and financial services companies will likely be early adopters, as those verticals have moved quickly in the last two years to digitize workflows in the name of customer experience improvement. But the concept of AI and ML has moved beyond a buzzword or a trendy tech concept --for some users, business value of an new AI project can be difficult to prove, said Liz Miller, an analyst at Constellation Research.
She added that, while at first many CX-focused AI/ML technology deployments appear to help the customer, they're actually often helping customer service -- or in the case of USAA, independent insurance -- agents move more quickly, which in turn improves the overall customer experience. Google's Custom AI group will help users make sense of their broad AI offerings.
"All these organizations want to go there [with AI]," Miller said. "It's a good move on Google's part. They need to find other ways that they are going to reach the successful points of profitability with these types of solutions and services, not just advertising."
Don Fluckinger covers enterprise content management, CRM, marketing automation, e-commerce, customer service and enabling technologies for TechTarget.