Getty Images/iStockphoto
Talend adds observability, enhanced ETL to data fabric suite
The vendor's Winter '23 platform update includes a host of new connectors and enhanced automation capabilities, in addition to targeting data observability and data integration.
Talend on Tuesday unveiled its latest data fabric platform update, which includes new data observability capabilities and updated extract, transform and load features.
None of the capabilities in the release are generally available yet, but each will become generally available over the next few months.
Based in San Mateo, Calif., Talend specializes in data integration. Its platform, Talend Data Fabric, is designed to enable its customers to discover and combine data from disparate sources into unified data sets that can then be used for data science and analytics tasks.
In January 2023, the vendor reached an agreement to be acquired by Qlik, a longtime analytics vendor that has added data integration capabilities over the past five years through a series of acquisitions. In addition to Talend, Qlik has acquired Podium Data, Attunity and Blendr.io to enhance its data integration platform.
The acquisition of Talend is expected to close sometime during the first half of this year.
New capabilities
Among other capabilities, the Winter '23 update of Talend Data Fabric adds data observability to the platform and enhances Stitch, the vendor's data ingestion tool.
Data observability brings a DevOps/monitoring ethos to data quality versus the old batch approach.

Doug HenschenAnalyst, Constellation Research
As data volumes grow in size and complexity, both data observability and data ingestion are areas of emerging importance within data management and analytics, making them perhaps the most significant aspects of the Winter '23 update, according to Doug Henschen, an analyst at Constellation Research.
"Data observability brings a DevOps/monitoring ethos to data quality versus the old batch approach," he said. "Stitch, meanwhile, gained traction with the rise and popularity of cloud data warehouse platforms."
Data observability is the process of monitoring data throughout the data management and analytics lifecycle to ensure its quality. When all data was kept on premises and organizations collected data from relatively few sources, it was a relatively simple undertaking.
But with organizations now ingesting data from a growing number of sources and storing it in various cloud databases as well as keeping some data on premises, data observability is becoming more complex. As a result, vendors such as Acceldata and Monte Carlo have made data observability their sole focus, while others -- now including Talend -- have added observability to their platform.
Talend's new data observability feature is currently in all-access preview. Using the tool, customers can automatically and proactively monitor data quality over time to make sure their data is trusted -- including use of Talend's Trust Score -- and usable to inform decision-making.
"Organizations are constantly blending and enriching data and creating entirely new data sets," Henschen said. "What's more, data changes can have a ripple effect across multiple constituents. The observability approach recognizes that data quality is an ops-style, iterative challenge and a team sport that supports multiple stakeholders."
Like Henschen, Don Pinto, product marketing manager at Talend, noted that data observability is gaining importance within data management. Adding data observability capabilities, therefore, is a logical progression for the vendor's suite of data fabric tools.
"For us, data observability is an important aspect of our data platform," Pinto said. "We have a lot of customers using our complete platform, and we feel Talend is positioned to [add] this area of data observability. The market needs it, and I think Talend is well positioned to bring it to the market as part of our unified data platform."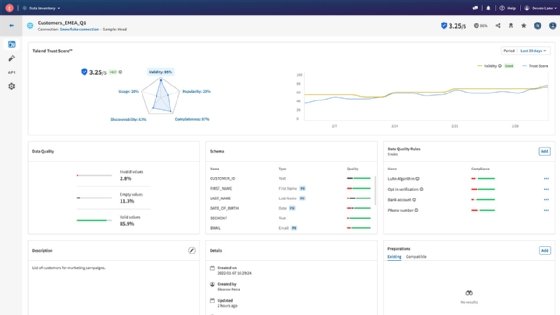 Similarly, Jerome Louvel, Talend's vice president of product management, noted that adding data observability is a natural evolution for the vendor.
"Data quality and data management are capabilities Talend has had for many years as a complement to data integration," he said. "[Data observability] is an evolution of our approach. As we get more into data management, we want to do it in a way that is not separated from data integration, but works in synergy within the same platform."
Stitch, meanwhile, is a fully managed cloud extract, transform and load (ETL) service the vendor acquired in 2018.
The tool now includes enhanced capabilities for administrators such as role-based access control and tools that better enable data teams to get key metrics about data ingestion. Both represent logical progress, according to Henschen.
"Accessibility and ease of use are [Stitch's] calling cards, but here they're adding enterprise-oriented features," he said. "It's natural to see such upgrades as products mature."
Beyond adding data observability and enhancing Stitch, the Talend Data Fabric update includes a new automation capability called Smart Services that simplifies scheduling and orchestrating repeatable jobs, as well as a host of new connectors.
One key feature Smart Services adds is the ability to pause and resume tasks to improve operational efficiency.
Meanwhile, Talend now has new connectors to SAP S/4HANA, SAP Business Warehouse on HANA, Amazon Keyspaces, Azure SQL Database, Google Bigtable, Neo4j Aura Cloud and Kafka. In addition, Talend now supports social media networks including TikTok and Twitter.
Future plans
Due to Talend's pending acquisition by Qlik, Louvel said the vendor could not reveal anything about its roadmap beyond the rollout of Winter '23 over the next few months.
Henschen noted that the vendor will likely need to be conservative while going through the acquisition. Most important during the due diligence period will be remaining focused on executing plans laid out before the acquisition process began, which is what Talend appears to be doing with its Winter '23 update.
"It will be important for Talend's sales, field and product teams to stay focused on execution and delivering against the company's existing roadmap and customer expectations," Henschen said. "Seeing product updates like these is a sign that the team at Talend is staying focused."
Eric Avidon is a senior news writer for TechTarget Editorial and is a journalist with more than 25 years of experience. He covers analytics and data management.