Getty Images/iStockphoto
IT hiring picks up amid ongoing economic concerns
TechTarget's 2023 salary and careers survey shows most organizations are hiring for selected IT skills, making progress on DEI initiatives and offering workplace flexibility.
Most IT professionals said their companies have hired additional tech employees this year, with software developers and cybersecurity specialists expected to see the highest demand going forward.
TechTarget's 2023 IT Careers and Salaries Study, conducted March-May, polled more than 400 U.S. employees working in IT departments or for IT companies. The results suggest many companies are growing technology staff -- at least in selected areas -- despite the continuing threat of recession.
Macroeconomic factors resulted in a wave of tech layoffs in 2022 and continued staff reductions in 2023. Nearly a third of the survey respondents said their companies had eliminated IT positions within the past 12 months.
Other IT hiring and workplace trends outlined in the TechTarget survey include the following:
The average IT salary in the U.S. is $152,643, with pay packets ranging from $92,414 for IT staff to $237,738 for C-level executives. About 60% of the respondents work for companies with 1,000 or fewer employees.
CIOs top the list of companies' C-level tech executive hiring plans over the next 12 months, followed by chief data/analytics/AI officers.
About half of the respondents said they plan to stay in their current roles for now, while a third said they were open a new role but not actively seeking one. Only 11% said they were actively seeking employment at another company.
Nearly 80% of the IT professionals polled said environmental, social and governance programs are important to them, while 83% said the maturity of diversity, equity and inclusion (DEI) programs are having a positive effect on business performance.
Fifty-four percent of the respondents said a change in the work environment within the past year has given them greater flexibility regarding locations (fully remote or hybrid) and/or working hours.
Tech employment outlook
Most U.S. IT shops are boosting employment this year: 54.5% of respondents said their companies are bringing on additional IT personnel in 2023 compared to last year. Mid-sized firms in the 251-1,000 employee range and large enterprises with more than 5,000 employees were the most likely businesses to be hiring more IT talent.
A Gartner study, published in June, also forecasts increased tech hiring at the upper end of the market. Eighty-one percent of the large-enterprise CIOs the company polled plan to grow their IT headcount in 2023. Technology leaders in Gartner's survey, which spanned North America, EMEA and Asia-Pacific, cited obstacles such as hiring freezes. But the need to keep up with digital initiatives compels them to persevere.
"CIOs in these enterprises are under immense pressure to accomplish their digital goals," said Jose Ramirez, an analyst at Gartner.
James Stanger, chief technology evangelist at CompTIA, an IT industry association based in Downers Grove, Ill., cited anecdotal evidence of hiring intent based on his conversations with CIOs and managed services providers.
"They are indeed actively hiring -- in spite of any of the weird uncertainty that we've seen," he said.
Stanger's views on hiring come with a caveat, however. Some organizations say they still struggle to find IT professionals with the exact skills they hope to obtain, he noted. One issue: Job requirements are so strictly defined that few people qualify for an opening. This, of course, puts a damper on hiring.
"The problem is a lot of companies are overspecing," Stanger said. CompTIA defines overspecing as "the tendency to specify more -- sometimes far more --skills and credentials than warranted for the position."
CompTIA's June jobs report, based on its analysis of U.S. government data, provides another argument for caution: Technology-sector companies added 5,348 workers last month, but tech headcount in the broader tech economy declined by 171,000 positions. Short-term data fluctuations, however, don't change market fundamentals pointing to tech workforce growth, according to CompTIA.

Hiring trends
Software development tops demand
Twenty-three percent of survey respondents said their companies planned to fill application/software development positions in the next 12 months, making it the most cited tech position for hiring. Development topping the help-wanted list hardly surprises given the pervasiveness of software in modern businesses.
Indeed, IT shops of all sizes are looking to grow as internal and external customers look for more and better digital experiences.
A process automation team at Southern Illinois University (SIU) Carbondale's School of Medicine, for instance, hopes to open a developer position in the fiscal year that began July 1. The small group, which uses Laserfiche's business process automation software to automate paper-based tasks, plans to add a level 1 developer to take on quick-turnaround projects. That addition would free advanced developers to focus on complex projects that "require more heads-down coding," said Jennifer Washburn, IT manager at the SIU School of Medicine.
A healthcare provider onboarding project exemplifies the type of project demanding more advanced developers, she noted. That effort, which went live earlier this year, automated the process of getting new providers credentialed with insurance companies and hospitals -- an activity that previously involved mailing documents from office to office. The new developer would work on simpler assignments, such as retention bonus system that the team built in a couple of days.
The level 1 developer slot would also create a promotion track, Washburn noted. The entry-level developer could be moved up to level 2 after building skills on the lower-hanging fruit.
The SIU School of Medicine's process automation work has expanded steadily since the onset of COVID-19, which upped the urgency of digitalization. "The demand for services just keeps growing," Washburn said.
As for specific software skills, Stanger said developers able to work with AI tools will see demand, as will those who can combine data knowledge with coding. He said Web 3.0 calls for a solid understanding of data, since developers will be called upon to work with both structured and unstructured data.
As for important language skills for developers, Stanger pointed to Python for server-side scripting and JavaScript for server- and client-side duties. He cited Microsoft's .NET and C# as valuable in the SMB market and also emphasized COBOL knowledge, noting that mainframe use persists.
"I don't think people quite realize the importance of [developers] who can support legacy applications written in COBOL," Stanger said.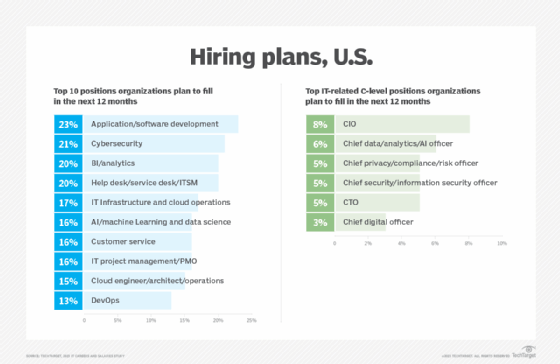 Seeking security analysts
In cybersecurity, the second most-active hiring area, security analysts are seeing high demand, according to Stanger. Security analysts, who staff an organization's security operations center, will remain a top position through at least the late 2020s, he said. Businesses will also be seeking governance, risk and compliance managers as well as cloud security specialists, he added.
That application development and cybersecurity ranked No. 1 and No. 2 makes sense, Stanger noted, since the two fields are closely related in his view. He cited a discussion with an MSP as representative of many conversations he's had over the past year. The gist: Conventional thinking holds that hackers reside in countries like Russia, but they actually make their living in applications.
They are indeed actively hiring -- in spite of any of the weird uncertainty that we've seen.

James StangerChief technology evangelist at CompTIA
"Because that's where the money is. That's where the users are to manipulate and that's where the passwords are," Stanger said.
Beyond software and cyber, BI/analytics, service desk, and IT infrastructure/cloud operations rounded out the top five in-demand positions, according to the survey. AI/machine learning and data science, customer service, and IT project management followed closely behind.
Interest in analytics and AI, in general, drive staffing at the top levels of organizations. Credit bureau TransUnion earlier this month promoted Venkat Achanta to the expanded role of chief technology, data and analytics officer. The move brings together TransUnion's Global Technology organization with its Data and Analytics group, which Achanta has been heading since February 2022.
CIOs top the C-suite
The CIO slot, however, is the most wanted tech-oriented C-suite position, according to the survey. That said, the pursuit of CIOs has come back to earth in 2023 compared with the stellar demand years of the pandemic era, when rapid digital transformation spurred the need for high-level tech leadership.
"The last two or three years went off the charts," noted Sal DiFranco, managing partner of the global technology and CIO/CTO practices at DHR Global, an executive search and leadership consulting firm based in Chicago. "This is more of a normal market," he said. "I would say it's probably 75% of where it was in the hottest markets."
While demand may be lower and layoffs suggest the candidate pool might be bigger, CIO compensation packages are holding steady, DiFranco said. Some clients looking to hire a CIO may believe otherwise, but they ultimately want to hire the "best of the best," he noted.
"They're going after the one who's in a job, paid well. And they're trying to pull that candidate out," DiFranco said. "The baseline compensation has not come down."
However, the dollar amount of incentives -- base salary plus sign-on bonus -- required to encourage a CIO candidate to change jobs is not as high as it was a couple of years ago, he noted. A 15% increase over a candidate's current cash compensation is the highest top-performing CIOs can expect in the 2023 market, he added.
The CIOs and CTOs most in demand have specific skills sets around providing and maintaining software as a mission-critical product. Such tech executives must ensure the reliability of the product and the dependability of the supporting infrastructure and cloud operations. "They need to be able to make sure that the critical products are delivered, [are] high quality and are up and running all of the time," DiFranco said.
Organizations that are transitioning from on-premises IT to software as service, meanwhile, are looking for CIOs who "understand what that journey looks like" and can manage the engineering and IT teams to make it happen, he said. In addition, technology leaders experienced in software consolidation are in high demand, he added. Large enterprises that have made several acquisitions and have multiple CRM or ERP systems to show for it need someone experienced in rationalizing platforms.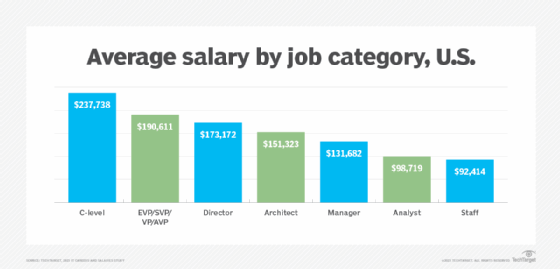 Organizational culture
DEI programs boost business performance
Most IT professionals polled said DEI programs boost business performance. While the survey didn't specifically address how performance was affected, businesses can benefit from DEI in several ways.
Kedra Newsom Reeves, managing director and partner in Boston Consulting Group's Chicago office, said the most immediate DEI benefits tends to stem from employees who are happier and, therefore, more likely to stay with the organization and provide better service to customers.
"Just like it's more expensive to get a new customer, it's more challenging to hire new employees and train them," she said. "Reducing that churn certainly is a benefit."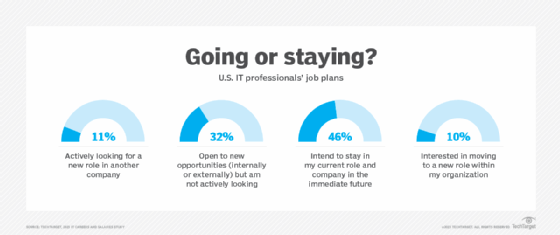 BCG, which offers DEI consulting services, focuses on how businesses can create a personalized experience that addresses "all the various identities and needs that an individual might have," Newsom Reeves said. That means taking into account factors such as life context -- caregiver status or being in a dual-career household, for example -- as well as race, gender and sexual orientation.
Other DEI benefits include increased sales through more inclusive products, lower costs and increased innovation via supplier diversity, and increased shareholder returns, she said. That latter benefit emerges when the drive to build a more inclusive organization results in improved employee satisfaction and retention, which then increases efficiency and lowers recruiting/training costs.
Achieving such benefits can be challenging, however.
"Pursuing more inclusive strategies is a newer muscle for many organizations, so building the business case may not be as straightforward and requires a thoughtful approach," Newsom Reeves said.
Most of the IT professionals TechTarget surveyed said their companies were moving toward DEI adoption. Eighteen percent said DEI was at an early stage, 30% cited in-progress initiatives and 39% reported mature programs.
Newsom Reeves said most of the organizations she works with have gone beyond the first steps of setting up a DEI initiative -- assessing employees and their needs -- and are now looking for ways to grow their programs. She estimated that perhaps 5% to 10% of companies have progressed far along the maturity spectrum.
The difference between Newsom Reeves' experience and the TechTarget survey respondents' views on DEI progress could pivot on definitions of maturity. For example, some organizations might think of maturity as having achieved a certain level of diversity in their leadership, she noted. But other businesses could be pushing beyond organizational diversity and making strides toward supply chain diversity or inclusive product design.
"When people say 'mature,' what does that look like to them?" she said. "People have different answers."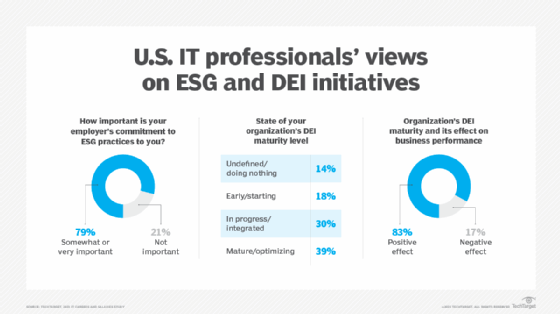 Work flexibility
TechTarget's survey also suggests most IT professionals are working in more flexible work environments. Breaking down the 54% of respondents reporting a workplace change in the past year, 19% said they have the freedom to choose where and when to work, 18% said they work at home every day and 17% said they work from home several days a week.
Workplace flexibility has become increasingly important for employees, who counted remote or hybrid work opportunities as top benefits during the Great Resignation. This work-from-home shift, however, is encountering push back from enterprises seeking a return to the office.
That said, Ernst and Young's (EY) May 2023 pulse survey found 78% of the senior business leaders it polled considered remote work a favorable development. "For me it was a little counterintuitive that almost 80% of respondents said that remote work had a positive impact," said Ken Englund, Americas technology, media and telecommunications leader at EY. "That was definitely a surprise to me -- that it has that strong of a commitment."
Englund suggested the positive vibes stem from a couple of factors. Remote work lets businesses attract resources from beyond their immediate geographic area while contributing to employees' job satisfaction, he said. As a knock-on effect, productivity increases since workers are more motivated and aren't spending time on long commutes, as might be the case in large metropolitan areas.
Flexible work doesn't come without cost, however. Organizations must determine how to build cohesive cultures and provide apprenticeship opportunities "where people learn by being right next to each other," Englund noted. "There's a lot of work to be done on how you create that glue -- that corporate culture -- going forward."
Interest in workplace flexibility extends right up to the C-suite's tech strata, DiFranco noted. He said the most impactful CIOs have virtualized their companies due to the pandemic. Enterprises looking to attract such CIOs may need to offer some form of remote work as an option.
"There is a large percentage of CIOs who are going to say, 'I'm going to find a company that's going to let me work virtual because I know I can do it.'"
Many firms looking to hire will accommodate them. While a third of businesses will require a CIO to work on-site at least four days a week, a third will support a hybrid model and another third will work with a fully remote CIO, DiFranco estimated.
He summarized the attitude of the latter group: "We don't care whether the candidates will go 100% virtual. We just want the best talent."