Successful digital ecosystems depend on cloud services
Business models are changing in the digital age, requiring companies to create sometimes unexpected partnerships, enabled by the widespread availability of cloud services.
The rapid pace of change in today's digital economy has spurred the convergence of enterprises and even industries. With digital technologies, traditional barriers to entry are fast disappearing and a whole new set of non-traditional competitors have emerged, forcing decades-old industry leaders to evaluate their business strategies and competitive differentiators.
"We don't have a God-given right to exist," Archie Norman, chairman of retailer Marks & Spencer, said at the company's annual meeting last year. "Unless we change and develop this company the way we want to, in decades to come there will be no M&S."
That blunt assessment of the retailer's situation reflects the fact that new, digitally focused companies are disrupting traditional businesses, forcing established companies to look beyond conventional business and industry boundaries for new partners that share a common purpose to co-create and innovate. As Professor Michael Jacobides of London Business School shared in a Harvard Business Review article, traditional strategies and structures are of no help when it comes to digital ecosystems. Companies need to think about how they can help others create value, rather than focusing on beating their competitors.
Increasingly, that has meant turning to digital technologies to rapidly establish and operationalize new ecosystems, and one of the critical technologies used is the cloud.
Cloud enables business partnering
With the emergence of digital ecosystems that transcend organizational and even sector boundaries, ecosystem players need a common platform for digital experience that allows them to exchange data, collaborate and co-innovate. Fast, cost effective, and flexible, cloud-based services provided by public cloud players such as Amazon AWS and Microsoft Azure are bridging this gap through innovative capabilities.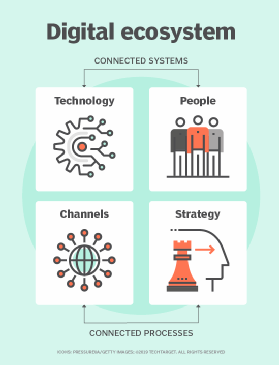 In the past, partnering with other companies to launch a shared product or service centered around shared purpose meant significant capital investments and IT infrastructure that supported collaboration. It required hardware that scaled, the latest software services, support and maintenance and the talent to manage it all. Planning took months, and by the time the ecosystem was up and running -- in instances, more than a year later -- the business and the customers had moved on, making the whole initiative dated or irrelevant.
The cloud compresses that effort. A company with a new idea or mission-critical project can establish a virtual data center in a day, thanks to online cloud services. It can then share that platform with partners anywhere in the world and scale IT infrastructure in anticipation of or in response to the growing demands of the business.
Moreover, the cloud offers access to the latest technologies. Companies update software constantly, providing new features that they can offer immediately to consumers. Such updates are delivered at a furious pace with providers such as AWS often issuing several hundred software updates per day. A new service that might have taken years to introduce to consumers just a decade ago can now be offered within a few hours.
The financial commitment of forging such ecosystems is also vastly reduced thanks to the cloud. A dedicated data center can cost from $10 million to $25 million a year for a company to operate. With cloud services, you only pay for what you use and have the advantage of instantly scaling services based on fluctuating demand.
Enterprise transformation expands to partner ecosystems
At Marks & Spenser, for example, the traditional retailer has moved its applications to the cloud using Microsoft's Azure environment. In the process, as part of an enterprise-wide digital transformation initiative to expand into new categories, the company moved away from its old mainframes and cut in half the number of computer systems needed to support its food business.
The transformation also made it easier for the retailer to work with new partners and try out new ideas. The M&S ecosystem now includes an investment firm specializing in retail startups, giving the company access to a pipeline of fresh ideas. To jump-start its online food business, for example, M&S has taken a 50% stake in internet retailer Ocado.
Meanwhile, the flexibility of cloud services and the company's burgeoning ecosystem has given the once formal British outlet more opportunities to experiment. At its flagship London store, for example, M&S has installed 56 cameras that stream over 5 TB of data every day to help it assess how well it is serving its customers.
Addressing cloud security concerns
While cloud services offer flexibility and economies of scale that serve ecosystems well, some businesses have been reluctant to fully embrace the cloud and give up control, citing security concerns. But today, the major suppliers have hardened their cybersecurity defenses and tightened regulatory compliance, giving ecosystem partners the needed confidence to store and share sensitive customer data.
AWS, Google, and Microsoft's cloud services now support major security standards, covering critical certifications and regulations, including PCI-DSS, HIPAA, GDPR, and NIST 800-171. That means cloud services can address business needs across the globe, and across industries, while maintaining security. Cybersecurity risks will never drop to zero, but as cloud services have matured, worries about sensitive data and the support needed to sustain solid ecosystems have largely disappeared.
Just two years ago, banks and financial services companies were reluctant to put valuable mortgage and loan businesses in the cloud. Today, they have embraced the benefits of the cloud, even forming partnerships with younger fintech companies online to accelerate their mobile commerce offerings and bring in a new demographic of customers.
Healthcare companies have also come around to realizing benefits from the cloud. Insurance providers and big pharma rely heavily upon cloud-based ecosystems to monitor the success of medical treatments and encourage healthy lifestyle choices using wellness tools. In the future, next-generation pharmacy programs will deliver a single ecosystem to handle prescriptions, clinical services, wellness advice and lifestyle management -- all powered by the cloud.
Even global industrial services companies such as shipping firms now rely on cloud services to shore up their ecosystems, proactively perform maintenance, reduce their environmental impact and ensure customer deliveries get to their destinations on time.
This is the case for family-owned Dutch shipbuilder Damen Shipyards, which is using the roughly 10,000 sensors embedded in each of its ships to create a connected vessel platform. The platform includes an app so customers, suppliers and employees can monitor in real time everything from fuel consumption to speed, location and weather conditions along a ship's route.
The 92-year-old company is also leveraging this new, connected ecosystem to partner with younger upstarts, such as a company that created a paint algorithm to predict the rate of erosion on hull coatings. Paint breakdown causes drag, which increases fuel consumption and costs. Knowing exactly when to repaint results in less fuel consumption, not only saving money but also reducing the impact on the environment.
"In the past, we were maybe just a shipbuilder," explained Aart Rupert, Damen's CIO, "but we have moved more and more toward being a maritime solution provider."
Shifting to the ecosystem model
Once a company realizes it needs the cloud to take advantage of the ecosystem game, it then has to determine what role it's going to play in the ecosystem. That process starts by looking inward.
For large enterprises with global reach, even sharing processes within the organization can present challenges; different departments may have developed at distinctly different points in time based on legacy, acquisition or investment. So, the cloud can be critical to establishing ways to share data among users from different divisions.
Other ecosystems focus on an industry. This may entail creating a value chain that spans competitors, suppliers, customers and even communities in which the company operates. Epitomizing this trend are traditional banks that have started working with fintech startups to offer new mobile services.
Of course, an ecosystem can extend far beyond a company's traditional business or industry. To improve and streamline logistics, for example, an electronics company may work in the cloud with an energy company, which may then expand the ecosystem by joining with a container company. That container company may in turn use the same cloud-based platform to work with an IoT startup that tracks container temperatures in real time. The startup could also reach out to a satellite communications partner to give the whole ecosystem global reach.
Importantly, cloud-based digital ecosystems are not just about creating a product or service. Ecosystems increasingly support enterprises in their pursuit and fulfilment of corporate purpose, addressing outcomes that touch multiple stakeholders, such as improving the health of customers, enabling seamless logistics, improving worker safety and well-being or cutting carbon dioxide emissions. Ultimately, ecosystems aren't just about creating shareholder profits, they're about stakeholder value.
About the author
Suranjan Chatterjee is global head, Cloud Apps, Microservices & API-fication at Tata Consultancy Services (TCS). In this role, Chatterjee helps the world's leading enterprises leverage cloud services to fuel innovation, accelerate technology adoption and realize speed, agility and scale. He leads strategic initiatives for cloud-based application modernization and integration service offerings and is focused on driving growth related to cloud-native application development, migrations, hybrid cloud integrations, microservices design, "API-fication" and containerization. Chatterjee has more than 21 years of experience in IT management, lending his expertise on many enterprise transformation projects as both a consultant and business leader. Prior to his current role, he held leadership positions at TCS for the Oracle business, where he oversaw areas such as emerging business opportunities in India and other growth markets, and the management of presales and numerous client engagements.