Andrea Danti - Fotolia
Digital transformation in logistics: Delmar begins tech overhaul
Delmar International has agreed to move its IT infrastructure to Rackspace managed services, representing a huge shift for Delmar's IT strategy and digital transformation plans.
Delmar International Inc. plans to offload its IT infrastructure to managed hosting and cloud provider Rackspace in an arrangement that serves as a prime example of digital transformation in logistics.
The strategic agreement was announced July 19 and encompasses two contracts. In one pact, Delmar will offload its internally hosted Microsoft Dynamics AX ERP system to Rackspace's dedicated servers. The second contract focuses on migrating Delmar from in-house Microsoft Exchange servers and Microsoft Office software to cloud-based Office 365.
The Rackspace agreement represents a shift in IT strategy for the transportation and logistics firm.
"We have always taken the approach that we have to own everything," said Ron McIntyre, CTO at Delmar.
But the task of managing hardware, software and data globally -- Montreal-based Delmar has operations in North America, Asia and Latin America -- became difficult. And McIntyre said the company's existing infrastructure isn't scalable enough to react quickly to business events such as an acquisition or a market venture.
Digital transformation in logistics
The Rackspace managed services deal is part of a modernization journey in which Delmar aims to position itself to become "much more competitive and efficient within our marketplace" in the next few years, McIntyre said.
In that marketplace, established providers such as Delmar face challenges from startups and emerging technologies -- hence the need for digital transformation in logistics.
"There are startups around the Uber model in terms of matching shippers with carriers," McIntyre said. "That is where the push is coming from."
He also noted the impact of technology changes, saying that blockchain is beginning to surface in the supply chain and logistics services sector. He cited the partnership between IBM and Danish transport and logistics company Maersk. In January 2018, the companies announced a venture that will use blockchain to secure global trade.
Yet, McIntyre's aim is to have Delmar concentrate on being a logistics services provider -- without having technology get in the way.
"I didn't want us to be a technical house," he said.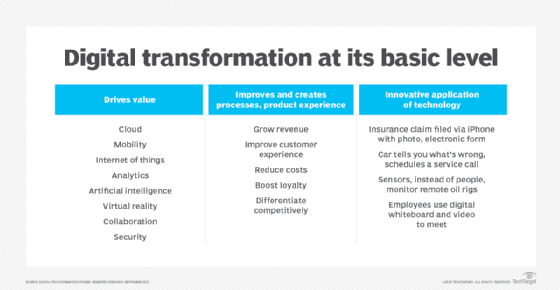 Tapping Rackspace managed services
Against that backdrop, Delmar brought Rackspace on board to take on its IT. The initial contract with Rackspace was signed in May 2018, and calls for Delmar to move its entire Dynamics AX environment, which involves more than 30 servers, from the company's locally hosted, on-premises infrastructure to Rackspace managed services.
That proof-of-concept initiative will set the stage for Delmar eventually moving its entire IT infrastructure to Rackspace, McIntyre said.
Vendors are a dime a dozen. We wanted a partner who could help us on our digital transformation journey.

Ron McIntyreCTO, Delmar International Inc.
The second contract, signed in June 2018, will shift Delmar's email and office productivity environment from an on-premises deployment to Office 365. McIntyre said Delmar began working on that initiative about 18 months ago, before Rackspace entered the picture.
Delmar originally worked with other vendors to scope the project. But after meeting with Rackspace, "we gave them an opportunity to get in on that project," McIntyre said. Rackspace ended up capturing that project since the company could provide what the other vendors were offering at a better price, he added.
Previously, Delmar had hosted its own email servers and most of its employees used Office 2013. The Office 365 migration, part of the digital transformation in logistics project, is expected to yield efficiency and productivity gains. For example, Office 365 will give Delmar's senior management and executive team access to collaboration tools that they didn't have in the past, McIntyre noted.
Gerard Brossard, Rackspace executive vice president and general manager, OpenStack public cloud and Rackspace application services, said such digital transformation projects call for a customer relationship that goes beyond a traditional vendor arrangement.
"If you engage ... with a technology partner to help in your transformation, it has to be broader than just looking at your partner as a vendor," he said.
Delmar didn't want a vendor in the place, McIntyre added.
"Vendors are a dime a dozen. We wanted a partner who could help us on our digital transformation journey," McIntyre said.
Dig Deeper on IT applications, infrastructure and operations